It is no longer enough for a playwright to go into the belly of the 'beast' and pray for help.
Mr. Joy by Daniel Beaty. Directed by David Dower. Presented by Arts Emerson in the Jackie Liebergott Black Box, through October 18.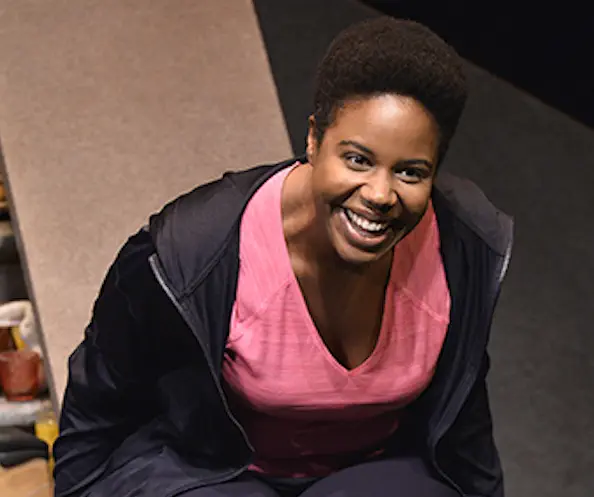 By Bill Marx
In a post-Ferguson era, Mr. Joy comes off as a well-intentioned pick-me-up, a tragicomic look at a Harlem community's despair, rage, and indomitability. Of course, the emphasis is on the latter — to the point of overkill. On the one hand, there is a welcome (if somewhat standardized) acknowledgment of urban blues/Black Lives Matter, the struggle for survival with dignity in the lower depths. On the other, the customary liberal bromides extolling faith and inspiration are trotted out for the sake of reassuring entertainment. Isn't it time to move beyond this kind of predictable theatrical see-sawing?
Why? It is not enough for a dramatist to settle with describing the rock. He or she must have the courage to turn it over and look underneath. Uplift and empowerment are relatively easy to deliver, at least in the theater. The challenge for contemporary playwrights is to grapple with rock hard issues of personal responsibility and social justice. But that would challenge well-heeled audiences rather than assuage them: there is a danger they may not like what they see. A rebellious black adolescent in Mr. Joy, citing the crushing poverty and hopelessness around him, cries out for 'revolution." Well, there is absolute nothing radical in this evening.
An elderly Chinese owner of a shoe repair shop in Harlem is beaten up badly. Who did it? Playwright Beaty is less interested in working up a whodunit than in following the trail of inspiration left by the saintly-to-the-max Joy, whose sunny smile emanates waves of healing power. The leading member of the fan club is Clarissa, a chatty 11-year-old African-American whose parents died of complications from HIV. She adores the genial man, who is helping her make her dreams of becoming a shoe designer a reality. Initially, her salt-of-the-earth granny Bessie was skeptical about Mr. Joy, but she was won over by his loving concern for Clarissa. Joy's son, John Lee, admires the father's unshakable integrity, his dedication to others at the expense of making a profit. Other characters include: John Lee's employer, Clifford, a black millionaire real estate mogul who is a proud conservative (as soon as he announces he supports Ben Carson you know he will turn out to be a very sad man); Clifford's lover, a white woman who is desperate to have a child; Clifford's estranged son Ashes (born Ashton), who has become a woman; a marginalized black artist, and young black males floating in and out of prison and church.
Tangela Large plays all of these characters and she is a pleasant actress with agile chameleonic powers. (Though your reaction to her precociously talky Clarissa will depend on your patience with adults playing children. Mine is pretty limited.) Large doesn't have the dazzling morphing ability of Anna Deavere Smith (who does?), but she slips, effectively, from personality to personality. The problem is that the form of the play inevitably has its characters address the audience — sometimes via sessions with a therapist or woman's group — and they end up telling us (at length) about themselves rather than confront each other or crucial issues. Beaty revels in his gift for the comic (Ashes' riff on coloring her pubic hair is a hoot), but resorts to heavy-handed preaching or two-ton images (the dance shoes Clifford keeps in his briefcase) when he wants to shift gears in order to deliver pathos and/or inspiration. David Dower directs with a sure hand, though each episode doesn't really create its own distinctive rhythms, slowing up or speeding up the production. The emphasis is on emphatic efficiency.
In her best solo shows, Smith created tension through a concatenation of clashing points of view. We were invited to come up with a resolution to intractable conflicts. But in Mr. Joy the answers (faith, tenacity, acceptance, community, and love) are embodied in the title character and articulated, ad nauseam, by his admirers. Still, despite all of the hosannas, I am not convinced of Joy's absolute goodness — the man knows who beat him but he refuses to tell the police. If Joy fingered the culprit, would he not be protecting other potential victims? And the crime is the result of an episode of heinous police abuse that feels rushed and underwritten. We need plays that go into depth about the psychological and economic sources of what is going on in the ghetto — this kind of violence should not be delivered via theatrical shorthand, part of a checklist.
Finally, an amorphous "beast" is blamed by a number of characters for what is going in this Harlem ghetto. Who or what is this "beast?" Hasn't this "beast" coexisted snugly with Bessie's call for "sprinkles of faith" for a very long time? Our dramatists need to stop sprinkling fairy dust and take up the difficult, potentially divisive, issues of power and culpability, pathology and denial. It is no longer enough for a playwright to go into the belly of the "beast" and pray for help — it is time to call the damn critter out.
---
Bill Marx is the Editor-in-Chief of The Arts Fuse. For over three decades, he has written about arts and culture for print, broadcast, and online. He has regularly reviewed theater for National Public Radio Station WBUR and The Boston Globe. He created and edited WBUR Online Arts, a cultural webzine that in 2004 won an Online Journalism Award for Specialty Journalism. In 2007 he created The Arts Fuse, an online magazine dedicated to covering arts and culture in Boston and throughout New England.