This modest film manages to hold the viewer's attention, not to mention his or her compassion, throughout.
Learning to Drive Directed by Isabel Coixet. On Screens around New England.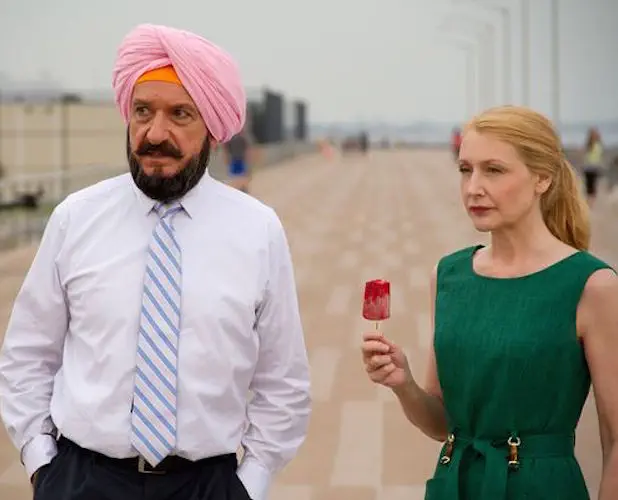 By Paul Dervis
This film is precious…a little too precious.
And Ben Kingsley never seems to age. When he was thirty-nine, he seemed to be in his fifties. Now that he is seventy-one, he still seems to be in his fifties. Does he have a painting of himself in the attic, aging, or what?
Just thinking.
My Arts Fuse colleague, Gerald Peary, mentioned this film in a review from his coverage at the 2015 Montreal World Film Festival earlier this month. Suggesting this was a "safe" movie in comparison to a Peter Greenaway piece that I favourably reviewed in July, Peary was correct. Nothing about this film will offend…or make us think too much.
It is, however, refreshing to see a vehicle starring an actress deep in middle age, with little make-up to beautify her.
Patricia Clarkson plays Wendy, a successful literary critic married to a failed academic. Her husband, Ted (Jake Weber), gets an adulterous itch every few years or so, but has always returned to his powerbroker wife…but not this time. He has wooed a writer who is younger and a couple of rungs up from Wendy in Manhattan's 'Cafe society.'
Wendy waits for his return while Ted files papers. It takes a no nonsense talk with her college bound daughter (Grace Gummer, Meryl Streep's real life child) to convince her that this time it's forever. Wendy is in shock.
Darwan is a cab driver who moonlights as a Drivers Ed teacher. He lives in a cramped basement in Queens where he puts up several illegals from his homeland, India. He is a devout Sikh, single, and is going through with an arraigned marriage with a woman he hasn't met from his home town. On top of that, he is routinely harassed by both INS and racist Americans. Still, Darwan is a man at peace with himself, maintaining an attitude of Zen-driven calm against those who attempt to intimidate him.
Wendy, like so many lifelong urban dwellers, cannot drive. That now means she cannot easily visit her daughter at her toney New England college. Wendy hires Darwan to teach her, and she learns way more than the skills of the road from him.
And that is about it. There are no plot twists; the narrative is content to be a comfortable character study. Both leads are handed appealing characters who have only minor blemishes. Both are given eye-opening glimpses of how very different people live, and both grow predictably. Empathy is on automatic. But that is not to say the actors do not succeed in mastering their roles…they put these nice characters across well.
Clarkson, who is as much a stage actor (Yale Drama grad, House of Blue Leaves, Eastern Standard) as a film star (Shutter Island, Good Night, and Good Luck), creates a subtly nuanced portrait of Wendy. She plays her as a woman who defensively clings to her intellectual side; she is constantly battling her passions, unable to figure out what to do with them. In one scene, when Ted is clearing out the house of his possessions; she comes in, dressed in a power suit, and attempts to seduce him with a lap dance. The gesture is both funny and pathetic at the same time. Her sense of emotional desperation is tangible.
Kingsley's Darwan is a man whose soul is positively dripping with positive karma. But this optimism doesn't make him invulnerable. He struggles with a new bride whom he has little in common with, all the while becoming more and more romantically drawn to Wendy. Kingsley's Darwan is understated, but he shows us that he is aware of the complexities of his world.
Written by Sarah Kernochan (9 1/2 Weeks, Sommersby) and directed by Isabel Coixet (My Life Without Me) this modest film manages to hold the viewer's attention, not to mention his or her compassion, throughout.
If only Learning to Drive could have been a bit more unpredictable.
---
Paul Dervis has been teaching drama in Canada at Algonquin College as well as the theatre conservatory Ottawa School of Speech & Drama for the past 15 years. Previously he ran theatre companies in Boston, New York, and Montreal. He has directed over 150 stage productions, receiving two dozen awards for his work. Paul has also directed six films, the most recent being 2011's The Righteous Tithe.