Technology is the gimmick in this two-hander, but what makes Blink absorbing is the writing, teamed with excellent acting and directing.
Blink by Phil Porter. Directed by Daniel Elihu Kramer. Staged by the Chester Theatre Company, Chester, MA, through August 23.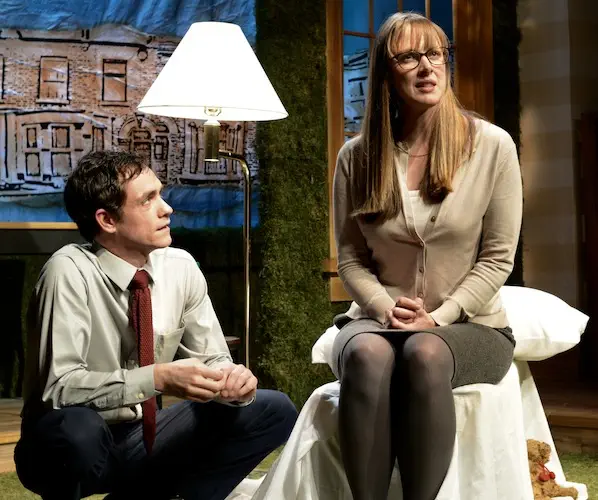 By Helen Epstein
If you've never been to the Chester Theatre Company, this would be the summer to start, with Phil Porter's quirky romantic comedy Blink. It stars CTC's veteran actor Joel Ripka and CTC newcomer Therese Plaehn in one of the oddest love stories you are likely to run across in a while.
Porter (b. 1977 in Birmingham, UK) is a playwright, screenwriter, and librettist who has worked for the Royal Shakespeare Company. His language is both simple and poetic; the turns of his script, a series of pleasurable surprises. His characters are both familiar and yet unlike any you've actually seen on the stage. Technology is the attention-getting gimmick in this two-hander, but what makes this evening absorbing is the writing, teamed with excellent acting and directing.
Blink plays out on a simple realistic set: a slice of two small rooms (easy chair, bookshelves, lamp, window), divided by what looks like a lounge in a public building. Two actors address the audience and one another, yet evoke a community of characters.
Jonah Jenkins, as performed by the always engaging and convincing Joel Ripka, is a young man who has just arrived in London. He is the son of the leader of a religious farming commune; he has milked cows, caught rabbits, and served as night watchman after the collective became the target of irate citizens. For Jonah, "keeping watch becomes a kind of habit." His mother died suddenly when he was a child of pancreatic cancer.
Sophie's mother, too, has died of pancreatic cancer — the first of many coincidences of the kind lovers fasten on. She is a more familiar character, a shy, nerdy middle-class college grad who lives in a two-flat house in London with her father. He has fallen ill and, in a reversal of parenting roles, she uses audio/visual babysitting devices to monitor his activities downstairs. She works in software development and is the kind of young woman who is told, when fired by her employer, "there's a general perception that you lack visibility."
Both characters, irrespective of class, religious, geographical or family background, are lonely introverts who lack conventional social skills and show — in addition to their unusual childhoods — signs of being on the autistic spectrum. After Sophie's father dies Jonah rents the downstairs flat. In an unusual effort to connect, she puts the baby monitor screen in an envelope and slips it under Jonah's door (so that he can watch her). It does not seem improbable that a technological relationship ensues.
Virtual reality — whether online or on television — plays an outsized role in both Sophie and Jonah's lives. While Sophie knows that Jonah is watching her, he doesn't realize that or the reality that she lives upstairs. They watch TV "together," then venture out of their flats into London – taking buses, going to galleries, even taking a ride together (as strangers) on the London Eye.
I will not spoil the play by disclosing how and when the gig is up or how the play ends (surprisingly). But I will enthuse about the playwright's unusual take on the age-old subjects of love, loneliness, and the difficulties of intimate relationships.
I'm excited that director Daniel Elihu Kramer, whose play Pride@Prejudice I reviewed here a few years ago, will become Artistic Director of CTC this fall. Blink — its misleading title to the contrary — is a very satisfying production, blending the work of two excellent actors, and a team of confident designers, with set by Travis A. George, costumes by Heather Crocker Aulenback, lighting by Lara Dubin and sound by Tom Shread. The props deserve special mention; they stick in the mind like objects in a Magritte painting.
Unlike a blink, this theatrical gem leaves an afterglow long after you leave the theater.
---
Helen Epstein is the author of six books, translator of two and editor of the recent anthology Archivist on a Bicycle, all from Plunkett Lake Press.