Monchichi is about relationships but focused on this particular relationship, in which affection and intimacy and joy and sometimes frustration exist.
Company Wang Ramirez at Jacob's Pillow Dance Festival, Becket, MA, through July 19.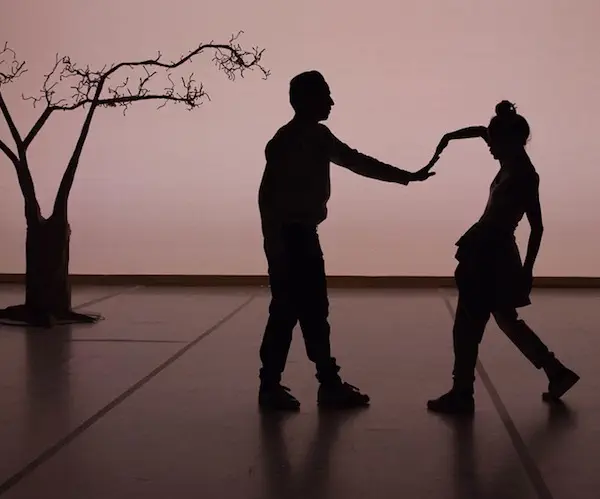 By Janine Parker
"Birds do it, bees do it," Cole Porter wrote, suggesting that it was natural for folks to give it a whirl, this falling in love business; and so we do, heedless and headstrong. Of course, we ignore that "even Boston beans do it." (We are special!) Well, our temporary blindness (turns out, we're not so special) is understandable — we've got stars in our eyes — and useful: more fodder for more love songs; and poems, paintings, novels, and dances.
And, of course, what great love story would be complete without some conflict? This week at Jacob's Pillow dancer/choreographer/life partners Sébastien Ramirez and Honji Wang explore the particular challenges generated by a multicultural relationship. In their dance theater piece Monchichi, he's a Frenchman with Catalonian roots, and she's a Korean brought up in Germany. In one charming scene, they stand side by side and address the audience directly, explaining their versions of the romance. They talk at the same time in a changing stream of English, German, Spanish, Korean, and French — somehow the overlapping words in different languages come off as a melodious mini-opera rather than a cacophony of quibbles. Amid the linguistic tumult we can pick out headaches involving potatoes (Germans love them) and baguettes (French love them).
During the approximately hour-long piece various phases of a romantic relationship are dramatized, sketched lightly and easily. The first episode evokes the shy, slight awkwardness that's brought on by the discovery of an attraction to another being. For a (possibly first) date they spruce up, he adding a shirt, jacket, and shoes to his ensemble, she donning a short blue dress, silver heels, and platinum wig. (The costumes aren't credited.) A white tree, strung with red lights, sits upstage right on Ida Ravn's spare, striking set; a couple of times Ramirez plucks one of the lights as a magical offering to Wang, who rejects it the first time but later, when she's hooked, she swallows it (not really, but in a neat stage trick it looks like she does). As they become more comfortable with each other, his jacket comes off, they're both in sneakers and Wang's changed into an outfit more befitting the urban b-girl that she really is: in fact, hip-hop and street dance are the primary styles in Monchichi.
Ramirez, a self-taught dancer, is often catlike as he softly traverses the stage. He's particularly good when he's essentially moving upside down, in rolls and freezes mainly while balancing on his hands. Occasionally he flips over on the top of his head or on a shoulder. Sometimes, in a variation on helicopters and windmills, his legs whip around so quickly that you see the afterimage more reliably that the movement itself. The compact Wang has a stunning ability to arch her back; early on, Ramirez runs full on toward Wang, who is facing him, and jumps, his legs fixing to wrap around her neck; Matrix-like, she bends back, low, like she's going under a limbo pole. He lands, then bounces back himself; the split-second timing and coordination is extraordinary, a gasp-worthy moment. (And there are several such moments in the show.) Wang is also an extremely articulate popper, her movements on the slower but bigger side, endowed with a generous clarity. At the beginning of the dance she sits with her back to us and gracefully waves an arm, then both together; these waves are noticeably swan-like, perhaps a remnant from her early ballet training.
Performing to a soundscape that's created by the beatmaker who goes by the moniker Everydayz /+∞, Ramirez and Wang  at times take turns, one watching as the other dances. Maybe this is a nod to street dance tradition. They also often dance together, sometimes next to each other, but sometimes in intimate partnering sequences, Wang wrapped around Ramirez's waist, or upside down, her positions reminiscent of his handstands.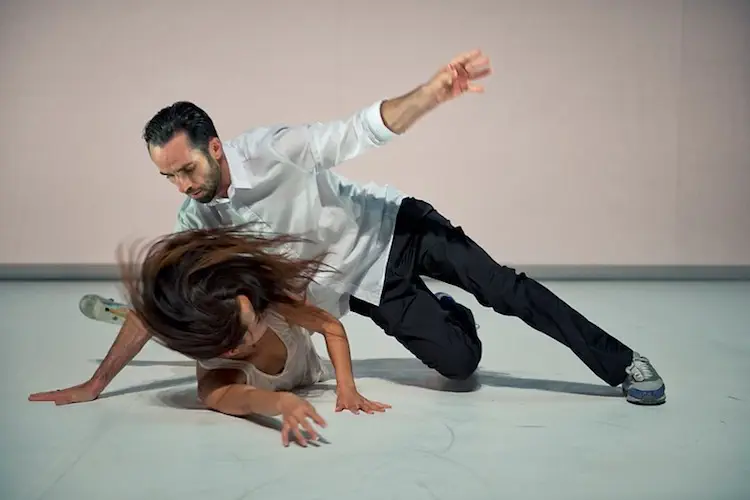 So far, so good, right? Indeed, if potatoes and baguettes, that is, if starch is the stuff they're sweating, they'll be okay. However, darker issues are suggested: the two spar occasionally, pushing, kicking, and hitting each other. Wang also trained in martial arts, so while those kicks don't actually make contact, they come pointedly close to Ramirez's head. Is what we see metaphoric — the physical grappling representing emotional skirmishes? Or literal — do one or both engage in physical abuse in this relationship? (If the latter is true, it's dire. The program notes indicate that Monchichi is autobiographical, so I hope they're getting serious help.) There are a few moments suggesting sexual aggression, too, as they skitter along the floor, Ramirez on his hands and feet, hovering over Wang, who slides along on her back, trapped by his arms on either side of her. It's not a romantic moment.
I don't really think there's abuse going on, but I wondered what it is that Ramirez and Wang struggle so with, at least to the point that they feel compelled to include an earnest program note about the genesis of Monchichi. Artists make art for all kinds of valid reasons and usually the work stands better on its own sans explanatory hand-holding. Without diminishing the overt or subtle xenophobia they've both been exposed to based on their brief soliloquies, I imagine they've also come across the same kind of culture shock most of us feel when we become members of our partner's family. Figuring out the "in-laws" and their traditions, beliefs, etc., — and how we fit in to all of that — is a fairly common yellow brick road paved with plenty of adventure and difficulty.
Monchichi is about relationships but focused on this relationship, in which affection and intimacy and joy and sometimes frustration exist. The dance is thoughtful, but it is not a terribly deep piece, which doesn't mean it's trite. It's entertaining, well-performed and indeed, hits upon some universal truths A particular motif is illuminating. At the end of the dance, Ramirez and Wang, their fingertips touching, ripple their arms playfully, creating gentle waves. What does it all come down to? We are all special. None of us is special. How does love survive in such a world? Find one, or many, who'll touch you and be touched by you. Only connect.
---
Since 1989, Janine Parker has been writing about dance for The Boston Phoenix and The Boston Globe. A former dancer, locally she performed with Ballet Theatre of Boston, North Atlantic Ballet, Nicola Hawkins Dance Company and Prometheus Dance. Ms. Parker has been teaching for more than 25 years, and has a long history with Boston Ballet School. She is on the Dance Department faculty of Williams College in Western Massachusetts, where she has lived since 2003. Janine Parker can be reached at parkerzab@hotmail.com.