At a time when kids are being spoon-fed countless superhero movies and gothic fantasies, this film stands out because it resonates with the realities in their lives.
Me and Earl and the Dying Girl, directed by Alfonso Gomez-Rejon. At Coolidge Corner Theatre and other cinemas around New England.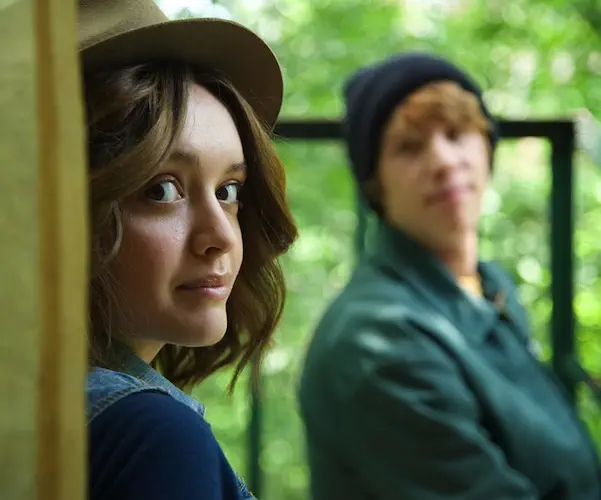 By Paul Dervis
Me and Earl and the Dying Girl is a quirky, funny, moving, and affecting film. Just wanted to get that out of the way.
Quite reminiscent of 2012's The Perks of Being a Wallflower, this film was directed by Glee alumnus Alfonso Gomez-Rejon and he knows his way around teenage angst. He also knows how to pull stellar performances out of young actors. Both talents are on display here. The old show-biz cliche "it will make you laugh, it will make you cry" takes on considerable reality in this film.
Me is Greg, a misfit senior just trying to navigate his way through high school, desperately attempting to be one of the nameless, faceless masses. But Greg is special. He makes intentionally bad send-ups of famous movies with Earl, his best friend since childhood, whom he refuses to call a friend because he is committed to having no buddies at all.
You see, funny and appealing as Greg might be, he is also filled with self-loathing. Earl is a brilliant kid who comes from poverty. Greg is decidedly middle class, with a Professor dad and loopy mom. And then there is the dying girl. Rachel. She is the daughter of a single, alcoholic mother who happens to be friends with Greg's ma. When Rachel is diagnosed with leukemia, she makes Greg go over to visit. The two teens sort of know each other from school but have no relationship, nor do they want one.
But that all changes…be it slowly.
Over the course of their final year in school, the two, though never becoming romantic, develop a mutual love.
And, of course, Greg is exceedingly uncomfortable with this attachment. And, as Rachel gets sicker, losing her hair and becoming gaunt, he is filled with ambivalence. She makes decisions about her treatments that cause him to pull away. The emotions of these youths are complicated, and bang on.
And Earl is the glue.
Greg and Earl are making a movie for and about Rachel, and for the first time in their cinematic endeavors it becomes important that the movie they make does not suck, which puts a lot of pressure on these boys.
The structure of this movie is among its strengths. Its episodes are separated into chapters that mark off the number of days into Rachel's illness. The notion that we are watching a film made by these two kids is very compelling.
And the performances, mostly from actors who have not had movies, independent or otherwise, rest on their young shoulders, are honest and touching. Thomas Mann, RJ Cyler, and Olivia Cooke play Greg, Earl, and Rachel respectively. More will be heard from all three performers.
Ultimately, Me and Earl and the Dying Girl is a modest film, but an important one. I started this review by comparing it to the superb Perks. This effort isn't as polished or intense. It's major failing is that the narrative plays (somewhat neatly) into feelings that we all share, so it is less challenging to audiences than dealing with the idiosyncratic personalities in Perks. But at a time when kids are being spoon-fed unreality in countless superhero movies and gothic fantasies, this film stands out because it actually resonates with realities in their lives. And that makes it exceptional, indeed.
---
Paul Dervis has been teaching drama in Canada at Algonquin College as well as the theatre conservatory Ottawa School of Speech & Drama for the past 15 years. Previously he ran theatre companies in Boston, New York, and Montreal. He has directed over 150 stage productions, receiving two dozen awards for his work. Paul has also directed six films, the most recent being 2011's The Righteous Tithe.