Ronan Noone's allegedly frisky sex farce is bloodless.
Scenes From An Adultery by Ronan Noone. Directed by Bridget Kathleen O'Leary. Presented by New Repertory Theater at the Arsenal Center for the Arts, Watertown, MA, through May 17.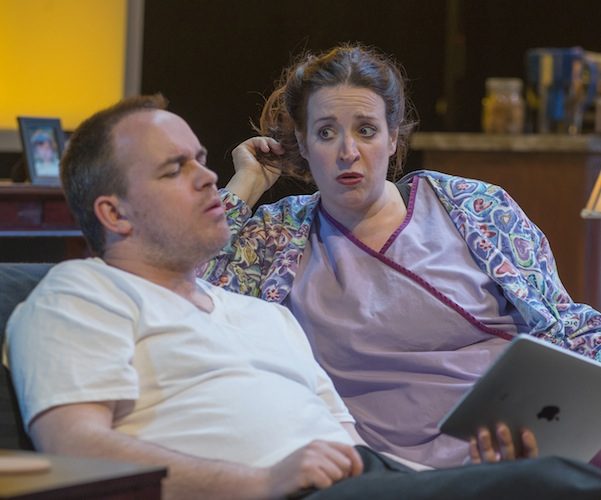 By Ian Thal
During the first scene of Scenes From An Adultery, Gasper (Ciara Crawford), the Irish best mate of the English Tony (Peter Stray), shares a bottle of wine with Tony and his Scottish wife Lisa (Leda Überbacher). He tells them that during an evening at the pub he learned that a mutual drinking buddy — known as Phil the Squid (a fisherman of unknown nationality) — has a twelve-inch long penis. Revel in the titillation of the moment, because the rest of this sex farce, which is receiving its world premiere at the New Rep, is limp.
The plot is simple: Gasper makes Tony promise not to tell Lisa about his suspicion that Lisa's friend Corinne is cheating on their drinking buddy, Dean. At the pub a week later Gasper reveals that Dean has cheated on Corinne. The following week Lisa is angry that Tony kept mum; the guy's excuses are predictable to anyone who has absorbed any pop-culture over the last century or so.
Many a fine comedy has been built around gossip, secrets, and people's askew perceptions of the sex lives of others. The problem for Noone's Scenes From An Adultery is that these aspects of farce contrivance are not what generate the comedy. They are merely the theatrical scaffolding upon which the humor — rooted in detailed characterization, clever word play, and a mania for bourgeois respectability — is often built. His figures lack quirky, strange obsessions or exaggerated vices. (Eric Bentley wisely noted that characters in a farce should be overheated engines of desire.) Tony is our feckless everyman: he coasted into an office job that gives him an upper-middle-class level of comfort. He is without worries until the beginning of the play. Lisa is the slightly less-feckless wife with the standard feminine moral compass that can't hone in on the vagaries of guy-stuff. Gasper is the unmarried, unencumbered best friend who does single-guy-things, like spending every night in a pub and having sex with women who are also not married and then telling his married friends that on one night of the week they're allowed to join him and have a pint. These figures are never developed beyond simple stereotypes. Corinne is described as if she could be an entertainingly twisted comic creation, but given Noone's clumsy comic chops it is better that she remain off-stage.
The dialogue is lacking in wit, to say the least. This is what, once upon a time, maybe back in the 1970s, passed for 'sophisticated,' risqué adult comedy — using words like "penis," "tits," and "cunnilingus" on stage. Yet I didn't find it all that amusing and neither did most of the audience members at the performance I attended: during the entire 70-minute runtime the laughter was restricted to the occasional isolated titter or chuckle. It is almost as if the decision to cast three actors from the British Isles was done with the hope  that –given the popularity of certain British comedies — Americans might find their native accents funny. But those shows were successes in their homelands first — admired for their writing and performance styles. And, unless one counts Peter Stray hysterically waving his arms around because his character is helplessly caught between wife and best mate, there's a notable lack of physical comedy.
Those familiar with Bridget Kathleen O'Leary past work, particularly with her stagings of such challenging material as Wallace Shawn's Aunt Dan and Lemon and Craig Wright's Recent Tragic Events for Whistler in the Dark, know her to be a highly capable director. But there's really nothing that can be done for a not-very-good play aside from making sure the blocking is coherent. Likewise, talented actors cannot redeem a substandard script, though Übermacher's highly expressive face does briefly distract from her often forgettable dialogue.
Normally, I am a fan of sound designer David Remedios, but his contributions here were incongruous, mostly comprised of retro-1980s guitar rock (with an occasional jazz drum solo thrown in) during the scene transitions. They were a bad fit, jarring against the meaning, energy, and mood of the script. Janie E. Howland's scenic design, with its grey marble counters and wooden cabinets with clouded glass door panels, recalled the kind of generic images you see on the covers of home furnishing catalogues. The colorful lighting panels designed by Christopher Brusberg look as if they had been intended to decorate a science-fiction adventure.
Scenes From An Adultery was developed as part of New Repertory Theatre's Next Voices Fellowship Program, and the theater company should be commended for its commitment to nurturing local dramatists. Though in this case it is faint praise. Ronan Noone teaches playwriting at Boston University, so he should know the rudiments of his craft. And this play was developed in-house, under the eyes of people who could have put on the brakes before it was slotted into the season. One has to seriously wonder about the nature and value of a 'creative' process in which such a shoddy product is the end result. When the pipeline gives birth to a 'sex' comedy this boring, its time to check the plumbing.
---
Ian Thal is a playwright, performer and theater educator specializing in mime, commedia dell'arte, and puppetry, and has been known to act on Boston area stages from time to time, sometimes with Teatro delle Maschere. Two of his short plays appeared in theater festivals this past summer. He has performed his one-man show, Arlecchino Am Ravenous, in numerous venues in Massachusetts and Rhode Island. One of his as-of-yet unproduced full-length plays was picketed by a Hamas supporter during a staged reading. He is looking for a home for his latest play, The Conversos of Venice, which is a thematic deconstruction of Shakespeare's The Merchant of Venice. Formerly the community editor at The Jewish Advocate, he blogs irregularly at the unimaginatively entitled From The Journals of Ian Thal, and writes the "Nothing But Trouble" column for The Clyde Fitch Report.