The comedy-tinged-with-drama touches on themes tackled by a bunch of recent indie movies that center on characters in their thirties and forties who feel like imposters in the world of adults.
Adult Beginners, directed by Ross Katz. At the Coolidge Corner Theatre, Brookline, MA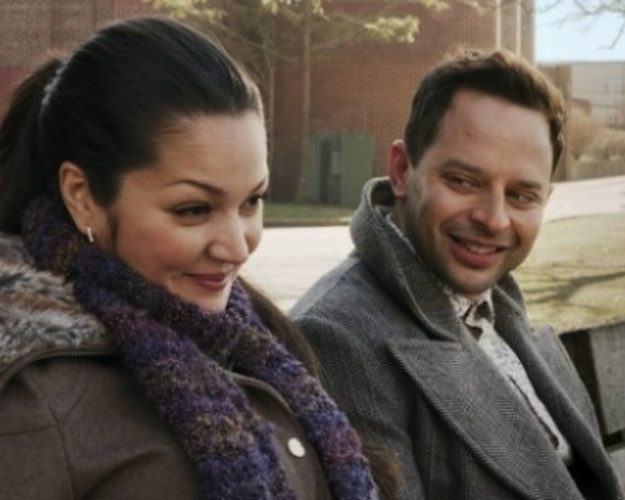 By Betsy Sherman
Ross Katz, producer of movies such as Lost in Translation, makes his debut as a director of feature films with Adult Beginners, which stars Nick Kroll and Rose Byrne. They play a brother and sister who find themselves reunited, minus parental supervision, under the roof of their childhood home. The comedy-tinged-with-drama touches on themes tackled by a bunch of recent indie movies that center on characters in their thirties and forties who feel like imposters in the world of adults. But despite a talented cast, which also includes Bobby Cannavale, Adult Beginners doesn't add much that's fresh to the conversation.
Within the movie's first ten minutes, everything that's going well for Manhattan tech entrepreneur Jake (Kroll) blows up, and not in the good way. Because of an oversight, his product launch is scuttled—he loses all his money plus the investments he enticed from his friends, who now hate him. A commuter train ride takes Jake out of the city and figuratively back in time to the Westchester County home inhabited by sister Justine (Byrne), her husband Danny (Cannavale) and three-year-old Teddy (Mom died of cancer years earlier and Dad has moved to Florida). Jake and Justine, a high school teacher, aren't so much estranged as just disengaged from each other. Little brother seeks comfort on his own terms (first, how about some soup?).
Brother-in-law Danny, a contractor, hits upon a way to make lemonade out of the lemon of Jake's proposed months-long stay. Seeing how Justine is pregnant with their second child, it sure would take some of the pressure off her if Jake became a nanny to Teddy. After a few predictably comic bumps, it's not so hard for Uncle Jake to get in touch with his inner child and bond with the boy. But is the deflated go-getter mature enough to recognize the dissatisfaction felt by both parties in Justine and Danny's outwardly happy suburban marriage? Justine, although proud of her work as a teacher, had had other professional plans that were put on hold while she took care of her mother. Her resentment of her golden-boy brother (whose congratulatory bar mitzvah poster is still in his bedroom) lingers. And Danny is not quite the blue-collar mensch he seems. Will Jake add to their problems or be a help?
Scripted by Liz Flahive and Jeff Cox from a story by Kroll, Adult Beginners comes in the wake of similar, better movies. Last year alone there were two excellent sibling-visits-sibling movies, Craig Johnson's The Skeleton Twins, with Kristin Wiig and Bill Hader, and Joe Swanberg's Happy Christmas with Swanberg and Anna Kendrick (and which had, in the sister-in-law character played by Melanie Lynskey, a more interesting version of Justine). The new film's thunder is also stolen by Noah Baumbach's While We're Young and even the more broadly comic suburban-set Neighbors (co-starring Byrne, whose comedy chops are always impressive).
The prodigiously talented Kroll recently presented the third and final season of his sketch-fest Kroll Show, which it would be a mistake to categorize as merely a tour de force of short-form comedy, since its disparate characters and their storylines tied together with awe-inspiring elegance. He'll be fine, even though his talents feel muted here. Adult Beginners is watchable as extra credit for students of the genre; otherwise, it's not compulsory.
---
Betsy Sherman has written about movies, old and new, for The Boston Globe, The Boston Phoenix, and The Improper Bostonian, among others. She holds a degree in Archives Management from Simmons Graduate School of Library and Information Science. When she grows up, she wants to be Barbara Stanwyck.