There was new music, of which Nelsons's an uncommonly gifted interpreter; old music that mostly sounded lively and spring-like; and a big, loud, late-Romantic warhorse that let him and the BSO show off.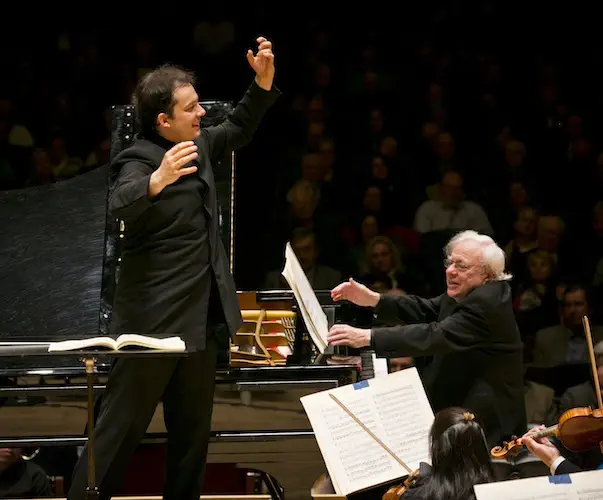 By Jonathan Blumhofer
Andris Nelsons wrapped up his first season as the Boston Symphony Orchestra's (BSO) music director on Tuesday night with a concert that played to many of his strengths. There was new music, of which he's an uncommonly gifted interpreter; old music that mostly sounded lively and spring-like; and a big, loud, late-Romantic warhorse that let him and his orchestra show off.
The program's first piece was Gunther Schuller's Dreamscape, written for the Tanglewood Music Center Orchestra in 2012. It's a short piece – only about eleven minutes long – that, like much of Schuller's output, is often knotty and crusty. It's also (like most of Schuller's music) brilliantly scored. According to the composer, all of the music's details came to him in a particularly vivid dream and he wrote them down immediately after waking. Would that we all had such creatively productive sleeps.
Dreamscape is cast in three movements. The first, "Scherzo umorisitico e curioso," features all three characteristics in droves. It opens with a burst from the full orchestra before a haze of strings emerges. Ivesian elements, snatches of Mozart and Tchaikovsky, and a clarinetist speaking near movement's end are among several things that pop out of the busy, Technicolor texture.
The hazy second movement, "Nocturne," is more serious, marked by some pungently orchestrated passages for muted brass. And the finale, called "Birth-Evolution-Culmination," evokes, over just two or three minutes, a powerful demonstration of musical development.
The BSO has played plenty of Schuller's music in the past, but this was their first time through Dreamscape. Tuesday's reading was rhythmically agile and tonally rich – the stirring peroration of the finale came across with thunderous potency and the brass chords in the second movement were beautifully blended – while the first movement was marked by a knowing wit. A frail-looking Schuller (he'll be ninety this November) was on hand to take a well-deserved bow.
Like Schuller, Richard Goode is no stranger to BSO audiences. His reading of the solo part from Mozart's valedictory Piano Concerto no. 27 was, on Tuesday, marked by a lightness of touch and transparency that, especially in the finale, could be downright ebullient. In the earlier movements, both of those qualities served different ends and achieved varied levels of success.
My biggest pet peeve about Mozart interpretation is that, all too often, his music is played as though it's some fragile china that that might shatter if it's touched by a feather. It ought to be played with bite, like it's Beethoven. If you take this approach, all of Mozart's patented beauty, sadness, and lyricism will still be there. They just won't sound so emasculated.
In the first movement of the Concerto on Tuesday night, Goode and Nelsons tended towards the limper, traditional approach. I found it too genteel and light. True, neither soloist or conductor overplayed the music's subtle shifts from sun to shade, but the whole thing could have used more force of character: it was technically accomplished and rhythmically alive, but, to these ears, lacked a deeper spirit.
If the first movement wanted for some humanizing qualities, the gorgeous slow movement didn't. On the contrary, it sang with a deep sense of purpose, Goode ably mining its depths of expression. Of course, in Mozart slow movements, delicacy and beauty of tone are, if anything, more important than in the more symphonic opening movements.
So, too, is capturing the intimate, chamber-like quality of the writing, which was accomplished here in striking fashion by reducing the orchestral strings to solo players during the movement's middle section. Among other orchestral highlights were some fine solos from oboist Keisuke Wakao.
After intermission, Nelsons returned to conduct Richard Strauss's Ein Heldenleben. There's much one can say about the piece and plenty of it negative, but, on the plus side, after nearly 120 years, Ein Heldenleben remains perhaps the most spectacularly orchestrated forty-five minutes of music in the canon. Strauss's at least semi-autobiographical score features plenty of bombast – the six-minute battle scene creates such a din that, on Tuesday, one could see the BSO's expanded string section sawing away furiously but couldn't hear a note they played – alongside a number of touching, introspective moments.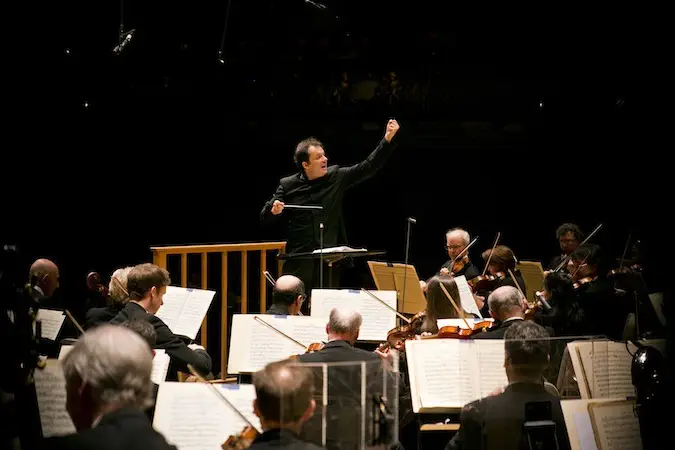 In Nelsons' interpretation this weekend, those latter ones tended to come off the a bit more episodically than they should: he liked to linger over the loveliest moments. Of course, that gave Malcolm Lowe's extended solos in the second movement and finale more time to shine (and they glowed as brilliantly as anything Lowe's played in recent memory), but it had the cumulative effect of robbing the music of its overarching sense of narrative development. And in a symphonic poem, the narrative is, understandably, of rather paramount importance.
That said, individual movements often flowed well, even if the whole river dammed up a bit here and there. The opening depiction of the hero soared, the critics in the second movement carped incessantly, the battle music sounded cacophonously, and "The Hero's Works of Peace" – a collage of Strauss's greatest hits (through 1898) – brought forth some stunning brass playing over its first part; the second half got a bit soupy, texturally, but cleaned up nicely heading into "The Hero's Retreat from the World and Fulfillment." Concertmaster Lowe was the performance's standout soloist with his carefully shaded rendition of the many violin solos, most of which are meant to depict the Hero's companion (Strauss's wife, Pauline).
The BSO takes this program along with those heard over the previous two weeks (the Mahler half of their Gandolfi/Mahler double bill and Beethoven/Shostakovich) to Carnegie Hall this week for its annual residency and before returning to Boston to close out the season with a pair of subscription series led by conductor emeritus Bernard Haitink. Nelsons' next appearances with his orchestra will be a set of highly-anticipated engagements at Tanglewood later this summer, before he leads the BSO on its first European tour since 2007.
---
Jonathan Blumhofer is a composer and violist who has been active in the greater Boston area since 2004. His music has received numerous awards and been performed by various ensembles, including the American Composers Orchestra, Kiev Philharmonic, Camerata Chicago, Xanthos Ensemble, and Juventas New Music Group. Since receiving his doctorate from Boston University in 2010, Jon has taught at Clark University, Worcester Polytechnic Institute, and online for the University of Phoenix, in addition to writing music criticism for the Worcester Telegram & Gazette.