Featuring seven short dances by stellar choreographers of contemporary dance, the Harvard Dance Center's spring program promised some rare enlightenment.
Duetti, at Harvard Dance Center, 60 Garden Street, Cambridge, through April 18.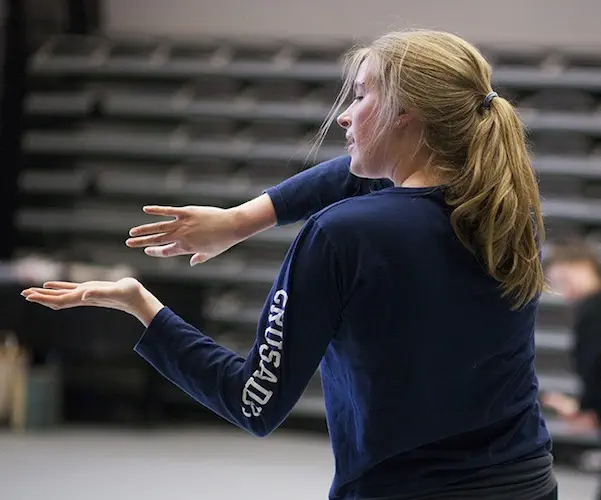 By Marcia B. Siegel
The Harvard Dance Center's spring program is featuring seven short dances by stellar choreographers of contemporary dance. Recently we've seen evenings of works by Brian Brooks and Michelle Dorrance at the Institute of Contemporary Art, but Francesca Harper, Crystal Pite and William Forsythe are infrequent visitors to our stages. The closest Pite's Kidd Pivot company has come to Boston, I think, is Jacob's Pillow. So the Harvard program promised some rare enlightenment.
Since the advent of Forsythe alumna Jill Johnson as director of the program, Harvard Dance has specialized in the kind of choreography that resists the familiar blandishments of linearity, musical dependency, and glamorous featured dancers — in other words, the fundamentals of high classical ballet. In a way this aesthetic suits a curriculum for arts and science majors, who don't concentrate on ballet or modern technique as intensively as students in a conservatory.
But Forsythe makes his own demands. Johnson directed an excerpt from Forsythe's 1988 anti-ballet The Vile Parody of Address for Harvard students Lauren Balbus and Lev Ratnovsky. This morsel, accompanied by a fugue from Bach's "Well-Tempered Clavier" played and hummed by Glenn Gould, seemed to propose the conventions of a classical ballet pas de deux only to topple them. In contrast to the other entries on the Harvard program, Forsythe's work is founded on rigorous classical movement, even when it's shredding the cherished assumptions of ballet.
As the dancers grapple and twist, without explicitly imitating Bach, you get fleeting glimpses of swans and princes. Moves you expect will be sleek and beautiful turn out to be awkward. Stretchy movements are arrested or broken into angles. Ratnovsky grabs Balbus around the waist, turns her by pushing on a leg, a thigh. At the end he momentarily captures her but she slides out of his grasp and falls to the floor. The lights fade out.
Ratnovsky partnered Tessa Markewich in Crystal Pite's Ten Duets on a Theme of Rescue, a meditation on touching and separation. This series of encounters, set to a '70s-sounding synthesized score, possibly from the 2002 movie Solaris, was a softer account of the relationship we saw in the Forsythe duet. Pite writes in a program note that she was exploring the theme of rescue in the dance's inconclusive vignettes. Markewich falls out of her partner's embrace at the end, and the lights fade out as she's lying on her side, one leg and one arm stuck in the air.
Francesca Harper, another Forsythe devotee, opened the Harvard program with A Reconfigured Dream, danced by Aru Gonzalez and Maya Park. In this duet, Gonzalez had the honed, efficient body of an athlete, while Park was more dancerly. Their relationship explored issues of chasing and dominance. Unlike Forsythe, Pite and Harper seemed to base their choreography on everyday actions, not balletic attitudes. Maybe this was why I felt their dances were both more "human" than the stern messages of Forsythe.
Duets usually imply erotic exertions in ballet and modern dance, but I thought Michelle Dorrance was using this opportunity to explore her own medium. Could tap dancing be a vehicle for character, even farce? Of course, it has been that historically, and Dorrance grazed some of the stereotypes of minstrelsy in I Raise Hell. A black and a white woman (Aysha Upchurch and Julia Cataldo), in tacky dresses, riffed on a twosome routine as a woman's voice (reminiscent of Billie Holliday's) was singing during a tune performed by the Squirrel Nut Zippers. The dancers did solo phrases and a couple of unison bits, but there was an underlying competitiveness in their partnership. The rivalry didn't get nasty, but their smiles got bigger and more strained.
Dorrance and Melanie Sullivan co-choreographed this dance. Sullivan has danced with Jason Samuels Smith's tap company, but her main credits lie in commercial TV and shows. Dorrance, on the other hand, is known best as a plainspoken downtown diva who specialized in expositions of virtuosic tap. Could this little drama be implying a clash of styles and ambitions?
The rest of the dances on this program seemed to put structure first, with other personal implications left to the viewer's imagination. Brian Brooks worked with four women in Shadowed, another installment of Brooks's minimalist dancemaking. The women began in a line, gesturing with one straight arm. What seemed like a formalist limitation became the basis for a whole compendium of running, wheeling arms, circling moves, as the gesture expanded into the women's bodies and carried them into space.
Jill Johnson presented two pieces that evolved from classes in the Dance Program. 2 For 3 By 6: A Cubist Fugue had two small women and a large man, all Asians, rearranging themselves with very basic moves, to Luciano Berio's two-violin score "Duetti." As the trio moved around the space, they shared some movement motifs, falling into unison and canonic forms as if by accident, or sudden inspiration. The nine dancers in Degrees of Difference also shared a limited movement vocabulary while a recorded Gertrude Stein voiced some easily tuned-out wordplay that might have referred to Picasso.
As the dancers shifted positions in the space, they formed basic units: couples, lineups, imitative canons. I appreciated the compositional variety, even as I was noticing that in all their groupings the dancers faced the audience. Somebody, it could have been Gertrude Stein, said that all movement means something even if it doesn't appear to.
Note: Jill Johnson is staging Forsythe's 1996 The Vertiginous Thrill of Exactitude for the Boston Ballet's final series of this season, May 14-24.
Cedar Lake Contemporary Ballet will show Crystal Pite's Grace Engine at Boston's Shubert Theater, May 15-17, courtesy of The Celebrity Series.
---
Internationally known writer, lecturer, and teacher Marcia B. Siegel covered dance for 16 years at the Boston Phoenix. She is a Contributing Editor for the Hudson Review. The fourth collection of Siegel's reviews and essays, Mirrors and Scrims–The Life and Afterlife of Ballet, won the 2010 Selma Jeanne Cohen prize from the American Society for Aesthetics. Her other books include studies of Twyla Tharp, Doris Humphrey, and American choreography. From 1983-1996 Siegel was a member of the resident faculty of the Department of Performance Studies, Tisch School of the Arts, New York University