"It takes a special choreographer to make audiences laugh, reflect, and empathize."
KEIGWIN + COMPANY at MASS MoCA's Hunter Center, North Adams, MA, on April 11 at 8 p.m. and April 12 at 3 p.m.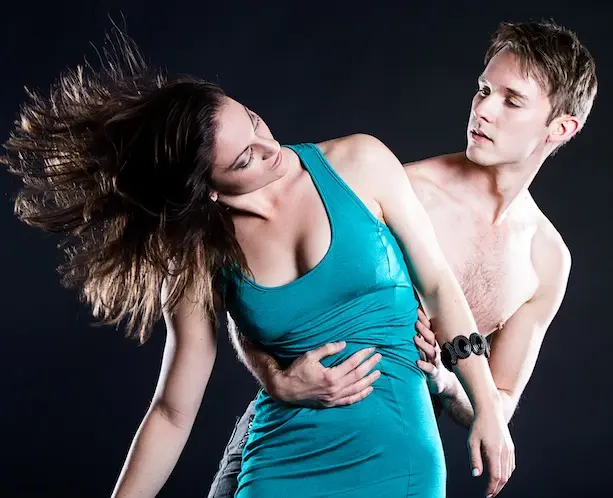 By Janine Parker
A funny thing happened to Larry Keigwin on his way to Julliard (where he'd been accepted). He didn't go.
This kind of reverse "can you tell me how to get to Carnegie Hall" punch line is a familiar one to Keigwin: later, as an aspiring young dancer, when he auditioned for the Paul Taylor Dance Company and was offered a spot in Taylor 2, the junior troupe, he declined.
When one door closes, another opens, right? At the time Keigwin—whose contemporary dance group KEIGWIN + COMPANY will perform at MASS MoCA next weekend—certainly had no way of knowing if there were more doors in his future or just burnt bridges in his past. For a long time "I could never walk past the Julliard School without feeling anxiety," he said in a recent phone interview. "I regretted that for a good decade."
Rather than wallow in worry, however, Keigwin worked. Now 43 and a successful New York-based dancer and choreographer, his dance card is kept full, not only with creating pieces for his chamber-size company, but also with completing commissions from outside groups. As his name and reputation has grown, so has the level of companies seeking his work. In 2007, he was engaged to contribute a piece for the Martha Graham Dance Company's first iteration of its Lamentation Variations project, which has gone on to include both up-and-comers as well as established choreographers such as Yvonne Rainer and Lar Lubovitch.
Meanwhile, those doors at Julliard have been kept wide open for Keigwin: over the years the school has commissioned three large-scale works: 2008's Runaway, 2009's Megalopolis, and Exit Like an Animal, which premiered in December. Recently, he also choreographed the Broadway musical If/Then, starring Idina Menzel. (As a youngster, Keigwin studied circus arts, which perhaps explains his adroitness at juggling various projects.)
And Taylor? Earlier this month, it was announced that Keigwin, along with Doug Elkins and Lila York, would be the first choreographers to create new works for the sixty-one year-old company, which until this year only performed the creations of its eponymous founder. Now called "Paul Taylor's American Modern Dance," the group began its new mission with a season that included a masterwork by Doris Humphrey (Passacaglia, from 1938) and Shen Wei's 2003 Rite of Spring. The latter was performed by Shen's own company. The Límon Dance Company, appearing as guests, performed the Humphrey work.
"I'm not surprised that Larry has been asked to make work for the Taylor company," commented Ella Baff, executive and artistic director of Jacob's Pillow Dance, via e-mail. The Pillow presented KEIGWIN + COMPANY at its 2003, 2008, and 2011 summer festivals, and is co-presenting the group for the MASS MoCA performances. "I'm sure that whatever Larry creates will challenge the company, and will add a wonderful and compatible new voice to their repertory."
Will the Graham and Taylor experiments turn out to be successful refurbishments for these "brand-name" dance companies? It is a hot topic in the dance community: the questions and conundrums of "legacy" are frequent intermission topics. The hope is that the benefits will be mutual. The grand dame troupes get a shot of fresh blood while the young bloods themselves get to stand on some tall shoulders.
Keigwin guesses that for those who commission him the expectation is that he'll create work that's "physical and exciting." But he insists his first priority when he's working with an outside company are the dancers themselves. "I feel a responsibility more to the dancers than to the audience or to the presenting organization," he explained. "I mean, I'm a dancer…I always wanted to dance in work that was physically challenging and joyful to do…it sounds cheesy, but I really want to give that to the dancers."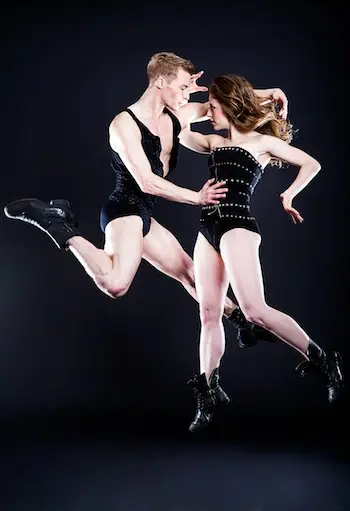 His admirable loyalty to performers aside, the infectiousness of Keigwin's work draws viewers into its frequent revelry. Many of his dances are energetic and fun, fun, fun, at times turning into a rampaging party whose glee is just barely kept from bubbling over by his well-known stylish wit. Baff believes that "there is also a distinct sense of humanity in many of Larry's works. It takes a special choreographer to make audiences laugh, reflect, and empathize."
Indeed, the first piece scheduled on the MASS MoCA program, Keigwin's 2012 Contact Sport, walks a line between goofiness and survival-of-the-fittest that conjures up, for many of us, memories of the camaraderie and rivalry common amongst siblings. The quartet (sometimes titled Boys, but the cast at MoCA will involve a female, thus the name change) was influenced by Keigwin's own family. The clan included his twin and two older brothers and the work alternates between play and combat, gentle shoves and sly kicks mixed with warm, weight-sharing duets. In contrast, the other two ensemble dances on the program, last year's Waterfront and 2009's Triptych, are more abstract. Waterfront, set to iconic scores by Leonard Bernstein, recalls a kind of free-ranging musical visualization approach, à la Isadora Duncan or Mark Morris. "Triptych," said Keigwin "…is really an essay on design and was inspired by all these hi-rises going up in downtown Manhattan." The "glass and steel and strong diagonals" that caught his eye are reflected in this coolly sleek, unflaggingly physical dance. Both works also happen to afford delicious solo opportunities for Keigwin's engaging, athletic, and technically-secure dancers.
As it happens, there'll also be a solo turn for Keigwin, rather a momentous one: the world premiere of Panic will mark his first return to the stage since 2012, when he ruptured his Achilles tendon. Though the piece is abstract, "I think it's hard to do a solo and not have it be autobiographical," Keigwin told me. Nonetheless, as with many new works, even the creator is uncertain about how it will come out in the end. "I'm still learning about it," he confessed. "I think that there's something about…anxiety, pressure, depression, and getting out of that. The work kind of takes its departure out of those emotions, and then, those emotions lifting, hopefully."
---
Since 1989, Janine Parker has been writing about dance for The Boston Phoenix and The Boston Globe. A former dancer, locally she performed with Ballet Theatre of Boston, North Atlantic Ballet, Nicola Hawkins Dance Company and Prometheus Dance. Ms. Parker has been teaching for more than 25 years, and has a long history with Boston Ballet School. She is on the Dance Department faculty of Williams College in Western Massachusetts, where she has lived since 2003.