The puckish, irrepressible personality of James Randi — magician, escape artist, debunker of seers, psychics, and all things paranormal — is at the zesty heart of this memorable documentary.
An Honest Liar, directed by Tyler Measom and Justin Weinstein. Opens Friday at the Kendall Square Cinema in Cambridge, MA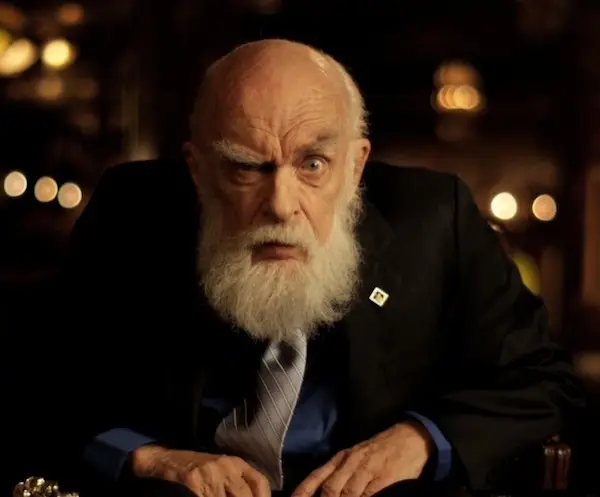 By Tim Jackson
An aged James Randi, cane in hand and beard white as a wizard, walks into his beautifully appointed home. We hear: "No matter how smart or well educated you are, you can be fooled." He sits facing the audience. The film cuts to an old black & white television show. A woman begins crooning a version of the Platters's "You've Got the Magic Touch" as the magician, in a straitjacket, is hoisted by his feet into the air. He escapes just as the song concludes. So begins An Honest Liar, a documentary about the life and career of James Randi, who has performed for decades as 'The Amazing' Randi — magician, escape artist, debunker of seers, psychics, and all things paranormal. It also turns out that he was a man with a secret of his own.
That Randi came out as gay and was for years living with a much younger partner is hardly a shocker. In fact, the relationship is strong, sensible, and right. The battle waged by his partner, Deyvi Pena a/k/a Jose Alvarez, to deal with issues regarding his true identity and a fraudulent passport generates some of the film's conflict. As an artist, Alvarez became celebrated for creating colorful mural-like paintings shown in galleries in New York, San Francisco, and Palm Beach. He is Randi's greatest support in old age and their love story is compelling. But the film's main attraction is the astounding career of Randi himself.
I confess to being a longtime fan. I saw him live in 1970 performing a traditional magic act. He was energetic and humorous. At the time, I hadn't realized he was a premier escape artist, a man who wanted to out Houdini Houdini. He appeared regularly on television throughout the '60s and '70s. I recall many of his appearances on TV's Tonight Show. In 1987 he suffered a double compression fracture of the vertebrae while he was rehearsing the famous 'Milk Can' escape for a TV program hosted by William Shatner. Ever the showman, Randi was wheeled onto the stage on a stretcher so he could introduce his substitute, Dean Gunnarson. "He has never tried this trick before" the magician announced. (Today Gunnarson is a leading escape artist).
Eventually, Randi turned most of his attention toward challenging self-proclaimed "psychics," "healers," and mentalists. He stigmatized them as "people who are stealing money from the public, cheating them and misinforming them." On the other hand, "magicians are the most honest people in the world. They tell you they are going to fool you. And then they do it." The battle lines were drawn; Randi was on a mission to discredit faith healing, eventually outing celebrated evangelist "healer" Peter Popoff on the Tonight Show. Popoff was being paid millions of dollars a year to perform 'miracles'– it turned out he was being fed information through an earpiece monitor. Randi proved that he was a fraud; Popoff was bankrupt within a year. Randi excelled in baffling the believers. He and several young magicians were able to fool a group of paranormal scientific investigators. How they managed to do this has never been revealed. Randi's most celebrated crusade was aimed at quashing  self-proclaimed psychic Uri Geller. Randi duplicated Geller's spoon and key bending as well as his much publicized mind-reading tricks. Today, Popoff and Geller are still making mountains of money. The sad truth is that people desperately want to believe in the supernatural and are willing to be deceived. Randi's crusade goes on.
Adam Savage of the TV show Mythbusters, Bill Nye (the Science Guy), Alice Cooper (for whom Randi created special 'horror' effects) and fellow magicians, including Penn Jillette, testify to Randi's prowess and skill. Directors Tyler Measom and Justin Weinstein fill the story with entertaining archival material as well as a number of intriguing stories. But the puckish, irrepressible personality of James Randi is at the zesty heart of this memorable film. Now 86, Randi is fragile and walks with difficulty — but he continues to be driven by the joy of magic. Says his partner Deyvi Pena: "He has a mission out there in the world and it is compassion." Randi and Pena have been devoted to one another for the last 25 years. This is a love story in many ways – love between human beings and the love of exposing humbug.
---
Tim Jackson is an assistant professor at the New England Institute of Art in the Digital Film and Video Department. His music career in Boston began in the 1970s and includes some 20 groups, many recordings, national and international tours, and contributions to film soundtracks. He studied theater and English as an undergraduate and has also has worked helter skelter as an actor and member of SAG and AFTRA since the 1980s. He has directed a trio of documentaries: Chaos and Order: Making American Theater about the American Repertory Theater, and Radical Jesters, which profiles the practices of 11 interventionist artists and agit-prop performance groups. His third documentary, When Things Go Wrong, about the Boston singer/songwriter Robin Lane, with whom he has worked for 30 years, has just been completed. He is a member of the Boston Society of Film Critics. You can read more of his work on his blog.