The King of Second Avenue's one-joke shtick wears out long before the end of this 90-minute musical.
The King of Second Avenue, based on The King of the Schnorrers by Israel Zangwill. Book & lyrics by Robert Brustein. Music by Hankus Netsky. Directed by Matthew 'Motl' Didner. Staged by New Rep Theatre at the Charles Mosesian Theater in the Arsenal Center for the Arts, Watertown, MA, through March 8.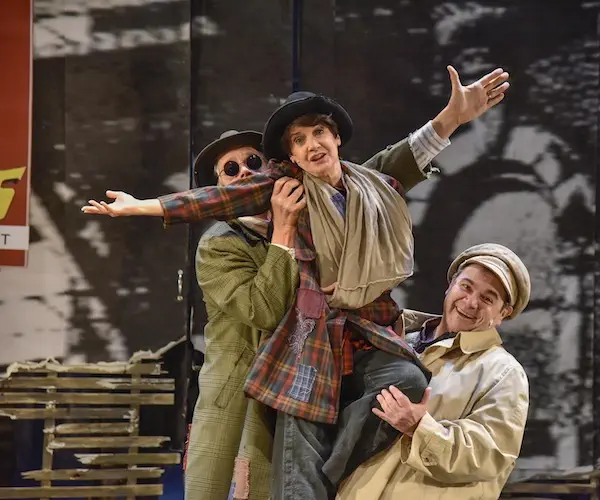 By Terry Byrne
The King of Second Avenue is a bit of mishegas that trades on the irresistible strains of klezmer music and some old-timey borscht belt humor.
That would be fine as a 10-minute interlude between vaudeville acts, or even a 30-minute song-and-dance routine, but The King of Second Avenue, now having its world premiere at New Repertory Theatre, is a one-joke shtick that wears out long before the end of the 90-minute musical.
Perhaps it's just that expectations were so high. With a delightful klezmer score by Klezmer Conservatory Band founder Hankus Netsky, a script and song lyrics by legendary director Robert Brustein, a cast that includes the incomparable Will LeBow and Kathy St. George, not to mention Jeremiah Kissel, Remo Airaldi, Ken Cheeseman, Alex Pollock and the lovely voice of Abby Goldfarb, how could it go wrong?
And at some level, this show doesn't go wrong. It just doesn't go anywhere. Watching Airaldi take a turn at a romantic lead is charming, watching the sparring between Kissel and LeBow is entertaining, although oddly subdued, and listening to St. George sell a torch song as only she can, are all a lot of fun, but there's just not enough there there. Thirty minutes in, everything starts to repeat, which would even be ok if director Matthew Motl Didner had been more creative about the presentation.
The show, originally titled The King of the Schnorrers, and based on the novel by Israel Zangwill, follows a group of con artists (aka schnorrers) who are also out-of-work actors in the Yiddish theater. In a clever opening montage, the history of a theater on Second Avenue is traced through posters: from a series of Yiddish theater hits through burlesque and on to grade-B action flicks. The wealthy owner of the theater, Joseph E. Lapidus (Kissel) takes the holiday of Purim as an opportunity to offer some charity to the schnorrers who are hanging out outside the theater.
But the king of the schnorrers, Da Costa (LeBow), is not satisfied with this insincere act of largesse. He decides to con Lapidus out of a sizeable chunk of his fortune, saying Da Costa's heritage as a member of the culturally elite Sephardic Jews, makes him superior to Lapidus. Lapidus, who is eager to match his ne-'er do well son (Pollock) with Da Costa's beautiful daughter (Goldfarb), is strung along in a series of slapstick bits punctuated by Netsky's klezmer songs and dances.
The action, such as it is, unfolds on a gorgeous set of crumbling city skyline with three sections that rotate to allow for three different scenes. Once again, the show feels like it's been lavishly dressed, but has no place to go.
Despite Netsky's infectious score – there is something utterly enchanting about that clarinet – The King of Second Avenue is a whole lot of gunisht.
---
Terry Byrne has been writing about the arts for nearly two decades. She has an MFA in Playwriting from Boston University and is a Resident Scholar at Brandeis University's Women's Studies Research Center.