To my knowledge, this is the first time that a composer has undertaken to write a set of preludes and fugues for saxophone quartet. This is typically a keyboard form, with the Bach ("Well-Tempered Clavier") and Shostakovich cycles representing twin peaks of that repertoire.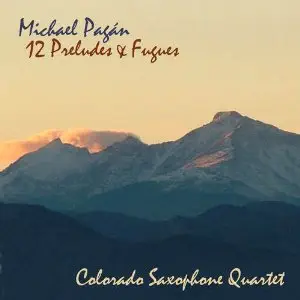 Michael Pagán's 12 Preludes & Fugues. Performed by the Colorado Saxophone Quartet (Tapestry CD: $17.99 through Amazon or Tower.com, $13.58 through CD Universe).
Reviewed by Steve Elman
I conducted a five-minute online search this week and turned up the names of more than 45 different saxophone quartets. On Allmusic, I found recordings by more than 30—and they weren't all the same groups that popped up when I was in search mode. Since the average saxophone quartet has the longevity of a mayfly, there might be 100 or more ensembles out there right now, working up tunes, looking for gigs, pitching their concerts. Who knew?
Well, here's some good news for these intrepid players, especially for those who want to stretch their chops and enrich their repertoire; the premiere recording of Michael Pagán's 12 Preludes & Fugues has been released in a committed and adept performance by the Colorado Saxophone Quartet.
More good news for listeners like me who love the genre, this collection of 12 short pieces is a satisfying and appealing tour through a surprisingly wide range of styles and forms. And incidentally, music-mix programmers (jazz and classical alike) will find more than a few pleasurable time-fillers in the set.
Sax quartets run a huge gamut. There are groups like Rova, with an unmitigated commitment to the avant-garde; the Raschèr, who maintain a full schedule of symphony and recital performances and boast more than 300 works written for them; the World, who are jazz players first and foremost; and many others with hybrid aesthetics. The only constant seems to be the range of the instruments. Usually the groups are structured like string quartets—two high-register voices, one mid- to tenor-range, and one baritone as an anchor. In this case, Pagán opts for a typical combination spanning the clefs: soprano-alto-tenor-baritone.
As far as I know, this is the first time that a composer has undertaken to write a set of preludes and fugues for saxophone quartet. This is typically a keyboard form, with the Bach ("Well-Tempered Clavier") and Shostakovich cycles representing twin peaks of that repertoire. One of Pagán's principal vocations is as a working jazz pianist, so he comes naturally to the alternating contemplative and contrapuntal writing that a listener would expect.
However, no one should mistake his cycle for some kind of hybrid jazz-classical work. This is a set of individual character pieces of through-composed music with very little room for improvisation. These are clearly works of an American composer, unbound by rules and unafraid to take risks. Pagán knows his jazz, knows his classical, and values them both.
He does not draw to any great extent on the creamy French saxophone style. Instead, classical traditions are represented by some rich, organ-like writing (in Preludes I and VIII), in three direct homages to composers Pagán admires—Granados, Bartók, and Hindemith—and some expected nods to Bach. There are four pieces that make direct reference to jazz and several others that glance in a jazz direction; for example, Fugue VI builds on the venerable chord changes of "Indiana" through the Miles Davis-Charlie Parker vehicle "Donna Lee," and Prelude IV uses voicings reminiscent of Thad Jones's work.
In structuring the pieces into a cycle, Pagán has taken a relatively free approach. Instead of restricting himself to a specific round of keys, he has included some pieces in strict tonality, others in more adventurous harmonic territory, and some without any tonal center. In addition, his preludes aren't all introductions to the fugues; some of them stand quite nicely by themselves and could just as easily have been called etudes or nocturnes. His fugues aren't all strictly rigorous in their counterpoint either; some could easily be considered impromptus or fantasias.
Most of the pieces make sensible statements on their own, but there are also some ingenious pairings. Prelude IX and Fugue IX stand better together than they do separately: a very pretty two-minute pastorale is complemented by a smart Bachian workout. Prelude V and Fugue V engage each other in much darker harmonic territory and make their connection in tempo: the prelude is structured slow-fast-slow, and the fugue adds a snappy, fast wrapup.
From Pagán's notes accompanying the CD, it appears that he has hope that the 12 Preludes & Fugues will be presented as a unified whole work, but in this regard he may be disappointed. There is no thread or theme that carries through all 70 minutes of the music. I doubt that all 12 pieces will get many hearings in a single concert, or even that a listener will choose to hear all of the CD in one sitting. But this is as it should be; even Shostakovich's cycle is better appreciated in small doses.
The Colorado Saxophone Quartet (led by Pete Lewis, with Tom Myer, Kurtis Adams, and Clare Church) has obviously lived with and worked with these pieces for a while, and Pagán is lucky to have received such a strong commitment from such fine musicians. Their execution is exemplary, and their sensitivity to a distinctive "group sound" is notable. Their few improvised solos may not qualify as full-throttle jazz (except for Lewis's very good one on Prelude XI), but that's understandable; they are here to represent the composer, not to wail on their own. It's a measure of their dedication that a fifth Colorado saxophonist, Andrew Stonerock, fills in for Adams on more than half the pieces and fits in seamlessly.