What is served at Wasabi is so-o-o-o fresh.
Wasabi is open daily from 11:30 a.m to 10 p.m., 11 p.m. Fridays and Saturdays. Telephone: 617.945.5001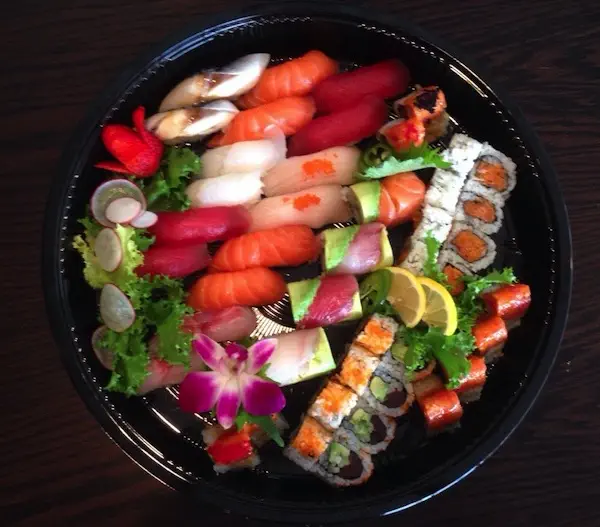 By Gerald Peary
A master sushi chef, Brian Li, has arrived in North Cambridge; and, from my more than half-dozen visits to Wasabi, his tiny Japanese restaurant (2088 Massachusetts Avenue) across the street from The Elephant Walk, I can attest to his superb culinary skills. Curiously, Li is Chinese, from the city of Guan Dong, near Hong Kong. But when he emigrated to America, he got work in a Japanese restaurant in Long Beach, Long Island, helping prepare sushi. After five years of exacting apprenticeship, he was promoted to sushi chef.
And then came a period of owning sushi restaurants, including Mikado 2 in Manhattan, Miyabi in Cherry Hill, New Jersey. But like many transfer Bostonians, he visited friends here and decided to relocate, thinking of his two children's education. "I wanted my kids to go to BU, BC, more opportunity," he told me, in a lunchtime interview at his restaurant. A daughter is a senior at Rutgers University in New Jersey, but Li hopes she will attend graduate school in New England. His son goes to Quincy High School. Li and his wife, Jenny, who is Wasabi's chief wait staff, commute each day from Quincy to Cambridge.
But first an 8 a.m. stop at the Boston seaport. "I pick all the fish myself," Li said, "Fluke, mackerel, tuna, salmon, sea bass." I asked for an example of how he chooses. "For fluke, " he explained, "the skin must be smooth, the eyes are clear, and under the gills, it's still pink. That's basic for good sushi." Li also buys from True World Foods, a middleman company with seafood flown in from Asia. "The yellow tail comes straight from Japan, also the red snapper," Li says. And his extraordinary, silky white tuna, something I often order? "That's from Korea."
On to the eating. What is served at Wasabi is so-o-o-o fresh. Although this is a sushi restaurant, I have a hard time not skipping past the sushi for the same order every time: the Sashimi Deluxe dinner ($20), 15 rectangles of raw fish filet, beautifully sliced, properly iced, and invariably delicious. And there's no hiding of this fish under rice and seaweed wrappings: it's all there, glistening, today's prime catch from the sea.
To begin at the beginning: I recommend a premium Sapporo poured into a frosty glass and matched with warm, hearty miso soup. It's probably Cambridge's finest: a good stock and flecks of tofu, scallion, seaweed, and, for discreet heat, mini-circles of jalapeno. For a starter, I would forgo the sliced yellowtail, a bit gamey for western palates. And the yakitori chicken is good but not great. (I'm spoiled by once having eaten what was called "the best yakitori in the world" under a railroad trestle in Tokyo.) But do check out the Spicy Tuna Pizza ($9.50), scoops of fish on a crunchy scallion pancake, and, a Chef Li creation, the tantalizing Fusion Spring Roll ($9.50), which includes mango, fish (spicy tuna?), a secret sauce, an asparagus stalk split in half, all wrapped in rice skin. Decidedly yummy.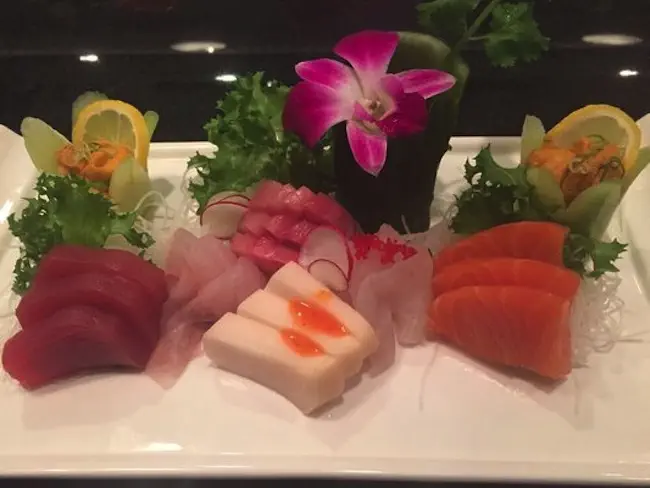 But you've come for sushi? There's fine sushi a la carte. and Sushi Deluxe. But Li also has dozens of maki rolls to choose from. My picks are the Spider Roll ($8) with soft shell crab and the Caterpillar Roll ($10) with avocado and eel. I have yet to opt for the seductive top-of-the-line menu items: the Wasabi Roll ($13.95) with three kinds of fish and wasabi caviar, and the Porter Roll (also $13.95), lobster tempura and spicy crab wrapped in soy skin.
Li says that his sushi cuisine, though always good for customers, has improved in the last years because of health-consciousness, "We use less salt, less oil, we are concerned about allergies." And sustainability. "We don't serve bluefin tuna. It's endangered and it's full of mercury." He does serve a nutty, mysteriously flavorful organic brown rice. It's for those who normally shun brown rice, people like me.
Still, I worry a bit about Wasabi. It has no parking lot. It's in a building with a history of failed, doomed businesses, most recently a grungy Nepalese restaurant "Parking is a problem, " Li concedes. "But we have lots of takeout. And we deliver. We have been here less than five months, and it is getting better and better."
Chef Li's credo is simple. "We want to serve fresh, healthy sushi at reasonable prices." He adds, "I'm 50. I'm not going to make a fortune. But that's OK."
---
Gerald Peary is a professor at Suffolk University, Boston, curator of the Boston University Cinematheque, and the general editor of the "Conversations with Filmmakers" series from the University Press of Mississippi. A critic for the late Boston Phoenix, he is the author of 9 books on cinema, writer-director of the documentary For the Love of Movies: the Story of American Film Criticism, and a featured actor in the 2013 independent narrative Computer Chess