Why does The Arts Fuse keep growing? Because there is an audience for thoughtful coverage of the arts — but we need support from our readers to keep us healthy.
By Bill Marx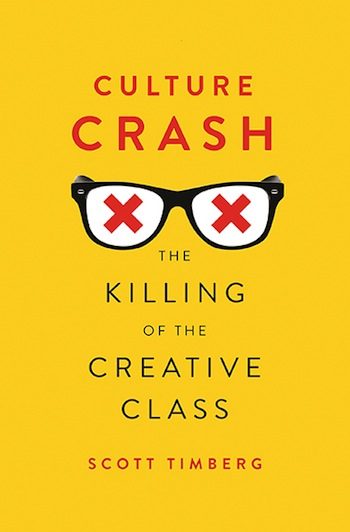 Our Winter Fundraiser is up and running. Please share this link with your friends, family, colleagues, and neighbors who love the arts and want to see more high-quality arts journalism. We're fundraising for our next advertising campaign – atop taxi cabs in spring 2015 – so that more people in and around Boston will know about our online arts magazine! We want to encourage Greater Boston's arts and cultural communities to connect at artsfuse.org. When you see the taxis, you'll know YOU are a part of our success!
(If you wish to donate to pay our terrific writers rather than give to the advertising campaign, please designate that when you make your gift.)
In his forthcoming book Culture Crash: The Killing of the Creative Class (January, 320 pages, Yale University Press, $26), Scott Timberg details how recent economic and technological forces have devastated the arts community, and makes a strong case for what needs to be restored in order to make America's culture healthier. One of the most important elements: cultural middlemen. What are they?
Bookstore workers, newspaper arts critics, radio deejays, librarians, and so on are crucial to keeping cultural circulating; most of them are responsible for connecting the creative arts to a non-specialist audience. Their role is often overlooked, or demonized as "elitist" by techno-utopians. "But gatekeepers are also barriers against the complete commercialization of ideas," George Packer wrote, "allowing new talent the time to develop and learn to tell difficult truths." Can digital technology help? Public-private partnerships? An expanded non-profit sector and a reworked tax code? Maybe.
Recent evidence of the extinction of gatekeepers: the editors and most of the staff writers for the New Republic left en masse because of the publisher's plans to re-make the magazine into an online click-magnet. No matter what you think of the publication's politics, this is another blow to substantial coverage of arts and culture. The Arts Fuse was created to give gatekeepers (young and old, budding and veteran) a place to ply their necess trade: it is an edited, digital response to the curtailment of newspaper arts critics, the dumbing down of professional coverage of the arts, and the transformation of criticism into advertising. As Timberg argues, those who care about serious cultural dialogue and critical evaluation need to support its existence — it can no longer be taken for granted. If arts and ideas are completely commercialized and corporatized, then not only will the creative economy continue to shrink , but the vitality of the culture itself will decay — it means the triumph of the multi-plex, Broadway mentality, where branding and marketing rules.
Now entering our 8th year of publication, we continue to grow as an independent source of news and views about arts and culture in the Greater Boston area, though our readership is impressively international. We've added a variety of great new writers to the fold. There are seasoned critics such as Milo Miles ("Fresh Air" with Terry Gross), Jon Garelick, Brett Milano, Betsy Sherman, and Gerald Peary (all formerly of The Boston Phoenix) as well as new voices such as Kai Maristed, Anthony Merino, Tim Barry, and Kathleen C. Stone.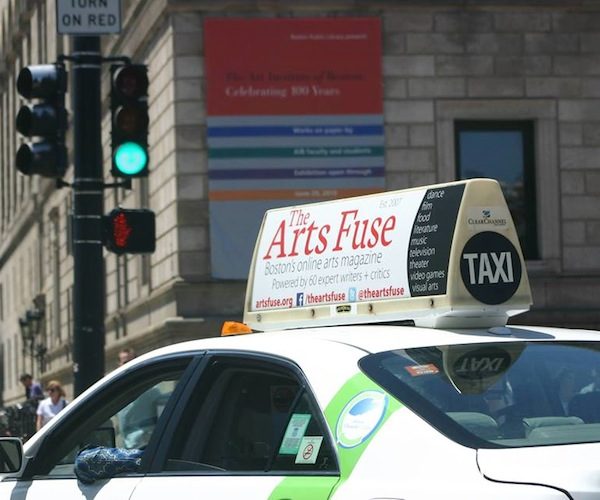 The Arts Fuse is now approaching 3,000 posted articles — we are publishing around 70 new articles per month! Our monthly web site traffic is up to 30-35,000 visits and over 50,000 pageviews. Our email list is up to 1,400, Facebook is at 5,700+ likes, and Twitter is at 2,500+ followers. Our first year-long underwriter — the forward-thinking Celebrity Series of Boston — is back, and there are lots of other organizations, large and small, interested having us promote their programming. We're working on getting more year-long underwriters for 2015-2016.
Why do we keep growing? Because there is an audience for thoughtful coverage of the arts — but we need our readers support to help keep us strong. We have lots of plans to expand our readership and reach (such as the taxi campaign),  to make our online  magazine responsive to the call for quality cultural criticism in the 21st century. But we need more resources and contributions to make this happen.
If you read The Arts Fuse a few times a year or a few times a week, please think about the value of the magazine. Are we helping you decide how to spend your time and money? Are we providing information and stimulation about the arts and their importance in our lives? If so, please consider giving a tax-deductible donation to help us move forward. We really can't do this without our readers pitching in—and you'll get a receipt from Fundraise.com once you donate!
Please support The Arts Fuse.
---
Bill Marx is the Editor-in-Chief of The Arts Fuse. For over three decades, he has written about arts and culture for print, broadcast, and online. He has regularly reviewed theater for National Public Radio Station WBUR and The Boston Globe. He created and edited WBUR Online Arts, a cultural webzine that in 2004 won an Online Journalism Award for Specialty Journalism. In 2007 he created The Arts Fuse, an online magazine dedicated to covering arts and culture in Boston and throughout New England.