This past Friday night's guests were two of the most impressive names in classical music, concert pianist Emmanuel Ax and conductor Kurt Masur.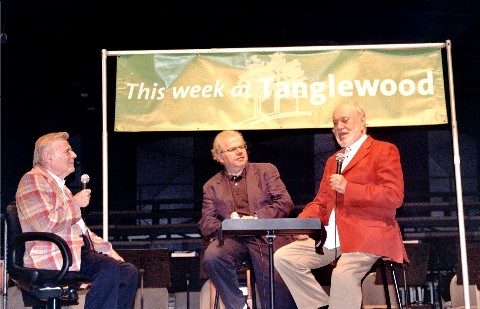 By Ron Barnell
One of the highlights of this and the past several Tanglewood seasons has been a two-step operation. First, early Friday night Boston Symphony Orchestra concert goers enjoy chamber music concerts in Ozawa Hall. Then they move to the Koussevitsky Music Shed to hear a program of stimulating conversations among some of the biggest names in the classical music world. (Most of whom are scheduled to perform that weekend with the Boston Symphony.) The always affable broadcaster Martin Bookspan, ("Live from Lincoln Center") has for many summers served as moderator and interviewer for this series of informal pre-concert talks called "This Week at Tanglewood."
This past Friday night's guests were two of the most impressive names in classical music, concert pianist Emmanuel Ax and conductor Kurt Masur. Ax, or "Manny," was scheduled to perform the Brahms Second Piano Concerto on Saturday night with conductor David Zinman while Masur was to lead the BSO along with the Tanglewood Festival Chorus and soloists in the Sunday afternoon annual closing performance of the Beethoven 9th Symphony. Their conversation provided some of the most enjoyable in the series this summer.
Both artists have performed in concerts many times with each other. Ax talked about the special relationship that forms between the soloist, orchestra, and a conductor. The latter not only knows the music, but who is also able to instinctively anticipate and facilitate the flow of a piece, allowing a soloist to best convey his or her interpretation of the score. ("its really like a temporary marriage.")
Masur was for many years the music director of the Leipzig Gewandhaus Orchestra, a famous ensemble that once claimed Felix Mendelssohn as director. (The Gewandhaus has named Masur its first-ever Conductor Laureate) Ax says playing in that historic concert hall with Masur and the Leipzig musicians is as one of the high points in his concert career.
Masur touched on some some aspects of his many music leadership roles, among them the Music Director of the N.Y. Philharmonic from 1991 to 2002. Bookspan reminded the audience that Masur's final concert as the Music Director of the N.Y. Philharmonic a took place at Tanglewood, with an all Beethoven program in 2002. He has since been appointed Music Director Emeritus of the orchestra.
Masur related a somewhat poignant story concerning the great violinist Issac Stern. At one time they were scheduled to play together,but Stern, because of his strong advocacy of Israel, had a policy of refusing to perform with any German conductor. Masur spoke to Stern and swayed him by pointing out that he (Masur) was German and Jewish. From that moment on they performed in concert many times together. Later, Stern even facilitated Masur's appearances with the Israel Philharmonic. Masur now holds the lifetime title of Honorary Guest Conductor with that orchestra.
Bookspan provided good opening questions that touched on a variety of wide ranging subjects, from the musician's psychological perceptions of the musical experience to what they feel has become the somewhat diminished importance of the ever-expanding international music competition scene.
An interesting fact that emerged from the talks was that both men by chance were married to Japanese women. Masur's wife is an opera singer and Ax's wife a pianist (they often play recitals together.) The musicians briefly delved into some of the pointed differences between Asiatic and Western perceptions of art, culture and music.