Maurizio Pollini's Chopin was breathtakingly beautiful, and often downright thrilling.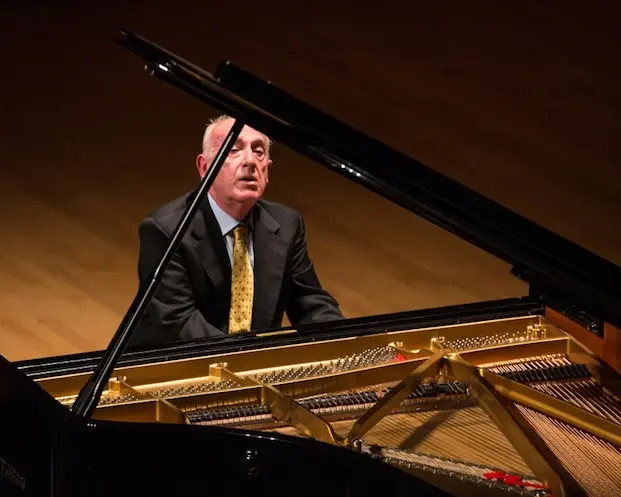 By Susan Miron
For many decades Maurizio Pollini (born 1942) has been a highly revered pianist – in recital, in concertos, and on recordings. His packed Symphony Hall recital on October 5 was sponsored by The Celebrity Series of Boston. I missed his last recital, also presented by the Celebrity Series, so was doubly anxious to catch this one. I am very glad I did.
Pollini devoted the first half of his recital to two famous piano works of Robert Schumann (1810-1856) – "Arabesque" in C Major and "Kreisleriana"- which are regularly paired on recordings and in concert. Clara Wieck, one of the greatest pianists of her day, and Schumann, her brilliant, moody then-suitor, communicated best through letters and music. The composer was forbidden to marry his beloved Clara by her stern father, who wanted her to be a concert pianist – without wifely duties (or the eight children she and Schumann would later have). The composer created his very popular "Arabesque," which is full of longing and declamatory fervor, in Vienna in 1839. (He wrote only for piano until 1840, the year he and Clara won a legal battle against her father and were married). It was his wish, through this piece (and others), to not only become a favorite of the ladies of Vienna, but of his beloved of Clara as well. Here, as in other Schumann piano works such as "Carnival," his famously manic-depressive personality expressed itself through two now well-known sub-personalities: the brazen Florestan, who speaks here in minor key interludes and the poetic Eusebius, who dictates the lyrical main theme. The duo of Florestan and Eusebius also appeared in Schumann's important music criticism, published in the Leipig-based publication he founded, New Journal for Music.
In my random concert-going, I have heard the "Arabesque" and "Kreisleriana" a half dozen times over the past few years. "Kreisleriana" was dedicated to Chopin, who was only three months older than Schumann but an international star at this point. Pollini's playing of these works was curiously unaffecting, the middle register often a blur. This is not to say "Kreisleriana," didn't have many moments of melting tenderness, and that the cross-hand work and the numerous avalanches of notes were not played with stunning precision. But I felt something was missing that I admired so much in his recordings.
Pollini has the reputation of playing somewhat lackluster first halves, followed by brilliant second halves. He certainly lived up to that perception yesterday. Startlingly, Pollini was almost a different performer in the all-Chopin (1810-1849) portion of the concert. His selection was comprised of "chestnuts" culled from his extensive Chopin repertoire, which he has doubtlessly played and recorded often.(Among his Chopin recordings are the Nocturnes, for which he received a Grammy and five other awards; and a new CD of Chopin Préludes). He is a noted performer of a wide range twentieth century composers, but if this recital is any indication, Chopin must be very close to his heart. (He won the 1960 International Chopin Competition). His Chopin was breathtakingly beautiful, and often downright thrilling.
The three programmed works included the Piano Sonata No. 2 in B-flat minor, Opus 35, with its famous funeral march, the enchanting "Berceuse" which has, in recent years, turned up on most Chopin programs I've heard, and the extremely famous "Polonaise" No. 6 in A-flat Major, Opus 53. The audience went wild after each one, and was rewarded by two absolutely gorgeous encores – Nocturne, Opus 27, no. 2, and Scherzo No. 3.(The Nocturnes, Préludes, and Études can be heard on YouTube). I must confess that I was one of those screaming fans in the audience. To paraphrase My Fair Lady's Eliza Doolittle, 'I could have listened to Pollini play Chopin all night.'
---
Susan Miron, a harpist, has been a book reviewer for over 20 years for a large variety of literary publications and newspapers. Her fields of expertise were East and Central European, Irish, and Israeli literature. Susan covers classical music for The Arts Fuse and The Boston Musical Intelligencer. She is part of the Celtic harp and storytelling duo A Bard's Feast with renowned storyteller Norah Dooley and, until recently, played the Celtic harp at the Cancer Center at Newton Wellesley Hospital.