Clocking in at around three hours, the show is a surreal hodgepodge filled with gags, skits, and sketches, the whole kooky kit and kaboodle tied up (too) neatly in a paranoid ribbon.
The Annotated History of the American Muskrat by John Kuntz. Directed by Skylar Fox. Staged by Circuit Theatre Company at the Calderwood Pavilion at the Boston Center for the Arts, Boston, MA, though August 16.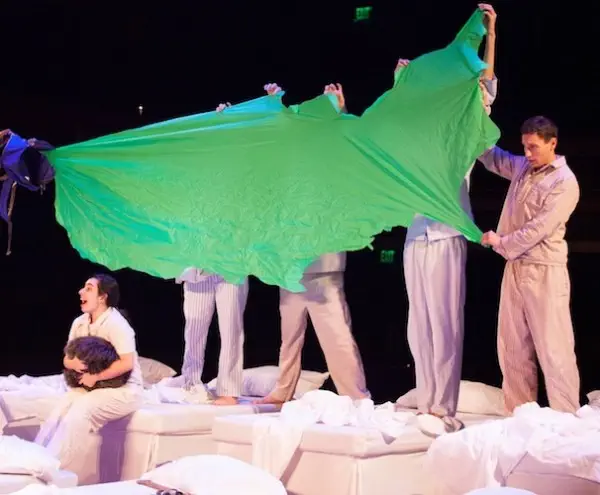 By Bill Marx
"History is a nightmare from which I am trying to awake," wrote James Joyce. In his ambitious, intermittently entertaining satire The Annotated History of the American Muskrat, accomplished playwright and performer John Kuntz suggests that American history is a nightmare from which we can't awake. Or could it be that we simply prefer not to open our eyes? Or could it be that we (and/or he?) can no longer tell the difference between dream and reality? The playwright has a serious point in mind, but his heaping helpings of slapdash slapstick amusement end up burying the possibility of tragic resonance: there are some terrific laughs in this world premiere production from the energetic Circuit Theatre Company, but this is a show where silliness swamps intimations of substance.
The muskrat of the title serves as the metaphor/animal stand-in for American dreamers: the conceit inspires a succession of short episodes that jump hither and yon, through time and space: there are impish send-ups of creation myths, affectionate decimations of pop culture (Captain & Tennille's "Muskrat Love," raccoons acting out a scene from Alfred Hithcock's Rebecca), askew visions of natural born killers, hysterical pillow fights, creepy voyeurism, and digs at the homophobia of performers on Reality TV shows such as Duck Dynasty. Half-hearted jabs at contemporary racism and cubicle culture give way to looks at Revolutionary America's crazed yen for junk food, the connections between Manifest Destiny and Destiny's Child, plots by Richard Nixon and Henry Kissinger to make the country forget the horrors of Vietnam, and the inauguration of President Barak Obama. Clocking in at around three hours (with two ten minute intermissions), the show is a surreal hodgepodge filled with gags, skits, and sketches, the whole kooky kit and kaboodle tied up (too) neatly in a paranoid ribbon.
The opening is effective: we sit at the back of the stage at the Virginia Wimberly Theatre, facing out to the seats. In front of us, eight Circuit Theatre Company cast members are lying in beds, monitoried by ski-masked attendants. The pajamaed sleepers awaken (?) and the fantasies begin. The premise is intriguing: the dreamers are part of some sort of sinister corporate experiment, though the purpose of the conditioning is never made clear. The play maneuvers between these two levels (if there are two): the wacky delusions of the victimized sleepers are inserted into the relationship problems of the neurotic worker bees, who eventually enter into the fantasies of their captive subjects.
This go-anywhere in history/showbiz set-up gives Kuntz licence to do what he wants and the freedom turns self-indulgent. His vision of history is wayward to the point of uselessness. Obviously, the American story must be trimmed down to the bone, even in an epic, but why is there so much here about the Gerald Ford administration? Granted, the Captain and Teneille sang the heinous "Muskrat Love" for the Bicentennial celebration (with Queen Elizabeth in the audience!) and Betty Ford was an alcoholic, but everything from major economic blowouts to the debacle of the Iraq war are missing. Yes, we are a violent, gun-totting country — but what about government approved mayhem, official support of slaughter via drones? Perhaps the archetypal animal at the center of this play isn't a muskrat but a packrat — at times Kuntz seems to be tossing in (or recycling) old comic material and obsessions, pulling out whatever he had sitting in his bureau for this commission.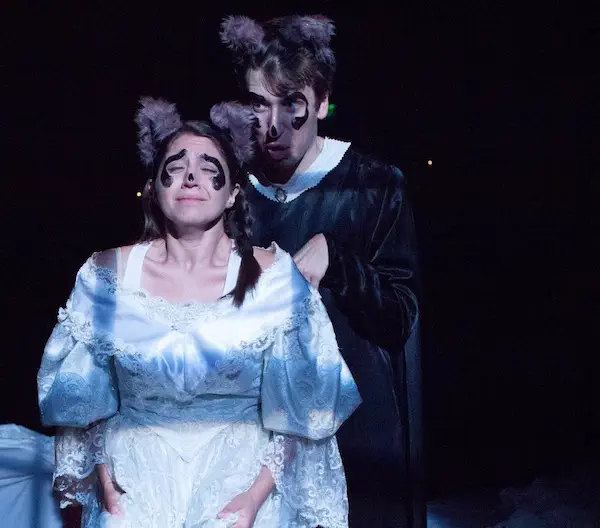 Maybe the shaggy dog quality is part of the joke, but then why should we take anything seriously? The idea that sleeping watchers are being watched by other watchers who are asleep (or traumatized) comes off as an earnest warning about the American experiment gone horribly haywire, but Kuntz doesn't develop the notion far enough to make us feel that there is any genuine pain or loss involved. From time to time, characters launch into lengthy monologues about their loneliness, fear, and despair, but the angst is lost amid all the cartoon capering. And Kuntz's humor, while sharp and inventive at times, is also somewhat limited in scope — his go-to strategy is to juxtapose consumer/pop culture banality with nihilistic furies. There is weirdly wonderful bit about Burger King and Wendy hanging out merrily in hell with American serial killers, first chowing down with the monsters and then taking part in an orgy. (Another macabre episode features a guy in a muskrat suit giving a woman a gynecological exam.) A sketch featuring a libertarian-obsessed couple (who seem to have killed their families) talking to a wary cat-sitter about their disaffections with America pushes tea party mania to the edge of absurdity. This one comes with a wild and woolly 'natural born killers' ending that includes a manic strobe light.
You admire bits and pieces of The Annotated History of the American Muskrat's campy japery, giggle at its occasional interludes of amusing farce, but grow impatient with the amount of razor-thin flapdoodle (First Ladies dropping in on a worker bee and the takeoff on Duck Dynasty among them), dissatisfied that what might have been scathing, disturbing, or incisive lampooning goes limp. (I must admit that, as a connoseur of stage barbs tossed at theater critics, Kuntz has come up with a new one on me. Mary Todd Lincoln confesses that John Wilkes Booth was aiming at her – not the President – in Ford's Theater that evening. She was writing up a review of the show and had panned Booth in earlier critiques.)
Circuit Theatre Company's young cast members bring plenty of gusto to the anarchistic task, their success rate based on the strength of the material they have to work with. (Note: The guys are in drag from time to time. Why can't the actresses dress up as males? Turnabout is fair play.) Director Skylar Fox keeps things moving at the right rat-a-tat clip — if a playlet doesn't work it is rapidly replaced by a new candidate. I started this review with James Joyce, but I wonder if Kuntz was inspired by Walt Whitman's great poem "The Sleepers," in which the poet hovers over the unconscious of a dreaming nation, slipping in and out of a myriad of selves:
I wander all night in my vision,
Stepping with light feet, swiftly and noiselessly stepping and stopping,
Bending with open eyes over the shut eyes of sleepers,
Wandering and confused, lost to myself, ill-assorted, contradictory,
Pausing, gazing, bending, and stopping.
Amid the ugliness and waste, Whitman also sees enormous beauty. Night liberates us from the prosaic demands of the day. For all of its fun and frenzy, Kuntz's comic vision is disappointingly monochromatic: American gerbils/muskrats/dreamers are doomed to run around and around in their cages. And, unlike the rest of us, they never seem to be able to wake up.
---
Bill Marx is the Editor-in-Chief of The Arts Fuse. For over three decades, he has written about arts and culture for print, broadcast, and online. He has regularly reviewed theater for National Public Radio Station WBUR and The Boston Globe. He created and edited WBUR Online Arts, a cultural webzine that in 2004 won an Online Journalism Award for Specialty Journalism. In 2007 he created The Arts Fuse, an online magazine dedicated to covering arts and culture in Boston and throughout New England.