Chanticleer has armies of longtime fans; I am now unquestionably going to join the club.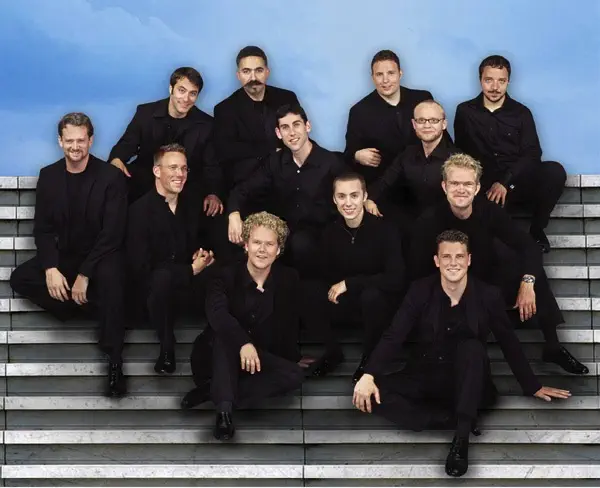 By Susan Miron
Chanticleer, the world's most renowned twelve-man chorus, is so popular that two shows (each sold out) were required (at 5 and 8 p.m.) for their appearance at the Shalin Liu Performance Center last Friday at the Rockport Chamber Music Festival. The Bay area-based ensemble, named for the "clear-singing" rooster in Geoffrey Chaucer's Canterbury Tales, were clad in tails with a pale blue sky and a calm sea at low tide behind them. Rearranging themselves for each set of songs with polished precision and featuring an array of soloists from its members, Chanticleer was seriously impressive from the opening of its concert (at 5 p.m.) through its encores. Massaschusetts was the last appearance on their summer tour; they have performed this year (their 36th) in twenty-three states and nine European countries.
Chanticleer's program, entitled "She Said/He Said" (available as a recording in its CLIC series- Chanticleer Live in Concert), was an ambitious exploration of perspective via a wonderfully varied choice of music. (The customary approach in all of their programs and recordings.) It opened chastely in the 16th century with music by Giovanni Pierluigi de Palestrina (c. 1525-1594) and the sublime Tomrás Luis de Victoria (c. 1548-1611) and the now-renowned Hildegard von Bingen (1098-1179), who was confined to a nunnery by her parents. She is the first documented female composer — her "O frondens virga," based on a Gregorian chant, is a work of hypnotic peacefulness.
The next set included music by Felix Mendelssohn (1809-1847), his "Wasserfahrt" from Sechs Lieder, Op. 50, as well as compositions from his long-overlooked, very gifted sister, Fanny Mendelssohn Hensel (1805-1847). There was also a rendition of "Nachtwache I" from Fünf Gesänge, Op. 104, No 1 by Johannes Brahms (1833-1897). Each of these pieces was sung with beautiful German diction, perfect intonation, and great charm and nuance. Brahms's Fünf Gesänge, which ia considered to be the apex of his a cappella choral output, recalls the Renaissance madrigal, a reminder of the popularity of a cappella singing in the late 1800s. Trois Chansons, with both texts and music for unaccompanied choir by Maurice Ravel (1875-1937), is the latter's only successful foray into the medium of choral music. Inexplicably, the piece is seldom performed. I was thrilled to make their charming acquaintance, and look forward to hearing these pieces again on Chanticleer's CD.
Samuel Barber's "Let Down the Bars, O Death" is set to a poem by Emily Dickinson and deploys a stately dotted rhythm. The the program notes aptly suggest the reason: "to evoke the unwavering march of mortality." The music reminds the listener of Dickinson's memorable words, "Death is perhaps an intimate friend, not an enemy… a preface to supremer things." Another Dickinson poem is used as one of the texts ("I Sing to use the Waiting") in "Wait" Fantasy, arranged by Steve Hackman (b. 1980) for a 2013 Chanticleer commission. "Flower of Beauty" by the British composer John Clements (1910-1986) is such a beautiful composition that I wrote upon hearing it, 'If this is recorded, I'll get the CD just for this.' The traditional fifteenth century French song, "L'amour de moy," (arr. Alice Parker/Robert Shaw) featured a beautiful baritone solo. My only complaint about this concert was that, for most of the songs that featured soloists, the latter were not acknowledged in the program – a considerable oversight, given that each one deserves a bow, applause, and recognition for exquisite singing.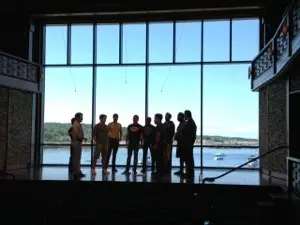 "Oy Polná, Polná Koróbushka," a traditional Russian song arr. by Constantine Shvedoff was performed robustly with great spirit. The music revolves around a peddler who sells his wares to his "dark-eyed love." "Only the dark night knows The Agreement they made. Straighten up, tall rye, And loyally keep their secret." A sexy whistle ends this ribald song, which Chanticleer sings in Russian – it has become one of the group's recent specialties. Special kudos go to the many clever arrangers who made these works singable by a male cappella choir: no musical instruments were used in the concert. The last piece on the printed program was the bassa nova classic "Chega de Saudade (No More Blues)" by the Portuguese composer Antonio Carlos Jobim (arranged by Jorge Calandrelli). I must admit that I never quite got the 'She Said, He Said' theme of the evening, but I was continually impressed by the nuanced musicianship and linguistic abilities of each of the chorus' members.
As often happens, the best parts of the concert were in its encores. A bass soloist was featured in the iconic Johnny Cash tune "Ring of Fire" (Michael McGlynn's arrangement). ("I fell into a burning ring of fire. It goes down down down…") The encore performance that made the most indelible impression was that of Joni Mitchell's famed 1969 song "Both Sides Now" ("It's love's illusions I recall. I really don't know love at all.") from her album Clouds. Vince Peterson's arrangement was deeply moving and satisfying. Finally, there was a Gospel/Spiritual set, arranged by Joseph Jennings. One of the soloists was the fabulous baritone-bass Marques Jerrell Ruff, but the others, who sang just as memorably, did so without attribution. Chanticleer has armies of longtime fans; I am now unquestionably going to join the club.
---
Susan Miron, a harpist, has been a book reviewer for over 20 years for a large variety of literary publications and newspapers. Her fields of expertise were East and Central European, Irish, and Israeli literature. Susan covers classical music for The Arts Fuse and The Boston Musical Intelligencer. She is part of the Celtic harp and storytelling duo A Bard's Feast with renowned storyteller Norah Dooley and plays the Celtic harp at the Cancer Center at Newton Wellesley Hospital.