What's not to adore about this super-friendly, hedonistic, 24-hour street party, what summer resident John Waters celebrates as "a gay fishing village," and what I might label, oxymoronically, a "queer New Orleans."
By Gerald Peary
Many moviegoers journey to the Provincetown Film Festival each June because, before all else, its just so exhilarating, in season, being in P-Town. What's not to adore about this super-friendly, hedonistic, 24-hour street party, what summer resident John Waters celebrates as "a gay fishing village," and what I might label, oxymoronically, a "queer New Orleans." I love pushing past the handholding gay and lesbian couples, the crooning transvestites, the cruising, suntanned New York pretty boys, as I race between screenings. And there are sensual straight attractions also: licking their frozen yogurt cones, cute gals in shorts. They're mighty fine, but so also are the Wellfleet oysters on the half shell at the Lobster Pot and the rare first editions at Tim's Used Books. And lest we forget: the dunes, the Atlantic Ocean.
But finally, as Rick does Casablanca for the waters, I'm in Provincetown to see movies. And there were many good ones at this year's 16th Film Festival, and a few failures.
Bad news: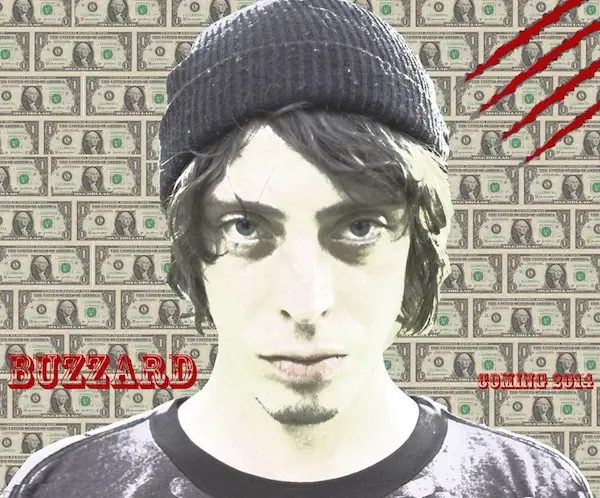 Joel Potrykus's Buzzard. This indie filmmaker's first film, Ape, won a Best New Director prize at Locarno. I didn't see that one, but this one is appalling, a shapeless unfunny "comedy" about disgruntled cubicle workers. Read Dilbert instead.
Valerie Veatch's Love Child. A tabloid documentary about the 2010 trial of a hapless South Korean couple whose infant died neglected while they were at an underground parlor playing video games. Veatch had no access to the actual defendents, so she relies on unreliable second-hand testimony of a sleaze journalist who'd attended the trial. An exploitative work, much stretched to make a 75-minute feature.
Marshall Curry's Point and Shoot. A documentary about Matt VanDyke, a young dude from Baltimore, who, influenced by video games, Lawrence of Arabia, and Chuck Norris-style action movies, went off to fight Gaddafi in the Libyan guerilla war. VanDyke did amazing stuff but, back home being interviewed, he's not that interesting a guy. You sympathize more with Matt's practical girlfriend, who was perturbed that he's abandoned her for his "guy" adventures.
Mixed news:
Paolo Virzi's Human Capital. Stephen Amidon's Connecticut-set novel is moved deftly to Berlusconi's greedy Italy. The first two acts are sly political satire, the last two acts a mystery that becomes a cheat as someone you've never seen on screen emerges as the hunted killer. Better the butler did it.
John Michael McDonagh's Calvary. Brendan Gleeson makes a commanding, conscience-stricken priest, but the story, set in a claustrophobic Irish town, is much overwritten, spilling out with hefty speeches. I never bought into this sordid tale of a man molested as a child by Catholic clergy who now wants to take revenge by murdering a good priest. Why not take down an evil priest? Whatever, the monumentally downer ending sent the polite P-Town audience into shock. All weekend, I overheard people trying to make humanist sense of what happens to Gleeson's poor Father Lavelle.
Good news: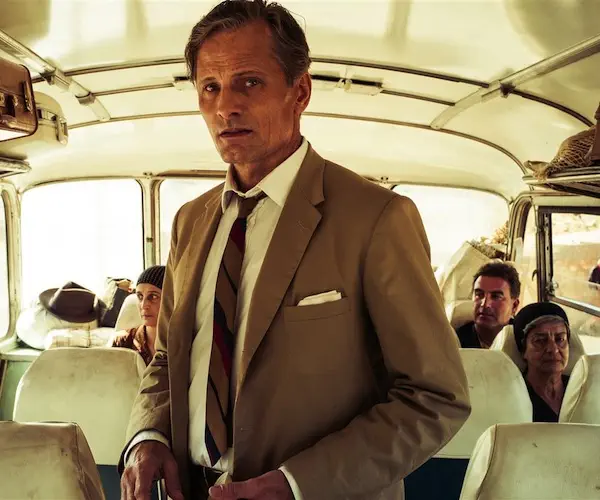 Hossein Amini's The Two Faces of January. Once more, novelist Patricia Highsmith (Strangers on a Train, the Tom Ripley sagas) proves a fertile source for a murderous, misanthropic piece of cinema. Viggo Mortensen is extraordinary as Chester, a retro villain who could have walked out of such 1940s noirs as Gilda or The Lady from Shanghai. Kirsten Dunst, as Chester's stacked, roving-eyed wife, dons the sexiest white slip since Elizabeth Taylor in Butterfield 8. Oscar Isaac is the third part of the love triangle, and he makes a formidable "fall guy," showing far more range than in Inside Llewyn Davis. Hossein Amini, born in Iran, was previously a screenwriter (Jude, The Wings of the Dove). His first time as a scriptwriter-director is certainly impressive.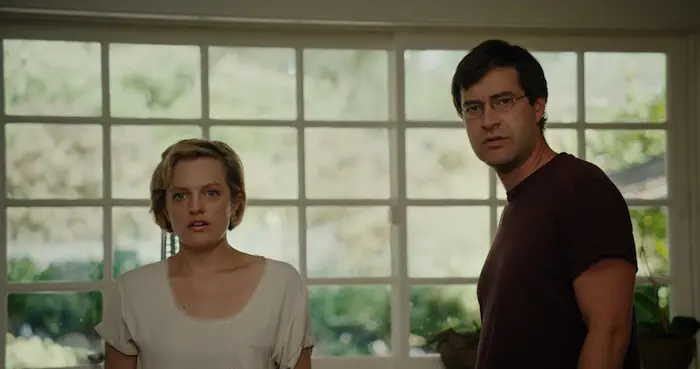 Charlie McDowell's The One I Love. Wouldn't Mark Duplass and Elisabeth Moss make a superb Nick and Norah Charles? You read it here first: it's time for their The Thin Man remake! In the meantime, Duplass and Moss are the quintessence of smoothness as a tired, feuding couple who go off for a weekend of renewal and, in a sci-fi twist, are freaked out by meeting their doubles. For the faux Ethan and Sophie, Duplass and Moss manage diametrically different personages. It's an acting treat—four aces!– when one couple splits into two mirrored couples battling for their marital lives, and their fragile identities. It occurs in a land of shadow and subtance…the Twilight Zone?
Joe Swanberg's Happy Christmas. I assume it was shot out of season: lots of interiors, no snow on the ground. Still, a Xmas-friendly, genial, mumble-core flick: what happens when an irresponsible young woman, Jenny (Anna Kendrick), moves into the apartment of her older brother, Jeff (Swanberg), and his novelist wife, Kelly (Melanie Lynskey), and causes havoc. Kendrick, who normally is the most precocious and brightest of young actors, is totally convincing as a ditsy mess of a twenty-something, who, like, will, like, say "like" at least three times each inarticulate sentence. However, the movie is stolen by the hilarious antics of Jude Swanberg as Himself, the funniest, most uninhibited, on-screen toddler since, in the early 1930s, W.C. Fields comedies, the immortal Baby Leroy.
Tim Jackson's take on some of the offerings in the Provincetown International Film Festival
---
Gerald Peary is a professor at Suffolk University, Boston, curator of the Boston University Cinematheque, and the general editor of the "Conversations with Filmmakers" series from the University Press of Mississippi. A critic for the late Boston Phoenix, he is the author of 9 books on cinema, writer-director of the documentary For the Love of Movies: the Story of American Film Criticism, and a featured actor in the 2013 independent narrative Computer Chess.