Ida proffers a cinematic experience that is austere and mesmerizing.
Boston Area Film Schedules – What is playing today, Where and When
Ida, directed by Paweł Pawlikowski. Starring Agata Kulesza, Agata Trzebuchowska, Dawid Ogrodnik. At the Coolidge Corner Theatre and The Kendall Square Cinema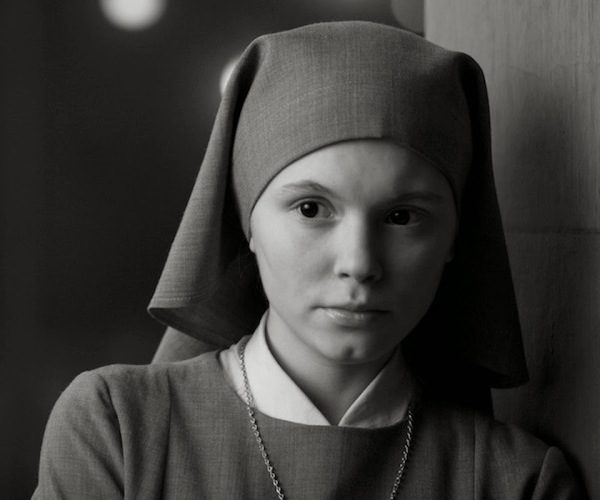 by Tim Jackson
Paweł Pawlikowski's Ida begins without fuss. The title appears on the screen and abruptly cuts to Anna, an 18-year-old orphan and novitiate painting a final detail on a statue of Jesus. This image is followed by long shot of a cluster nuns bearing the icon through the snow and raising it up in the courtyard. They pray and then eat in silence. Anna is called before her Mother Superior. A living relative has been found, an aunt, and before she takes her vows, suggests the Sister, Anna should visit. The girl has never been outside the convent and the city, as reflected in the windows of the bus, seems to be another planet to her. Soon after meeting her aunt, a dissipated former prosecutor, she's abruptly informed "You're a Jew. Your real name is Ida Lebenstein." The chain-smoking, bitter woman is a poor match for Anna. She bluntly tells her: "We should be done here."It is Poland in 1962 and memories of the Holocaust are fresh and Anna has crossed over a threshold from which there is no return. But she begins a journey away from her simple cloistered life, a quest that will reveal her past, test her faith, and compel her to face her split identity.
This is not a film driven by plot. Every image is clean and deliberate and the dialogue is minimal. There is no soundtrack to speak of and music is supplied by the ambiance: a record player, a radio, a jazz band. The pace is patient and meditative. A great film director knows the best scenes don't resonate through dialogue, but are built through the generation of significant moments. They also understand that a picture is never neutral. A well-composed shot has inherent meaning. Filmed in lush black and white in a 4:3 ratio, which is nearly square, the images are so formally exquisite that dialogue becomes nearly superfluous. Every composition represents a specific idea or an emotional revelation. The experience is austere and mesmerizing. For the first time, Ida experiences pop music and sensual emotions, confronts the deep human frailty and guilt that is an integral part of the lives of flawed men and women.
Agata Trzebuchowska, who has never acted before (she was discovered in a cafe in Poland), is hypnotic as Anna. Her deep black eyes and impassive gaze observe the world with amazement and stoicism. There is a disarming tranquility to her presence: a combination of innocence and radiant beauty. She remains resolute in her search for the truth, not only about her parents, but also about how and why she alone survived. The mystery of her past is at the center of this film's wordless mediation on fate and circumstance. Each individual life is shaped by the circumstances of its birth, the unpredictable product of a complex historical moment.
Pawlikowski and cinematographer Lukasz Zal (and earlier with Ryszard Lenczewski) shoot figures low in the frame. Landscapes, sky, and architecture dominate compositions, which not only emphasize Ida's isolation, but also probes an elemental paradox: the transience of life and the permanence of place. As Ida experiences the outcome of random happenings and the petty ambitions of men, she recognizes for the first time her own physical beauty and unfamiliar stirrings of emotion. Light seems to struggle to enter the frame as she calmly observes the chaotic world outside the monastery. As a nun betrothed to Christ, her soul is dedicated to the service of the Church. In what ways does the will of God engage with transient existence?
The final moments of Pawlikowski's minimal dialogue took my breath away. I won't give any spoilers except to say the ending may take you aback, although you may sense that a shock is coming. The camera is only handheld in the very last shot and here the music is not sourced from within the film. Major questions have been posed and ideas communicated wordlessly. Both times I saw the film the audience sat rapt and silent — it took moment or two to return to the everyday world.
---
Tim Jackson is an assistant professor at the New England Institute of Art in the Digital Film and Video Department. His music career in Boston began in the 1970s and includes some 20 groups, many recordings, national and international tours, and contributions to film soundtracks. He studied theater and English as an undergraduate and has also has worked helter skelter as an actor and member of SAG and AFTRA since the 1980s. He has directed a trio of documentaries: Chaos and Order: Making American Theater about the American Repertory Theater, and Radical Jesters, which profiles the practices of 11 interventionist artists and agit-prop performance groups. His third documentary, When Things Go Wrong, about the Boston singer/songwriter Robin Lane, with whom he has worked for 30 years, has just been completed. He is a member of the Boston Society of Film Critics. You can read more of his work on his blog.