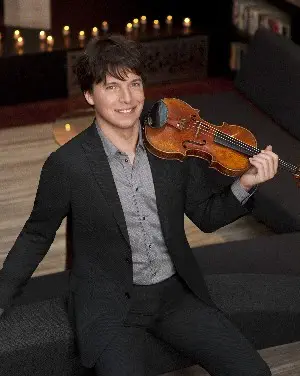 This Tanglewood season, overshadowed by the absence of ailing maestros James Levine, Seiji Ozawa, and others who have canceled their appearances, has got me thinking about age and illness. There have been some compelling concerts these past two months, including Michael Tilson Thomas's riveting Mahler renditions, but the absence of a strong director is palpable. Nevertheless, thousands of people have thronged Tanglewood this summer, picnickers taking advantage of in the unusually dry weather. As in recent summers though, many seats in the Shed have gone unsold, and those who attended were overwhelmingly Senior Citizens.
Given how old this audience has grown, programmers are faced with a dilemma: How many more times do they program the standards? How much new music do they dare introduce to the old folks? What can they dig up from the lesser repertory? And which stars will bring in the crowds?
I thought about all this again as I watched Susanna Mälkki bobbing energetically before a tired BSO and soloists Joshua Bell and Jeremy Denk performing Mendelssohn. All three are in their forties but looked like teenagers among the gray and white heads. Mälkki and Bell are "whole body" performers whose personal choreography draws attention to itself (in the manner of MTV), sometimes leading the listener/watcher into and sometimes away from the music. And although it's the 21st century and women conductors have been around for a while, it is still a novelty to watch a woman conducting the BSO, especially a trim and stylish one.
The visual has become dominant at Tanglewood. There are large screens placed in the Shed so that concertgoers can replicate the living room experience of watching PBS music specials, including close-ups of fingers and faces: like the Met opera broadcasts, this new practice at Tanglewood adds more items to the list of gifts and talents required for a professional career in classical music.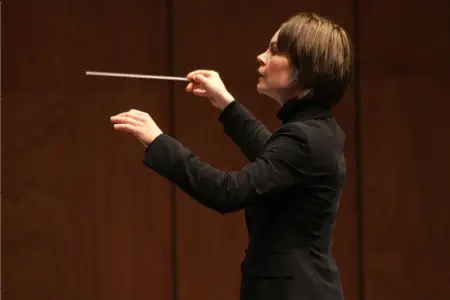 Joshua Bell and Jeremy Denk—both attractive, charismatic guys—gave the program their energetic best. They are at the top of their musical game and—a plus when the music is less than absorbing—they are fun to watch. Like Yo Yo Ma, Joshua Bell has become a pop icon. He also bears more than a passing resemblance to Tom Cruise. His playing can be ethereal as well as earthy, savage as well as sweet. He's also clearly one of the best violinists around. Both he and Jeremy Denk underlined their generational and cultural difference from the formally-clad-in-white orchestra musicians by appearing in casual, black attire.
Mälkki is another story. The program, as she conducted it, was underwhelming. Mendelssohn and Beethoven are staples of classical music radio stations everywhere. Three of the pieces on the program are warhorses and the fourth, Mendelssohn's Double Concerto for Violin, Piano and Orchestra, forgotten for good reason. Mendelssohn wrote it when he was 14 years old. Unlike Mozart's work composed at the same age, it is mainly of historical interest.
The overture to A Midsummer Night's Dream, written only three years later when Mendelssohn was 17, seems to be written by another composer. It is such an elderly chestnut, so overexposed, that it demands someone like Levine to reinvigorate the music as well as the orchestra that's performing it. Mälkki 's A Midsummer Night's Dream sounded ragged and unbalanced, with the French horn entering like a blast out of nowhere. Despite her gyrations, the orchestra seemed unresponsive and produced a phoned-in performance.
=======================================
Helen Epstein is the author of Music Talks that includes a chapter on Bernstein and Ozawa teaching conducting at Tanglewood in the 1980s.