The trio of writers has flattened Stephen King's gaggle of high school teens into two-dimensional clichés, devoid of any adolescent intensity.
CARRIE the musical. Music by Michael Gore. Lyrics by Dean Pitchford. Book by Lawrence D. Cohen. Based on the novel by Stephen King. Directed by Paul Melone. Musical Direction by Nicholas James Connell. Choreographed by Larry Sousa. Staged by the SpeakEasy Stage Company at the Boston Center for the Arts, Calderwood Pavilion, through June 6.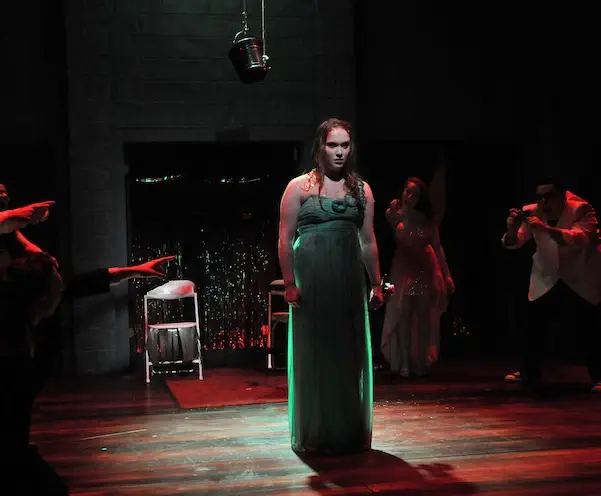 By Terry Byrne
Something happened to Carrie on the way to the musical theater stage. Stephen King's creepy first novel, which became Brian DePalma's bloody 1976 film, has had its dramatic tension replaced with a shrill pop score. The SpeakEasy Stage Company production delivers energetic performances, but not much more.
CARRIE the musical follows the twisted tale of teen angst in which the bullied teen of the title wreaks her apocalyptic revenge when she discovers she has the power of telekinesis. Director Paul Melone is respectful of Lawrence D. Cohen's book (Cohen also adapted the novel for the screenplay), Michael Gore's music and Dean Pitchford's lyrics, and that may be the problem. The trio of writers has flattened King's gaggle of high school teens into two-dimensional clichés, devoid of any adolescent intensity. Of course, teen bullies, outcasts, popular girls and tough guys are all stereotypes, but King's skill is in his extraordinary sense of pacing: even though we know what's coming, he draws us in with his understanding of when to include information, and when to leave it out.
Cohen, et al have no filter, and seem determined to spell everything out to the audience, and then repeat it, when subtext is the only thing that might create a little suspense. "In," the opening number, offers a great introduction to what's required of teens to blend in at a time of so much emotional and physical change, but three songs later we get "The World According to Chris," which reviews the same material and reminds us that Chris (Paige Berkovitz) is the mean girl and everyone is expected to follow her lead. Our doomed hero, Tommy (the talented but underused Joe Longthorne), sings the very twee "Dreamer in Disguise" to show his sensitivity, followed by "You Shine" in which he shares his sensitivity with his girlfriend Sue (Sarah Drake).
When we meet Carrie (Elizabeth Erardi), she sings the title number, a wonderful opportunity for some insight into this shy girl that instead devolves into a whine: "Why do they always treat me so bad? … I don't know why they all get so mad…"
Really? Is this the best the lyricist for Fame and Footloose could come up with? It doesn't even scan well. Maybe Michael Gore's compositions simply aren't able to dress up the simplistic rhyme schemes. All of Gore's songs sound so similar it's difficult to distinguish Carrie's mother Margaret's lament, "I Remember How Those Boys Could Dance" with "Stay Here Instead."
As Carrie's mother Margaret, Kerry Dowling glowers menacingly and rattles the rafters with her powerful voice. But there's no character development to be found and the one-two punch of the sweet mother in "Open Your Heart" and the terrifying crazy woman five minutes later in "And Eve Was Weak" gave me whiplash rather than a sense of the character's complexity. Thanks to Dowling, "When There's No One," became a sweet ballad of loss, but since it was buried under so many other songs overloaded with saccharine sentimentality, there was little room for pathos, let alone fear.
Ditto for Carrie, whose discovery of her telekinetic powers becomes an unintentional moment of levity (no pun intended) as she practices moving desks and knocking things off walls. The temptation to head right into camp is irresistible, and by choosing to treat the scene seriously, Melone misses the opportunity to give Carrie a little humanity, let alone sympathy.
Nine of the 14 CARRIE the musical cast members are either current or recent Boston Conservatory students, and they deliver a lot of earnest energy but not much polish or subtlety.
Ultimately, CARRIE transforms a horror story into a ho-hum musical. Why bother?
---
Terry Byrne has been writing about the arts for nearly two decades. She has an MFA in Playwriting from Boston University and is a Resident Scholar at Brandeis University's Women's Studies Research Center.