The Lunchbox is that rare film experience that stays with you, makes you think about its multi-layered, subtle performances and storyline, and forces you to see it again.
Boston Area Theater Schedules – What is playing today, Where and When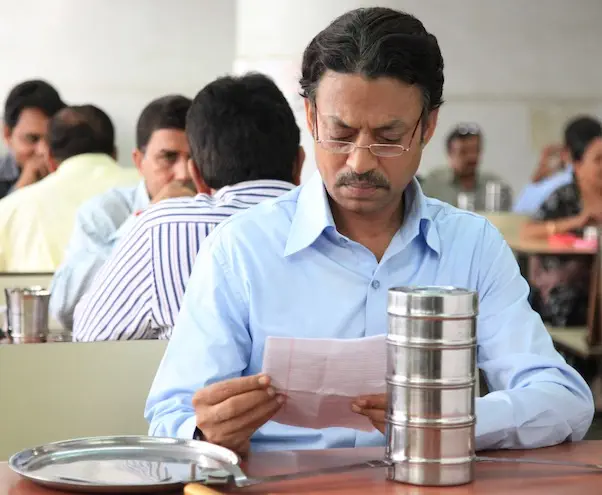 By Glenn Rifkin
On any given day in Mumbai, India's largest city with a population nearing 13 million, an army of dabbawallas, semi-literate workers who largely manage themselves, deliver more than 130,000 meals to office workers. The meals are prepared at home by a worker's spouse, generally a wife making a meal for her husband, and sent along in a dabba (a cleverly designed metal lunchbox) that is picked up at the door, transported through an elaborate system of bicycles, scooters, vans, buses and trains and delivered to the desk of the worker. The empty dabba is then picked up and returned to the person's door by the end of the day.
The dabbawalla system is nothing short of miraculous, profiled in a glowing Harvard Business Review article, and examined by the likes of Prince Charles, Richard Branson, and Fedex employees seeking enlightenment about this low-cost, remarkably efficient system that began in 1890 and requires no back office insfrastructure or cell phones. According to HBR, despite performing 260,000 transactions in six hours six days a week, 52 weeks a year, "mistakes are extremely rare."
But what would happen if a mistake was made, and a dabba was delivered to the wrong person at the wrong desk? What if the person who lovingly and skillfully made the meal and the person who erroneously received this astonishingly delicious food made a connection, formed a bond, without ever meeting face to face?
A simple and intriguing premise indeed and it is the foundation of one of the year's best films, The Lunchbox, the debut effort by 35-year old Indian director and screenwriter Ritesh Batra. Released in India in 2013 and showered with critical praise around the world, The Lunchbox is that rare film experience that stays with you, makes you think about its multi-layered, subtle performances and storyline, and forces you to see it again.
And for his growing legion of fans in the U.S., The Lunchbox is a chance to see the amazing Irrfan Khan in what has to be his signature role, giving a moving and remarkable performance as an aging civil servant whose empty and solitary life is suddenly disrupted by this small, but earthshaking delivery error.
American audiences have had a few memorable encounters with Khan, a major star in Bollywood. He was Ashoke, the distraught father in The Namesake in 2006, a role he inhabited so fully and powerfully that he stole the movie. He played smaller roles in Slumdog Millionaire (the ruthless police inspector) and the adult Pi Patel in The Life of Pi. But it was in the somewhat obscure HBO TV series In Treatment that we got the full brunt of his talent when he portrayed Sunil Sanyal, an aging immigrant trying to adjust to life in America with his son and daughter-in-law. Playing a man at least 20 years his senior, as he does in The Lunchbox, we see the devastating effects of loss and sadness and pain etched into his large eyes and expressive face.
Khan brings similar angst to Saajan Fernandes, the government accountant on the verge of retirement, whose wife has died and whose existence is little more than a trying daily commute through Mumbai's massively congested transit system to and from his paper-shrouded desk. At night, he smokes a single cigarette on his ramshackle back porch and stares into the open window at a neighbor family whose mealtime gatherings remind him of his own loneliness.
In another part of the city, we meet Ila, a young housewife whose husband is more focused on his cellphone than on her. She decides to try to spice up their marriage literally by creating exquisite lunches filled with exotic Indian spices suggested by her "auntie", an aged upstairs neighbor whom we never see but whose voice pierces the thin walls and open windows of the Mumbai high-rise. Ila, portrayed by the strikingly beautiful and immensely talented Nimrat Kaur, is part of Mumbai's emerging middle-class, but still tied to traditional Indian mores which imprison her.
When her special dish fails to elicit any response from her husband, Ila begins to wonder whether the meal is being delivered to the wrong person. The dabbawalla is insulted by such a suggestion and reminds her that the King of England and Harvard University have put their imprimaturs on the legendary service. But Ila needs to find out who is getting her meals so she encloses a brief note in the dabba. Saajan, who is clearly taken by this outlandish food, is intrigued when he reads the note and begins a culinary correspondence with Ila, slowly sharing his thoughts and feelings and finding a kindred if unknown spirit.
The relationship between Saajan and Ila is beautifully developed and paced, delicately directed by Batra. In it, we see a poignant mixture of sadness, desperation and hope; a subtle metaphor for the lives of many of the millions in this teeming and shifting metropolis. The sense of old India morphing into a new, economically emergent India is the undercurrent and oxygen for this amazing film. How can someone living amidst 13 million people become so crushingly alone? How does a young woman suffocated by old traditions find a path to her own freedom and self-discovery?
Add to the mix the irresistible performance by Nawazuddin Siddiqui as Shaikh, Saajan's annoying and persistent young replacement, and the tale is complete. Shaikh, an orphan who has to invent his own identity, and even quotes the mother he never had, emerges as Saajan's only friend; devoted, child-like but wise in the art of making connections in a heartless world.
One is tempted to call The Lunchbox a small but sweet film, a tug on the old heartstrings. But that would be selling this nearly perfect film well short. See it at a theater that isn't too far from a good Indian restaurant. It will leave you uplifted and hungry.
---
Glenn Rifkin is a veteran journalist and author who has covered business for many publications including The New York Times for more than 25 years. Among his books are Radical Marketing and The Ultimate Entrepreneur. His efforts as an arts critic and food writer represent a new and exciting direction.