The value of these two superb "operas" is learning where harpist Deborah Henson-Conant was musically (and emotionally) in the early '80s.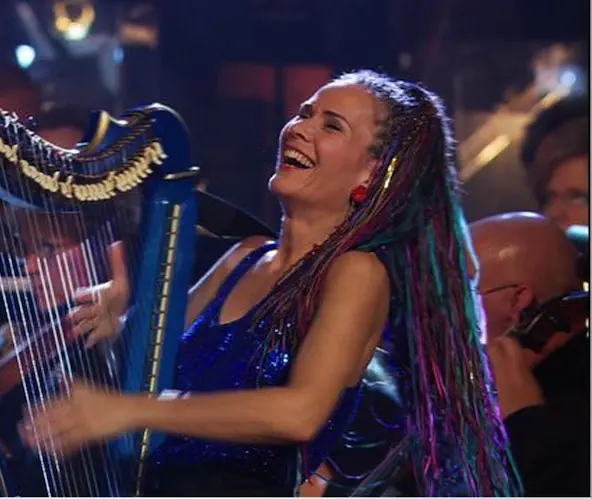 By Susan Miron
The harp world has not been the same since Boston-based jazz harpist Deborah Henson-Conant (aka DHC) arrived on the scene around thirty years ago. Today, there is an array of good jazz harpists, but this was hardly the case when Henson-Conant began first jamming and establishing her reputation. It's impossible to come up with a short bio of this charismatic, ebullient, wildly successful harpist/storyteller/composer of symphonic music because her career has taken so many interesting turns. She was initially repelled by this "sissy" instrument, but her college band needed a harpist, so she showed up, took 6 lessons, and the rest has been a wild ride.
Like many harpists in the '70s, she performed in fancy hotel restaurants, but one night, after a sickening few hours of playing pop music, she walked over to a nearby jazz club and asked if she could sit in – with her gold concert harp. This rebellious act liberated her to follow her own inimitable path, through jazz gig, hundreds of concerts, and at least half a dozen albums, including Inventions and Alchemy, her Grammy-nominated one-woman show with full orchestra.
Her frustrations with the full-sized, concert grand harp resulted in years of working with a harp maker to design exactly what she wanted – something small, portable, and electric that does everything an electric guitar can do. There is now a model harp called the DHC in her honor, a small blue "body harp" that straps on the musician so he or she can roam, talk, and sing while playing. Henson-Conant performs with eye-popping panache, wearing flamboyant costumes and, until recently, a headful of blonde dreadlocks. She's taken on flamenco, Latin jazz, swing and who knows what else in her quest to expand the range of her talents and instrument.
But… before most of this happened, thirty years ago, she wrote a one-woman "opera" for her aunt, a soprano. Henson-Conant was, she recalls, looking for her place in the world as a woman. The cliché that a witch was one way in which a woman could be powerful intrigued her, so she investigated the matter through a one-woman opera for which she wrote the music and lyrics, Songs of the Pyre. The composition was for operatic soprano, cello (because her best friend was a cellist) harp, and piano. The second opera was about a goddess, Persephone Lost. She chose these stories because, she says, "I needed to understand what was inside them."
The two pieces were premiered in the '80s, and then sat in a box. They were digitally transcribed from the handwritten scores in 2012. Good timing, indeed. At Boston University, harpist Barbara Poeschl-Edrich invited Deborah to collaborate in a concert featuring the works, and the results, coached mostly by Poeschl-Edrich, were on stage at CFA Concert Hall on May 1. The performances were excellent, and the soprano, Jeila Irdmusa, was riveting. The other polished players were Szu-Ning Tai, harp; Yun-Yun Lin, cello, Ling Lo, piano, and Celine Ferro, clarinet.
In Songs of the Pyre, Henson-Conant reflects chillingly on the question, 'What would she have experienced?' if she was condemned to death because of accusations of witchcraft? The church document The Hammer of Witchcraft was published around 1486. Three hundred years later, some nine million people have been put to death after they were convicted of being witches. "The persecution of witches never dies," Henson-Conant pointed out. The music is adroitly attuned to The Songs of a Pyre's dramatic and scary narrative, which introduces us to a woman, deeply religious and oblivious of her "crimes," the horrific accusations of witchcraft, her torture, her acceptance that she should 'confess' to her crimes, and her final escape into madness.
The second composition was the one-woman, one-act opera Persephone Lost, with text and music by Henson-Conant, based on the Greek myth of Demeter and her daughter Persephone, who was abducted by Hades, King of the Underworld. "I didn't write this piece," Henson-Conant recalls, "to tell the 'real' story of Demeter – but for Demeter to relate the emotional story of her very real loss… In the classic myth, Persephone returns to the earth each year. Her journey between underworld and outerworld explains the seasons. But in real life it's not always so… there's not always a return. The loss is final." The "desaparecidos" (the disappeared) children in Central and South Amercia were on Henson-Conant's mind when she created the piece. The music is wonderful, with lovely clarinet licks and some beautiful harp and cello writing. The lyrics, sung powerfully by Jeila Irdmusa, were as affecting as the music.
The fascinating thing about experiencing these two operas, or duo of musical-theater pieces, is hearing where Henson-Conant was musically (and emotionally) in the early '80s. I loved these two operas, and look forward to hearing them on YouTube. The texts are sophisticated, clever, and emotionally satisfying. Do the compositions deserve to be heard more often? The answer is yes, and hopefully with this ensemble, coached so well by Barbara Poeschl-Edrich.
---
Susan Miron, a harpist, has been a book reviewer for over 20 years for a large variety of literary publications and newspapers. Her fields of expertise were East and Central European, Irish, and Israeli literature. Susan covers classical music for The Arts Fuse and The Boston Musical Intelligencer. She is part of the Celtic harp and storytelling duo A Bard's Feast with renowned storyteller Norah Dooley and plays the Celtic harp at the Cancer Center at Newton Wellesley Hospital.