Rich as the material is, can any Blood Artist develop and mature by just seeing red?
Jordan Eagles: Blood Dust was organized by the critic and independent curator Francine Koslow Miller and is on view at the Mills Gallery, Boston Center for the Arts, through June 29. It is Eagles' debut, one-person exhibition in Boston. A related show of Eagles' work is on view at the LaMontagne Gallery in South Boston.
By Peter Walsh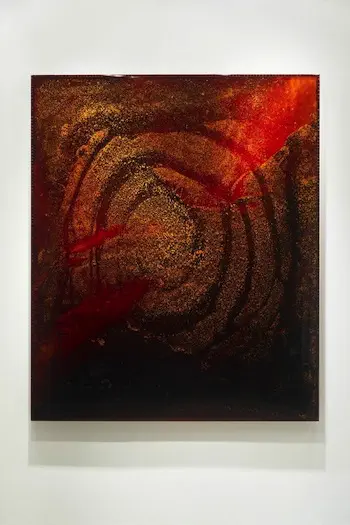 The BCA's Mills Gallery calls Jordan Eagles work "minimalist" but that is probably misleading.
At first glance, the sleek, plexiglas panels in Jordan Eagles: Blood Dust, which range in tone from copper to dark red to black, seem to belong in the same neighborhood as work by Minimalist sculptors like Carl Andre and Robert Morris. In the '60s and '70s, their work was monochromatic, its deadpan affect rooted in an uncompromising, almost neo-Calvinist austerity. At heart, though, the fourteen pieces in the Eagles show belong to a completely different aesthetic: full-throated Counter-Reformation, the High Baroque. They shimmer with hints of the red satin, black marble, and gilt edges so beloved by novelist Dan Brown and others who riff on Catholic kitsch.
If Eagles and his curators are a bit coy about the work's complex sources, it is at least partly because we live in a secular age when spiritual values, especially of the darker, pre-New Age kind, drag in a lot of unwanted baggage.
A big part of what separates Eagles from the classic Minimalists is blood — real blood, used in prodigious, Dionysian quantities. Blood, dried or preserved in polymer resins by various alchemical-like means, is so dominant here that the Huffington Post has deemed Eagles the "Blood Artist." The shock value of such an active ingredient raises the emotional intensity of Blood Dust considerably. Blood in all its ruddy glory injects such high-profile issues as birth, life, death, disease, mass murder, bleeding hearts, animal rights, crucifixion, decapitation, sacrifice, and the vicarious pleasures of every slasher horror film you have ever seen.
Don't misinterpret: this is an exhibition, for the most part, in exquisite taste, almost too much so. Quite apart from the materials, these are beautiful, exquisitely made, and mysterious creations. There is no evangelizing or illegal behavior involved. Eagles collects the blood from slaughterhouses. Only one piece in the show, "Configuration" (2011), a series of three plexiglas boxes roughly the size and shape of altars or sarcophagi, indulges in the short of graphic dripping gore you might enjoy in a Dexter episode. For the others on view at the Mills Gallery, you have to read the label to get that not-so-subtle shiver of recognition.
More typical are the two panels of "Untitled (Blood Mirror)" (2012). Its sleek, flawlessly made plexiglas rectangles project about four inches from the white wall. Except for the very top, the panels appear black, reflecting a murky image of the viewer in their glossy surfaces. Only at the top does the artist allow the copper back panel to shine through, revealing itself showily through dim, abstract patterns. Read the label and you learn that you are being reflected in a vast plane of dried and preserved animal blood.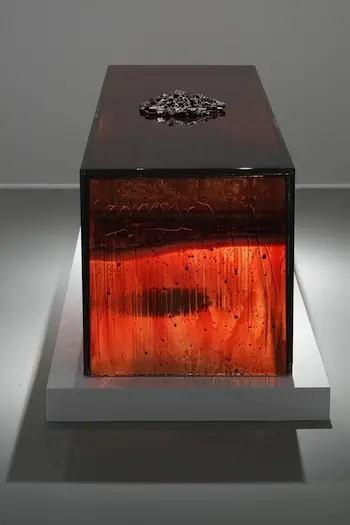 Elsewhere, as in "BD BC" (2014), Eagles uses the copper backing to suggest that the panels are lighted from within. The effect is not unlike stained glass or the layered glass paintings of Marcel Duchamp. Other works, like "Blood Dust 6" (2012), recall "Color Field" painters like Ad Reinhardt, whose compositions appear only slowly from their dark colors, or the delicate, soft-edged sprayed and stained paintings of Jules Olitsky, another artist in vogue in the '60s and '70s.
In "ROZE 18" (2012), "ROZE 17" (2012), and "ROZE 14" (2012), Eagles introduces medical gauze as a material, adding associations, the artist says, with "mummification rituals and healing." In "ROSE 17," the dark, blood soaked gauze lies against a light background; in "ROZE 18" the gauze opens up, suggesting relics of the Egyptian desert. In "ROZE 14," the network of the gauze stands out as a glinting, copper web against a dark background.
The "ROZE" of the titles, Eagle explains, has "several meanings. There are all the internal 'rows' happening in a grid, and at the same time, the idea of rising from the dead. 'Rose' is also a color, a name, and a tribute flower, so the work can personify something that was once living."
The "blood dust" of the exhibition title appears in most of the works. Here Eagles does not draw on the medical meaning of the term (small, colorless, and refractive particles in the blood, aka "hemoconia"). Instead, he uses it to describe what remains after blood has completely coagulated and dried.
A circle of blood dust on the one of the "altars" of "Configuration" looks like a pile of small, mud-colored stones, glinting here and there as if they were pyrite. Eagles compares spreading blood dust on the surfaces of his works to "throwing dirt onto an open grave."
Blood, actual and simulated, has, of course, been part of religion and art since pre-historic times. Bloody animal and human sacrifices and ritual blood-letting have generated the dark moments in many religions: the Christian mass invites congregants to drink Christ's blood in remembrance of his own sacrifice. The use of blood and other body fluids were an important part of the "Body Art" movements in the late 20th century. Bags of fresh slaughterhouse blood, burst or thrown, have been used to boost emotional effect in performance art and political protests.
In some of Eagles' other works, Christian symbols are used explicitly. In the Mills Gallery, they are all muted and abstracted into "references to mortality and the ascending spirit" and "premises of corporeality, mortality, spirituality, and science — invigorating blood as sublime"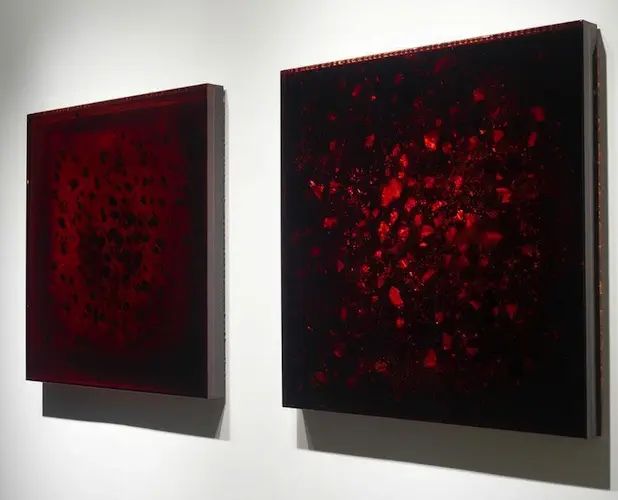 As in other parts of contemporary, secularized society, political and cultural currents have pushed explicit religion out the front door, only to let it seep back in via hybrid forms such as meditation, diet regimes, jewelry motifs, rock lyrics, abstract art, humanist morality, New Age music, and a kind of non-denominational spirituality requiring no specific doctrinal beliefs. Despite quoting Genesis 3:19 in the exhibition materials, Eagles and his Mills Gallery exhibition seem caught in this twilight, hovering between explicit religious imagery, which no longer convinces, and its decontextualized, symbolic surface features.
As programming for the exhibition, the BCA is offering "an artful yoga class," a concert, and a dance performance — nothing that comes too close to qualifying as a religious service. So, in some ways, this and the art's white box presentation cuts the show off from its primal source.
There's also the sense that, for all its powerful connections, Eagles' focus on blood makes his work a kind of one-note symphony. It is hard to see how his exploration will remain interesting and vital over the course of a decades-long artistic career. Rich as the material is, can any Blood Artist develop and mature by just seeing red?
---
Peter Walsh has worked for the Harvard Art Museums, the Museum of Fine Arts, Boston, Wellesley College, The Metropolitan Museum of Art, Dartmouth College, and the Boston Athenaeum, among other institutions. His reviews and articles on the visual arts have appeared in numerous publications and he has lectured widely in the United States and Europe. He has an international reputation as a scholar of museum studies and the history and theory of media.