As if the Discovery Ensemble's impressive return after a three-month hiatus weren't news enough, last week brought the announcement that Courtney Lewis has been appointed assistant conductor of the New York Philharmonic, beginning this fall.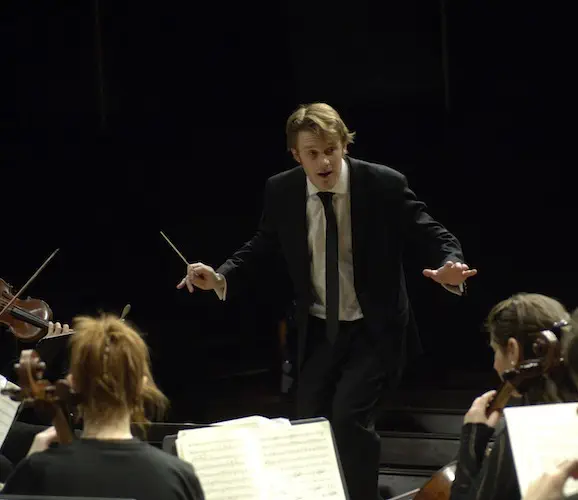 By Jonathan Blumhofer
"An Abundance of Musical Riches" was the tag for the Discovery Ensemble's latest offering this past Sunday afternoon at Jordan Hall, a phrase that neatly sums up the orchestra as much as it does its most recent program. Sunday's ambitious concert, which featured symphonies by Schubert and Brahms, as well as Haydn's Cello Concerto in C major and three movements from Alban Berg's Lyric Suite, presented not only a hefty amount of music, but also a group that continues to impress with its focus, energy, and sheer enthusiasm for playing.
It's a testament to music director Courtney Lewis's programming acumen that the Ensemble is only now, in its sixth season, getting around to playing Schubert symphonies. This weekend's concert brought the B minor ("Unfinished"). It's a piece that ought to be played by youngish orchestras (Schubert was just twenty-five when he wrote it, not too far off the Ensemble's median age) even though, musically, it's wise beyond its years.
Sunday's performance was dark and fluent, with a strong sense of the music's dramatic undercurrents. The second movement, in particular, stood out for some exquisite ensemble playing – woodwind solos dovetailing seamlessly into one another, for instance – as well as a muscular realization of the music's tendency to explode out of delicate passages into episodes of impassioned fury. It was a gripping performance, full of electricity.
And it served as a wonderful lead-in to Haydn's C major Cello Concerto. This has already been a good season for soloists with the Discovery Ensemble (October's opening concert brought the thoughtful pianist Shai Wosner), and that trend continued on Sunday with the German cellist Nicolas Altstaedt.
Altstaedt has a busy career, especially in Europe, where he's based, and he boasts an impressively diverse discography. On Sunday, he brilliantly justified his reputation with an ebullient account of this formidably difficult piece. Not least impressive were his original cadenzas, which were filled with all sorts of surprises (including ample use of the cello's array of natural harmonics). One can't help but imagine that Haydn would have loved them.
Much is often made of Haydn's fondness for folk music, generally, and its influence on this concerto couldn't be missed in Sunday's reading of the first movement, which featured a plenitude of rustic exuberance and even some foot stomping from the soloist. Lewis and Altstaedt shaped the lyrical slow movement with loving care, while the playful finale navigated the fine line between control and chaos, almost – but not quite – veering into the latter once or twice.
For an encore, concertmaster Samantha Bennett joined Altstaedt for a short duet by Jean Sibelius, violin and cello plucking away for a delightfully mysterious minute or two.
Three movements from Berg's Lyric Suite followed intermission and, while there were moments of great intensity and energy, I missed the intimacy and immediacy present in the original version of this music for string quartet. This is a piece that simply doesn't work as well with the larger ensemble, even if the revision gives the skittish figures of the second movement more body and a generally greater weight to the score's numerous searing, Expressionist gestures.
Even so, the Berg made a fine introduction to Brahms's Symphony no. 3. If only the latter piece could have received a more secure performance. Part of the problem seemed to stem from issues of balance: there was a sense that the orchestra wasn't able to hear across the stage, and this wasn't helped by Lewis's decision to ignore the exposition repeat in the Symphony's first movement. Structurally, this also meant that the movement seemed lopsided and its climaxes – and there were some pretty grand ones in isolation in the development and recapitulation – felt disconnected from the bigger musical picture.
The middle movements fared better: the second featured a reprise of the wonderfully secure woodwind playing heard in the Schubert, and the third was distinguished by focused lyricism and a strong aura of pathos. By the last movement, the Ensemble seemed to be tiring – there were moments of sour intonation and ragged ensemble – but the group's collective energy went a long way to carrying the reading home.
As if the Discovery Ensemble's return after a three-month hiatus weren't news enough, last week brought the announcement that Courtney Lewis has been appointed assistant conductor of the New York Philharmonic, beginning this fall. It's a position perhaps most notably held seven decades ago by Leonard Bernstein, who, like Lewis, had a knack for music education and creative programming, and who famously got a big boost when he substituted at a Philharmonic concert on short notice for Bruno Walter. Whether or not Lewis's New York tenure mirrors Bernstein's in that way is anyone's guess, but it's a great step up for him and should provide the Discovery Ensemble at least a raised regional profile, if not much more: a well-deserved abundance of musical riches for this group, indeed.
---
Jonathan Blumhofer is a composer and violist who has been active in the greater Boston area since 2004. His music has received numerous awards and been performed by various ensembles, including the American Composers Orchestra, Kiev Philharmonic, Camerata Chicago, Xanthos Ensemble, and Juventas New Music Group. Since receiving his doctorate from Boston University in 2010, Jon has taught at Clark University, Worcester Polytechnic Institute, and online for the University of Phoenix, in addition to writing music criticism for the Worcester Telegram & Gazette.