Those willing to accept that powerful political theater can be as much about registering pain as providing hope will find much to admire in this visually striking, dramatically compelling piece.
The Shatterer of Worlds, written and performed by Peter Schumann and Bread & Puppet Theater. Music machines by Peter Hamburger. At the Cyclorama at the Boston Center for the Arts, 539 Tremont St., South End, Boston, MA, through February 2.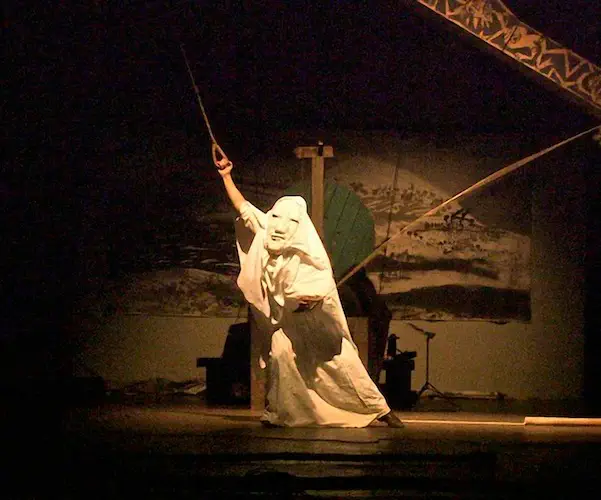 By Bill Marx
Bread & Puppet's latest performance piece, easily one of its darkest and most gauntly beautiful, takes its cue from the dire words of pioneering nuclear scientist Robert Oppenheimer, who, after he saw the first atomic bomb explosion, quoted a passage from the Bhagavad Gita: "Life, the splendor of 1000 suns blazing all at once, resembling the exulted soul, is become Death, the shatterer of worlds." Human obliteration — aided and abetted by opportunistic enablers — is the inspiration for The Shatterer of Worlds. So progressives, be warned: Those looking for Kumbaya moments or for the slapstick-y political/lyrical routines that Bread & Puppet has often supplied in past presentations will most likely be disappointed with this stark excursion into the melancholic and downright disconcerting. (This is the most macabre Bread & Puppet show in memory — it is not for faint-hearted kids.)
This time around Bread & Puppet artistic leader Peter Schumann is not interested in uplift — he is not concerned with bolstering the radical troops, toughening them up them for battles against our corporate masters and their military-industrial complex. Parts of "The Shatterer of Worlds" suggest that it is all over but the surrender — the show's armageddon oozes a hard-won futility, a heart-broken poignancy. We are in a perpetually shattered (and re-shattered) world where puppets are blown into ash, then return to earth only to be buried under the sands of time.
Those willing to accept that powerful political theater can be as much about registering pain as providing hope, that it can look back at past horrors with a tragic sense of loss, will find much to admire in this visually striking, dramatically compelling piece. It is one of the troupe's most concentrated visions — perhaps best described as creepily poetic.
Where is all this despair coming from? The Shatterer of Worlds seems to be propelled by something more than the spectre of global atomic obliteration. One theme appears to be the perennial betrayal of the powerless by their supposed 'saviors' (early on, Schumann explains how reformers, Martin Luther among them, sold out to the aristocrats and scuttled the sixteenth century peasant uprising in Germany). Society's embrace of dehumanization is recognized ("Man = Cabbage" is a line on one of the drawings). There are also hints that in an age in which a risk-free suburban liberalism is ascendent (typified by the airbrushed agenda of MSNBC), it is time to mourn the demise of edgy left wing politics (the '60s ethos that inspired the creation of Bread & Puppet). But there is something deeply personal here as well, at least it hit me that way. Born in 1934, Schumann is feeling intimations of mortality — there are flickers of farewell to his art here, a version of W.B. Yeat's "The Circus Animals' Desertion" — call it "The Circus Puppets' Desertion."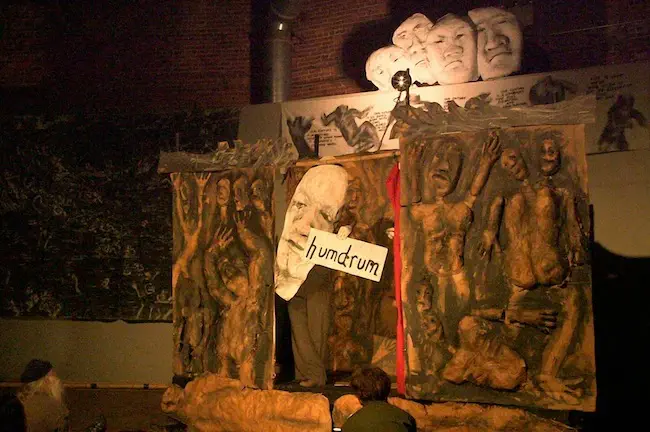 In a sense, The Shatterer of Worlds is a prolonged funeral procession, set in a "Cathedral of Impermanence" where we witness the death, rebirth, and burial of papier mâché creatures, many of whom are smeary, worn-down semblances of human beings. The walls of the Cyclorama are festooned with Schumann's huge charcoal images: crows wear boots, gigantic figures lie in prone haplessness. Our march around the expansive space is manipulated with dramatic panache. The audience never stays in one place for long — we are guided to the points of action via a tinkling signal from Schumann, a performer's cry of "Next!" or figures carrying portable lights. Sometimes we are taken in front of a small stage, where religious or theatrical conventions are lampooned (I think), such as when a spooky white figure growls at the audience with what looks like a white machine gun in its hand. A huge desk is wheeled out, a weird beaucratic machine is whirled, and an interrogator commences to deny immigrants access to the Cathedral. A puppet is beheaded, giant figures (betrayers of the people?) are struck to the ground, apocalyptic images are unleashed, such as giant locusts who promptly fly off to jostle buildings. The actors move around and through the onlookers — we are witnesses but also, somehow, participants in this chiaroscuro funeral.
Besides toying with space, Schumann also plays with time by way of some ingenious clocks designed by Peter Hamburger. These are wonderful contraptions made of wood and metal; they clank, chime, and bump, providing amusing bursts of 'music' that punctuate the show's ritualized cycles of destruction. In a recent interview with Amy Goodman on TV's Democracy Now! Schumann says that The Shatterer of Worlds contains "the whole idea of carnival. The whole history of sculpture is in there. The whole history of crazy poetry is in there, of nonsense. And how to make that into a one thing is evasive." The catch is that, aside from the bang and tinkle of the clocks, this is a pretty monochromatic whoop-de-doo — there is not a lot of humor ("Nothing is funnier than unhappiness" opined Samuel Beckett's geriatric Nell) or gaudy color in this black and brown carnival.
What's more, the torpid passivity of the victims in the face of The Shatterer and his efforts "to plot the assassination of existence" undercuts the piece's moral outrage. The show's human beings and puppets do not protest as they are trotted off to oblivion — they are seen as kindling for history's growing bonfire. Of course, you can't argue with the Grim Reaper, which is who The Shatterer may really be. Yet there is plenty of "crazy poetry" here — the slow twist of the 'dead' puppets as they float overhead, the ominous shadows of the giant papier mâché figures (The Shatterer's thugs?), the hissing sound of the sand as it falls from the ceiling onto a mound of puppets. To create lyricism out of mass destruction, skeletal beauty out of despair — that is no mean feat. And as Schumann the veteran propagandist knows, art is news that stays news.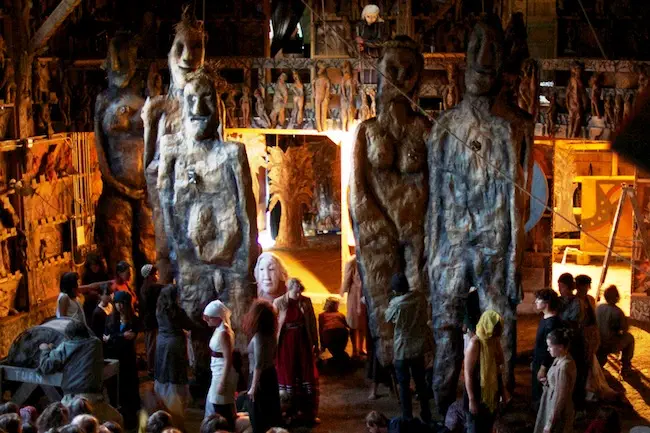 Polemical Note: Bread & Puppet has just celebrated its 50th anniversary as a nonprofit political theater company. At the moment, Schumann is receiving a major solo exhibition of his work (covered in the New York Times). You would think that our paper of record, The Boston Globe, would take time out from detailing the trials and tribulations of Justin Bieber to cover The Shatterer of Worlds. But so far there has been an embarrassing silence. Perhaps the troupe's politics are too scary: there is none of the usual do-gooder pablum served up by the American Repertory Theater and Huntington Theatre Company, which earn ample column inches simply by fist pumping for Broadway. Perhaps its critics feel intimidated by difficult work? Another sad sign that serious arts coverage in the Globe is fading away. Now I know why they named its weekly 'arts and lifestyle' supplement g — it stands for going… going … gone.
Addendum: The power of The Arts Fuse? Sometimes the powerful can be shamed… Stung (?) by my note above, the Boston Globe sent a critic during the show's second week — the positive review was posted on Sat, Feb 1 — only two performances were left.
---
Bill Marx is the Editor-in-Chief of The Arts Fuse. For over three decades, he has written about arts and culture for print, broadcast, and online. He has regularly reviewed theater for National Public Radio Station WBUR and The Boston Globe. He created and edited WBUR Online Arts, a cultural webzine that in 2004 won an Online Journalism Award for Specialty Journalism. In 2007 he created The Arts Fuse, an online magazine dedicated to covering arts and culture in Boston and throughout New England.