There was a moment when I turned around and thought, 'I am definitely in a Coen brothers movie. This is crazy.'
by Robert Ribera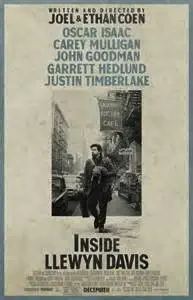 In the new film from Joel and Ethan Coen, Inside Llewyn Davis, Oscar Isaac plays the titular character—a folk artist cut from the same cloth as folkie Dave Van Ronk, but wandering around in a much darker world than the actual Greenwich Village of the early 1960s. Davis is lost. He's a singer without a lucrative record deal, a man whose relationships are in shambles, and a performer riding the crest of a wave that is about to crash once a certain man from Minnesota arrives to take the scene. He spends much of the movie trudging through the snowy streets of Manhattan and, briefly, Chicago, trying to get people to take him seriously. That, and he's chasing a cat.
The film is essentially a concert movie, with nearly a dozen songs from the period played in their entirety. Davis's journey holds the plot together, with the aid of the aforementioned cat (named, conveniently, Ulysses). It is to Isaac's credit as an actor that he is able to imbue his character with enough gravitas to keep us interested in an often unsympathetic figure who is down on his luck, selfish, and more than a little self-centered. But he has a great voice.
I, along with a few other journalists, sat down with Isaac to talk about his preparation for the role, the Coen brothers' artistic process, and the presence of so many farewells in the film. What follows is a condensed and edited version of that conversation.
---
Arts Fuse: Can you talk about the research that you did for the role? Obviously, it's based on Dave Van Ronk, so did you read The Mayor of MacDougal Street?
Oscar Isaac: Yes, I did read that, and Chronicles, which was Bob Dylan's account of the time. He has a great description of Van Ronk. I watched some movies from the time, but mostly it was from talking with people who were in the Village when it was all going down, and that was really useful.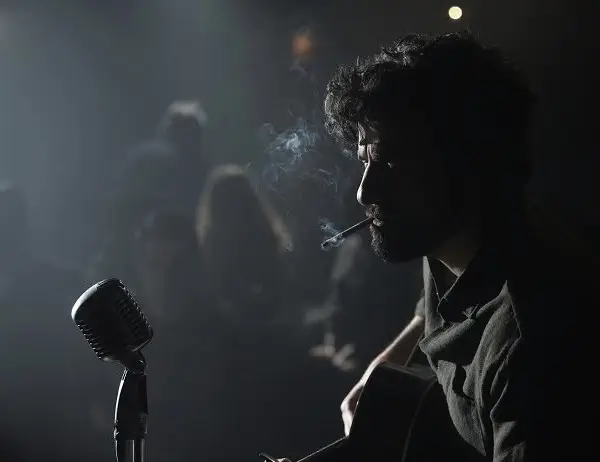 AF: Did you have any expectations about working with the Coen brothers? How did they work on set?
Isaac: I didn't expect them to be as relaxed and loose. They stick to the script, and there is no temptation to change things. They write in such a great way, with such rhythm and cadence that once you lock into the material you wouldn't want to do anything else. That was unexpected. It was also unexpected how they didn't talk much about the meaning or symbolism of the story. There was nothing about big thematic ideas. It was all very practical. Also, there's the fact that they never compliment anyone. I mean they don't compliment anybody.
AF: What did they tell you about how you were to perform the role?
Isaac: They don't dictate what you are supposed to be doing. They don't say you need to act in this style or you need to do the dialogue in a particular way, they leave that open. Tone is definitely the most important thing for them and their tone is so specific it alone dictates the performance. They're not controlling it on a micro level.
AF: Could you talk about the brothers directing style — do they differ?
Isaac: To a certain extent Joel is a little more foot-forward with the technical aspects, the framing of the shot. But he'll always check in with Ethan. Sometimes there will be a slight disagreement between, but when there is, whoever feels the strongest about the issue wins. And that included me. If I feel strongly that I need to pick up a bottle in the middle of a scene, they'll just let me do that. If Joel feels very strongly that I shouldn't, I check myself and decide if I want to battle for the move or not. That's how the three of us would work. But they always left room for my intuitions. When they wanted me to do something that was the opposite of what I wanted to do I was free to disagree.
I remember when we were doing hair tests I had seen some pictures of Dave van Ronk and I liked his straight hair, so I got together with the hair designer and he straightened my hair. Joel and Ethan came in and looked at my hair, and Joel asked, "What do you think?" And I said, "I think it could work." And he said, "Ok, because I fucking hate it, but I just hate it, so I don't know…" And I was like, "OK, well let's not do it then because I don't feel that strongly about it and clearly you have a strong feeling about it, so let's just leave it curly. I'll keep my Jew fro."
AF: Was your audition for the role more about the acting or the singing? How did you prepare for the role?
Isaac: Both. I needed to do two scenes and then a song, which was "Hang Me," the Dave Van Ronk song that opens the movie. And then I learned a few extra songs just in case. It was a lot of work. I had to learn a particular style of guitar playing called Travis Picking. I had to do a lot of research about the time period. I had to work on his physicality, how I wanted to express what was happening to him emotionally in an external way. For instance, I decided that he would always walk as if he was walking uphill, even if he was walking downhill. He's constantly in a state of struggle. I asked to have the the character's shoes about a month before shooting because they're the saddest little shoes in the world. They're close to being a piece of leather wrapped around a foot with rubber glued on the bottom. And that helped me get into the proper state of mind.
AF: Did your own work with your own bands, like The Blinking Underdogs, influence how you approached the film?
Isaac: Yes, it did. I was playing Punk/Ska at the time and interest in that was waning. I had to ask myself, "Why am I doing this? Do I still have something to contribute to this medium?" I had to figure out what was more fulfilling to me as an artist.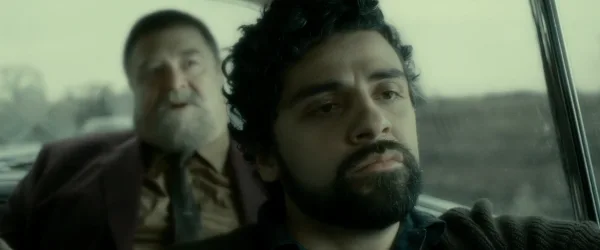 AF: When you saw the finished product, were there any things you wanted to change about your performance? Was there anything that you saw that changed your perception of the character?
Isaac: Most of it, actually. You are so inside of the performance that it's hard to see the meaning of things and how they come together, especially give this role, which calls for a very internalized performance. Often I was thinking thoughts and feeling them, not expressing them. So it was up to the Coens to create the context for the character. For example, the "Queen Jane" song, when they gave me that song to learn, I didn't really get it. Why is it this song? What is this about a Medieval C-section? It didn't affect me as much, and I had to really wrap my mind around it. But then when I saw it I thought, of course this is the song that he plays because this is what's happening in his life. That's what folk artists do, they get songs that are hundreds of years old and somehow make them relevant to the moment, to what's happening in their own lives. And it has an echo of the abortion that never happened and the one that he was trying to get money for, the baby and the child that he might have, and also the symbolism of him being Queen Jane and having to give up his dream and sacrificing herself. It suddenly takes on this powerful resonance. The fact that he doesn't play the hit, when that's the thing that he should do if he wanted to succeed. But his choice underlines the fact that he doesn't try to get anyone to like him, not even through his music.
AF: What was it like working with John Goodman, who has been in so many Coen brothers films?
Isaac: Nothing too wild happened in the car. Goodman has a very challenging role, filled with these big stream of consciousness monologues. Usually an actor doing a monologue at least gets something back from the other performers in the scene. But Goodman was doing his talking while staring at the back of my head. So it was all self generated; he had a lot of focusing to do, trying to remember all those lines. Just the fact that I was in a car with Goodman in the back was a pretty crazy thing in and of itself. There was a moment when I turned around and thought, 'I am definitely in a Coen brothers movie. This is crazy.' But he was so funny, he's one of my favorite actors.
AF: Can you talk about cycles and farewells in the film?
Isaac: Yeah, I think grief is a big thing that is happening in Llewyn Davis. He's having to say goodbye, not only to his partner, or the ghost of his partner, but also to that time. It's farewell to that time, that strange moment in history right before the messiah comes, which is Bob Dylan. In that way, it's an apocalyptic film. This guy's walking around at the end times, right before the rapture happens. Thus the theme of saying goodbyes predominates.
---
Rob Ribera is a filmmaker and music video director in Boston. He is the co-creator of the music website Sleepovershows.com, and is currently working on his PhD.in American Studies at Boston University.