Violinist Joshua Bell and pianist Sam Haywood delivered a highly entertaining and substantive (if too short) Sunday afternoon recital.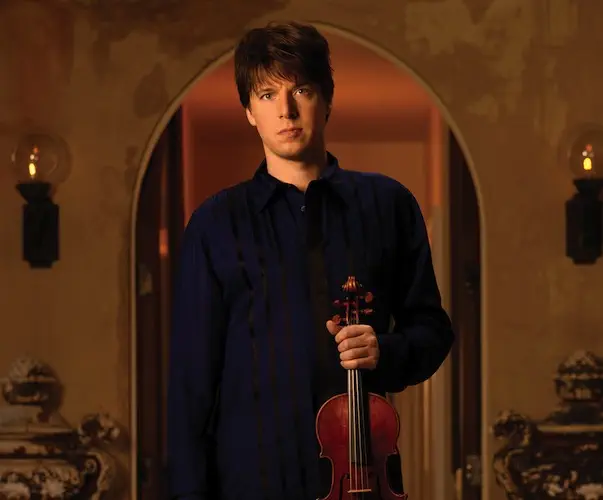 By Jonathan Blumhofer
There is no shortage of good violinists on the scene today, but the list of those who can say something worth hearing in a performance of a trifle by Henryk Wieniawski is short, indeed. Yet such was the case Sunday afternoon at the end of Joshua Bell and Sam Haywood's recital at Boston's Symphony Hall when the duo trotted out Wieniawski's Polonaise brilliante as their second (and final) encore. Bell delivered a performance that was full of flashy, jaw-dropping technique that somehow didn't draw attention to itself; rather, the focus was on the musical line, which soared and sang. It was a demonstration of shameless virtuosity at its very best, reminding just how exciting – and musical – a showpiece can be.
Most of the rest of their brief program (just under two hours, counting intermission and encores), which was presented as part of the Celebrity Series' 75th Anniversary Season, was of more substantial fare – pieces by Tartini, Beethoven, and Stravinsky – but all was approached in the same thoughtful manner.
This was quite evident in the first two movements of the most familiar piece on the program, Beethoven's Violin Sonata no. 10. Bell and Haywood emphasized the first movement's contrapuntal textures with breathtaking restraint and feather-light articulation: rarely has late-"Heroic" period Beethoven sounded so Mozartian. Of course, this is one of Beethoven's most lyrical sonatas, and this movement lends itself well to such an interpretation. Some of its quietest moments – the piano triplets bridging the development and recapitulation, for instance – were magically charged, and Bell and Haywood proved equal partners throughout the musical drama. The second movement nicely contrasted the diaphanous quality of the first, Haywood anchoring the duo with a weighty bass out of which Bell's elaborate solos unfolded naturally, almost improvisationally.
But the last half of the piece didn't quite come off. A Beethoven scherzo with all its rough edges smoothed, as Sunday's was, isn't nearly as exciting or interesting as when it's scabrous. And the sweet, lyrical approach that worked so well in the opening movement didn't bring the same results in the finale, which, while it crackled from time to time (the antiphonal piano/violin chords packed great energy, as did the runs of the closing pages) felt episodic and lacked the overarching concept necessary to naturally bring out the score's humor.
There isn't much humor to be found in Giuseppe Tartini's "Devil's Trill" Sonata, which opened the proceedings, but there is plenty of fire and, if that quality was missing from the last part of the Beethoven sonata, it certainly wasn't in this piece. Bell delivered a full-bodied, Romantic reading that was full of drama and brimming with technical assurance. Haywood, too, managed an accompaniment whose discretion neatly balanced Bell's more overtly energetic playing. The sonata's slow opening section was marked by a warm, lilting tranquility and the faster sections, with their frenzied torrents of notes, surged and coursed.
But the best piece on the printed program, the Divertimento from The Fairy's Kiss, the duo saved for last. Stravinsky wrote the ballet The Fairy's Kiss in 1928, basing it on lesser-known music by Tchaikovsky, a composer who was always one of his idols. Four years later, he worked out an arrangement of his suite from the ballet for the violinist Samuel Dushkin (for whom he had written his own Violin Concerto).
The piece falls into five sections, all of which feature Stravinsky's highly personalized stamp on Tchaikovsky's tunes. The sweeping melodic writing may as well have been written for Bell, so well did he inhabit the music's biting lyricism. And its showy, violinistic moments – double-stop thirds, artificial harmonics, and the like – also sang, especially during the witty scherzo. Haywood brought delicate simplicity to the Divertimento's slow movement but also thunderous clangor when called for. I gladly would have sat through it twice, had the duo been so inclined to play the whole piece again.
But they weren't, so along came the encores. Tchaikovsky's "Mélodie" from Souvenir d'un lieu cher brought out some of Bell's most supple playing of the afternoon, rich and heartfelt. And the Wieniawski emphasized just how much fun it can be to hear these showstoppers played well – as well as suggesting that there might be more to them than meets the eye. All in all, not a bad takeaway from a highly entertaining and substantive (if too short) Sunday afternoon recital.
---
Jonathan Blumhofer is a composer and violist who has been active in the greater Boston area since 2004. His music has received numerous awards and been performed by various ensembles, including the American Composers Orchestra, Kiev Philharmonic, Camerata Chicago, Xanthos Ensemble, and Juventas New Music Group. Since receiving his doctorate from Boston University in 2010, Jon has taught at Clark University, Worcester Polytechnic Institute, and online for the University of Phoenix, in addition to writing music criticism for the Worcester Telegram & Gazette.