Each different personality and monologue tells essentially the same story under their varying details, a thrice-told tale of wifely loyalty in the face of political husbandry.
Tea for Three by Eric H. Weinberger and Elaine Bromka. Directed by Byam Stevens. Staged by the Peterborough Players, Peterborough, New Hampshire, through October 22.
By Jim Kates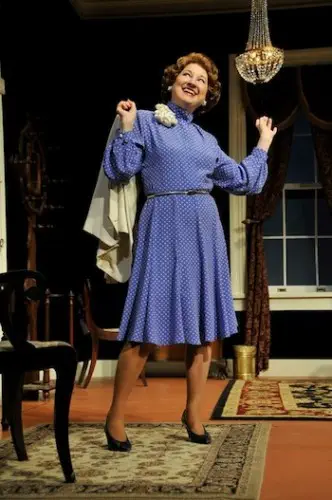 What with All the Way at Cambridge's American Repertory Theater and The Butler on the silver screen, Lyndon Johnson hasn't had so much theatrical exposure since Barbara Garson's Mac Bird in 1966. Tea for Three at the Peterborough Players brings him back again, opening the play with President Johnson's farewell address to Congress through the magic of video, then through the reminiscence of his wife Lady Bird, in the person of Elaine Bromka, as the couple prepare to leave the White House. "Lyndon has always been my identity," Bromka has Mrs. Johnson say. "I hope I have always given him a haven."
Bromka continues with reminiscences of Pat Nixon and Betty Ford, each at a parallel moment in their presidential lives. Each different personality and monologue tells essentially the same story under their varying details, a thrice-told tale of wifely loyalty in the face of political husbandry. It is painful to watch and listen to the repeated, repressed stress the three first ladies embody, but stimulating to watch and listen to Bromka's variety in laying out their lives. The one-act triptych is a play she crafted with Eric H. Weinberger after having played the role of first ladies in an earlier production, The Presidents, and after having researched diaries and memoirs of the first families in question.
Byam Stevens directed the production. I am not always quite sure what credit to give to the director in a one-person show, especially one actually created by and for the actor involved. But there is more on stage than the actor alone, and even that actor has to submit to the eye and the judgment of a more comprehensive vision. Stevens has certainly done nothing to get in the way of Bromka's performance, while the precision of setting and the realization of detail can surely be laid at his door.
Bromka's most successful, and most sympathetic, portrayal is her third, Betty Ford dipping into a carafe of what is certainly not tea and is clearly intended not to be water (because this was several years before Ford's alcoholic rehabilitation). The lack of inhibition of this portrait contrasts deliberately with Pat Nixon's uptight delivery and sense of duty. Where Nixon learned that walking ninety-one laps around the perimeter of her room made a mile, Ford can confess early that "I had really grown resentful."
The room itself, the creation of scenic designer Gus Kaikkonen, conveys all the official impersonality and decorated warmth that we associate with the White House. Robert F. McLaughlin, the wig designer, also deserves appropriate notice — sometimes we forget how much the 1960s and 1970s were defined by hair styles, as much in the White House as on the streets. And the streets outside, at least through the administrations of Johnson and Nixon, are also off-stage characters in this play. The wives were part of the politics of their day — a part Lady Bird Johnson took on, Pat Nixon fulfilled as a necessary task, and Betty Ford embraced, according to Tea for Three. But it casts no long shadows on the politics of today (as, say, The Butler does.)
There is a symmetry to the Peterborough Players' eightieth season. As it began with a one-man show augmented by filmed actualities, George Burns and Say Goodnight Gracie, it closes the same way. The two shows also derive a lot of their punch from uncomplicated nostalgia. As I walked out of Tea for Three, I heard one exiting theater-goer say to another, with satisfaction, "but it was all just about our memories."
So the Peterborough Players have pitched to an older generation as they opened and now close their season, the seats filled with more local audience members than in midsummer. It remains to be seen whether, in their eighty-first season, they will be able to draw in and depend on a younger attendance to sustain them into future decades.
---
Jim Kates is a poet, feature journalist and reviewer, literary translator and the president and co-director of Zephyr Press, a non-profit press that focuses on contemporary works in translation from Russia, Eastern Europe and Asia.