Although I was quadruply nervous—about my historical and art-historical knowledge, my Dutch, my speaking voice, and my presence of mind—I enjoyed the tapings for the radio and have no reason to think that I committed any terrible gaffes.
By Gary Schwartz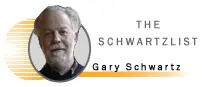 My late Sunday mornings over the past decades have been torn between quiet work during golden, undisturbed hours and listening to one of the best radio programs I know, OVT. (This stands for Onvoltooid Verleden Tijd, the grammatical tense known in English as the simple past, but that in Dutch is called, more poetically, past time unfinished). OVT is a two-hour program on history, mainly Dutch, with a strong personal flavor underpinned by impressive authority.
Aside from its intrinsic interest, the program is a compliment to Dutch society, built as it is on the assumption that there is an audience for uncompromising quality on the ether. The network that puts it on the air is the VPRO, which used to stand for Vrijzinnig Protestantse Radio Omroep (Liberal Protestant Radio Broadcasting Society), but which now stands only for itself. It has long offered the best radio and television in the country.
I have been waiting patiently for years to be invited to participate in OVT. The moment has finally come, in grand form. Two of the regular presenters, Michal Citroen and Jos Palm, asked me to take part in nine successive summer programs, to be aired between July 4th and August 29th, of a series on nine paintings by Dutch artists from the 15th to the 20st century. Nearly all are iconic masterpieces from the survey books, like Jan van Eyck's Ghent Altarpiece and Rembrandt's Nightwatch. The 20th century is represented by three works, of which one by way of exception is a lithograph, Maurits Escher's Waterfall of 1961.
For each program, historians and/or art historians specialized in the period concerned were brought in to illuminate the historical context of the painting. My thankful role was to discuss the work in question with them and with the presenters. They were taped between June 22nd and July 9th in five sessions at which nine installments, each lasting 42 minutes and 30 seconds, were recorded in quasi-live mode. Although I was quadruply nervous—about my historical and art-historical knowledge, my Dutch, my speaking voice and my presence of mind—I enjoyed the tapings and have no reason to think that I committed any terrible gaffes.
Yet, following each program I was seized with attacks of esprit d'escalier, things I forgot or that I could have said better. Allow me to use the narrow-casting medium of the Schwartzlist to redress one of these issues. At various points in the programs, I remarked that many artists we call Dutch depended on foreign supporters and markets, that the Netherlands alone was incapable throughout much of its history to support major careers. The great names covered in the broadcasts illustrate this perfectly.
Jan van Eyck worked in the service of John of Bavaria, count of Holland, and after his death Philip the Good, duke of Burgundy. His homelands extended from Friesland to Dijon, covering nearly all of the Benelux and much of eastern France. Van Eyck also worked for Flemish burghers, Italian bankers, and Portuguese royalty.
Hieronymus Bosch was less cosmopolitan, but he too lived in a different country—the duchy of Brabant, of which the town of Den Bosch lay in the northernmost corner—than the present-day Netherlands. It was part of Habsburg Burgundy and therefore a territory with European scope.
Rembrandt van Rijn and Johannes Vermeer lived in a northern Netherlands state that resembles the present one in terms of territory. But in their time the Dutch Republic was a world power, with global reach. Rembrandt's reputation and market reached from Sicily to the Baltic. In his art, Rembrandt placed himself in the grand European tradition. Vermeer's range was more limited, but he looks typically Dutch only if we ignore the aspects of his art that break the stereotyped mold.
Adriaan de Lelie and Egbert van Drielst practiced their art dizzyingly through five regimes: the end of the Republic, its successor the Batavian Republic, the (French) Kingdom of Holland, a forgotten two-year period when all of the Netherlands was incorporated into the French Empire, and the Kingdom of the Netherlands, covering all of present-day Belgium as well as the Netherlands. They rolled with the punches.
Vincent van Gogh's Netherlandishness remains to be reconquered from his Frenchness.
Piet Mondrian did not find himself until he moved to Paris; the world did not find him until after he died in New York.
Karel Appel developed his artistic personality in Paris and in the international CoBrA movement. He made his fortune as an arrived artist in New York.
Maurits Escher has been fully accepted as an artist everywhere in the world except in his own country, where the cognoscenti still sniff their noses at him. Never mind that he was one of the most thoughtful and conscientious artists to come from the Netherlands and that he has a vast cult following and a popular audience.
Van Gogh, Mondrian, Appel, and Escher also suffered from the lack in their home country of a vibrant commercial art scene. There were no galleries, auction houses, or art magazines that operated on a European scale. Not until after the Second World War did a number of museums begin to buy and show contemporary Dutch art of international interest.
In sum, the careers of the greatest painters and graphic artists of the Netherlands depended on international reception. This is not a one-way street. The taste and interests of their European and American admirers helped to shape their art. None of them would have thought of their art as an expression of Dutch national feeling. If there is any binding principle joining them, it would be that. I have no hope that this little demonstration will bring proponents of the Dutchness of Dutch art to reconsider things. Perhaps their children or grandchildren.
The latest two broadcasts can be heard on Internet at http://geschiedenis.vpro.nl/programmas/3299530/, during "uur 1" of the OVT programs. They will all be offered on cd at the end of the summer.

Published at the beginning of the year: "The Barberini and Orange inventories: a comparison of the collections and their publication," Medieval, Renaissance, Baroque: a cat's cradle for Marilyn Aronberg Lavin, ed. David A. Levine and Jack Freiberg, New York (Italica Press) 2010, pp. 167-178. Downloadable for a price at http://www.italicapress.com/index256.html
This week it's six months since I left the Netherlands Institute for Advanced Study (NIAS). My five months in Wassenaar may have been the longest unbroken stretch within the narrow confines of my adopted fatherland for as long as I have lived here. But then again, NIAS calls itself rightly a Global Academic Village, whose inhabitants at any given moment come from three, four or five continents. The term was barely finished when at the end of January Loekie and I left for CODART in Southern California, the CAA meeting in Chicago and a special visit to Alfred and Isabel Bader in Minneapolis. In early April we celebrated Loekie's birthday in Barcelona, in May we spent a day in Bruges to see the Holy Blood Procession and on June 1 visited Dresden to address the annual meeting of the praiseworthy Arbeitskreis für Niederländische Kunst- und Kulturgeschichte. Everywhere I went, except Barcelona, readers of the Schwartzlist introduced themselves to me. It makes me feel all the more at home wherever I go. Thank you for that.
Next Sunday we are off to Transylvania. Although some members of my family come from Hungarian and Romanian Transylvania, that is not what is bringing us there. We will be in German Transylvania, in Sibiu (Hermannstadt) and the neighboring village of Daia (Thalheim). Our personal connection was first established in 2001, when Peter van den Brink suggested that CODART visit the Brukenthal Museum, and through the remarkable Brussels art dealer Jan De Maere, who has founded a summer university in Daia, where he owns several properties
© Gary Schwartz 2010.
==============================

Gary Schwartz was born in Brooklyn, New York in 1940. In 1965 he came to the Netherlands with a graduate fellowship in art history and stayed. He has been active as a translator, editor, and publisher; teacher, lecturer, and writer; and as the founder of CODART, an international network organization for curators of Dutch and Flemish art.
As an art historian, he is best known for his books on Rembrandt: Rembrandt: all the etchings in true size (1977), Rembrandt, his life, his paintings: a new biography (1984) and The Rembrandt Book (2006). His Internet column, now called the Schwartzlist, appeared every other week from September 1996 to April 2007 and has been appearing since then irregularly. His most recent book on Rembrandt is one of the six titles nominated for the Banister Fletcher Award for the most deserving book on art or architecture of that year.
In November 2009 Schwartz was awarded the coveted tri-annual Prize for the Humanities by the Prince Bernhard Cultural Foundation of Amsterdam.
Please address reactions to Gary.Schwartz@xs4all.nl