The name of the band itself comes from a tune by the most "classical" of all jazz bands, the Modern Jazz Quartet.
Ron Carter's Golden Striker Trio. At the Regattabar, Cambridge, MA, through July 27.
By Jon Garelick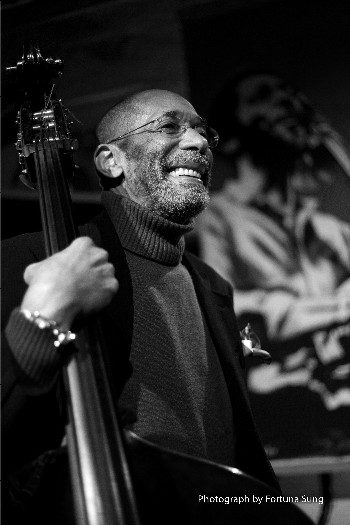 Ron Carter played an early role in jazz's cutting edge, from recordings with Eric Dolphy to his work with the pathbreaking, mid-'60s Miles Davis Quintet. Claiming to have worked on more than 2,500 recordings, Carter has helped define the sound of jazz bass and the modern jazz rhythm section. His Golden Striker Trio, which played the Regattabar in Cambridge, MA last night and will be there again tonight, is about jazz classicism. The name of the band itself comes from a tune by the most "classical" of all jazz bands, the Modern Jazz Quartet. Besides the band's tightly defined sound, the show also reasserted the qualities that remain essential in Carter's playing.
The band's deportment was certainly classical—they came out in dark suits and matching red ties (the leader wore a multi-colored pocket handkerchief) and took a group bow before playing. The ovation was extremely warm in the crowded house for the 76-year-old Carter. The opening, uptempo "Cedar Tree" by guitarist Russell Malone, showed off all of Carter's technique—his long, nimble fingers working through a fast, tricky vamp, a variety of strums and double-stops, and resonant walking figures. But the technique was always in service to the tune and the band, whose imperative is cultivating an interplay among Carter, Malone, and pianist Donald Vega. This came through in the counterpoint of simultaneously unfolding, equally weighted melodic lines as well as in the more conventional back-and-forth of jazz performance: the trading of four- and eight-bar phrases, or simple call-and-response patterns.
This is a low-key band—no drummer, after all. But they swung hard, and those transparent textures allowed you to hear every detail and allowed Malone to bring his solo feature on "Candle Light" (a tribute to Carter's duo partner over the years, Jim Hall) down to a hush. But there were uptempo features, like the closing Fletcher Henderson number, "Soft Winds," where the shift to double-time for Vega's solo brought screams. And then there was Carter, an orchestra to himself, playing multiple lines, quoting a Bach suite (in his solo feature, "You Are My Sunshine"), and always maintaining a supple, singing line. Classic indeed.
---
Jon Garelick is a member of The Boston Globe editorial board. A former arts editor at the Boston Phoenix, he writes frequently about jazz for the Globe, The Arts Fuse, and other publications.