It was an unexpected pleasure to stumble onto this one-hour, one-woman show, which explores a fascinating episode in Japanese-American history.
Morgan O-Yuki:The Geisha of the Gilded Age by Natsuko Ohama. Directed by Enrico Spada, with Mayu Iwasaki. At Ventfort Hall, Lenox, MA, through Septmember 1.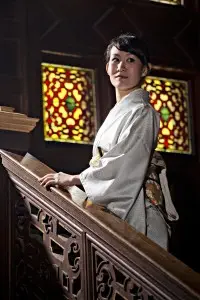 On February 2, 1904, the New York Times published a highly unusual wedding announcement. "J.P. Morgan's Nephew Marries a Japanese," read the headline. "Miss Yuki Kato is the Bride of George D. Morgan." Mr. Morgan, the article went on to note, "was in the class of '94 at Yale but was not graduated. According to his brother, Junius S. Morgan, the banker, he has been traveling extensively since he left college, but has made his headquarters in Yokohama."
The bridegroom's father George H. Morgan "said yesterday that the marriage had taken place so recently that he had not heard any details as yet. When asked if the marriage of his son to a Japanese was unexpected, he said: "Is anything unexpected?"
It was an unexpected pleasure to stumble onto this one-hour, one-woman show, produced in the wood-paneled entry hall of the restored "Berkshire cottage" that was built in 1893 as the summer mansion of Yuki's rich, American in-laws.
Natsuko Ohama, a founding member of Shakespeare & Company with an interest in Japanese-American history, has written a straightforward monologue that highlights Yuki's unusual and dramatic life and offers ample opportunity to showcase traditional Japanese music and dress while telling the true story of a contemporary of Puccini's Madame Butterfly.
Born in 1882 in Kyoto, Yuki Kato was 10 when she followed her older sister into training as a geisha. She was educated in the arts of hospitality including flower arrangement, the tea ceremony, and the playing of the Kokyu, a Japanese lute played with a bow.
She met George Morgan in 1901 when she was 19. "Fair hair, so tall, funny, Caucasian. . . . a Morgan, flamboyant but also practical." He was in love with someone else, but so was Yuki, although as a geisha she was forbidden to have a lover. Although George Morgan repeatedly offered to be her patron and buy her way out of the geisha house, she preferred to continue taking his money and giving it to her Japanese lover.
However Morgan, as Yuki recounts, was persistent. When they arrived at 6 East 40th Street as a married couple, the Morgan parents refused to seat Yuki at the family table (the newlyweds ate in the kitchen), and they decided to live in Paris where they remained until George died 10 years later. During this time, Yuki learned to speak French, play the cello, and discovered Catholicism. By the time she visited San Francisco in 1912, her transformation into a chic Parisian was recorded by the San Francisco Chronicle. She lived through the First World War in France but returned to Japan before the Second World War. She was baptized in 1958 as Theresa and died five years later.
The Japanese actress Mayu Iwasaki, born in Japan and trained in Australia, is graceful and convincing as Yuki. Director Enrico Spada, a performer at Shakespeare & Company, makes the most of a very small stage and the grand staircase of Ventfort Hall. He gives his Yuki lots to do as she narrates her autobiography and transforms herself from easterner to westerner and back before the small audience.
This is intimate chamber theater, with less than 50 seats, a miniature set, an adequate soundtrack and costumes, and no lighting design. I found myself wondering what the 1951 Japanese musical based on Yuki's life looked and sounded like. There are still so few juicy roles for women in the theater and almost none for Asian women. Surely, some enterprising theater could further develop this production.
---
Helen Epstein is the author of Joe Papp: An American Life and the co-publisher of Plunkett Lake Press eBooks of Non-Fiction.