By Jason M. Rubin.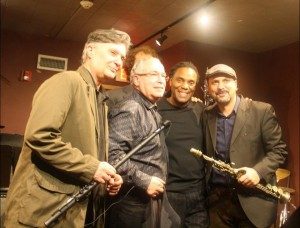 Such is the state of live jazz that one of the world's greatest bass players recently enthralled a standing-room only crowd with a masterful performance, and the attendees could not have numbered more than 75 people. But for those who were there, at a mere $10 a pop, the Eddie Gomez Quintet delivered a memorable set.
The location was the lilliputian Lilypad in Inman Square, Somerville. Just a couple of doors down from the late, great 1369 club, the Lilypad is a small room with good acoustics, friendly staff, and excellent bookings, which more than offset the uncomfortable bench seating. The only other complaint worth registering is that the venue had another show starting at 10:30 p.m., so Gomez's set was relatively short.
The bassist has been giving talks and classes at Berklee College of Music, where his saxophonist, Marco Pignaturo, is co-director of the Berklee Global Jazz Institute. His gig at the Lilypad last April 25 was the last date on his itinerary for the time being, according to his website.
The core of the group and the bulk of the material played go back to a 2009 session (released in 2012, such is the state of recorded jazz) that produced his latest album as leader, Per Sempre. For this recording, Gomez assembled a group of Italian musicians to play a set of emotionally rich originals, plus the standard, "Stella By Starlight." For the Lilypad gig, Gomez, Pignaturo, and flutist Matt Marvuglio (who is dean of the Performance Division at Berklee) were intact from that date and joined by local heavyweights Laszlo Gardony on piano and Yoron Israel on drums.
The quintet played five cuts from the album (including "Stella"), plus a Marvuglio composition dedicated to a friend who perished on 9/11. And then the show abruptly was over when Gomez got the sign that time was up. Having shown up early to hear the sound check, I know that "My Funny Valentine" had been on the set list as well, but unfortunately it never got played.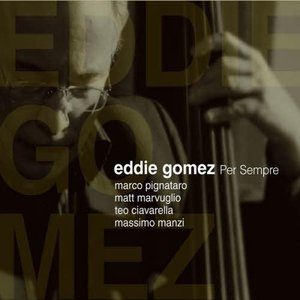 Gomez's playing was elegant and exciting throughout, and his solos were punctuated by his odd habit of softly scatting along. Pignaturo distinguished himself on both tenor and soprano saxes, and Marvuglio explored the flute's full range of colors. Gardony and Israel brought a more athletic intensity to their support of the compositions than is evident on the excellent recorded versions, and they made the most of their solo opportunities.
Following the end of the set, the musicians were accommodating to fans' requests for photos, discussion, and autographs. I found them all to be very approachable and appreciative, and Gomez in particular was as sweet and down to earth as one could possibly be. Considering his history as the longest-serving bassist in the Bill Evans Trio, and his remarkable work in the jazz, funk, and pop fields with such fellow legends as Chick Corea and Steve Gadd, Gomez would be forgiven if he had an air of royalty about him. But instead, he is as graceful and delightful to be with as he is to listen to. Here's hoping he comes back soon.