Leaving aside the doctrinal issue of how much of a commedia dell'arte evening should be improvised and how much should be scripted, the Yale Repertory Theatre production, in terms of performance and design, sets a high standard.
The Servant of Two Masters by Carlo Goldoni. Adapted by Constance Congdon from a translation by Christina Sibul and further adapted by Steven Epp and Christopher Bayes. Directed by Christopher Bayes. Produced by Yale Repertory Theatre. Presented by ArtsEmerson at the Paramount Theatre, Boston, MA, through February 10.
By Ian Thal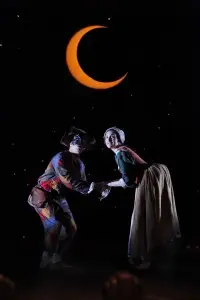 The recent success of Richard Bean's One Man, Two Guvnors, both at London's National Theatre and on Broadway, has made Bean's inspiration, Carlo Goldoni's The Servant of Two Masters, a desirable comic property. Yale Repertory Theatre's virtuoso production, currently playing at ArtsEmerson, approaches the venerable material in a very different way. Rather than transposing the story to another setting and era (One Man's '60s Brighton, England), Yale Rep sticks closely to the commedia dell'arte of the 1745 original.
Commedia, as a theatrical art form, is rather nebulously defined. It started up in sixteenth-century Italy but quickly spread, its influence becoming so pervasive over the next few centuries that some critics have suggested that commedia was the first truly pan-European art form. The tradition went through so many permutations that it's as much a matter of taste as scholarship as to what composes "authentic" commedia.
One important characteristic is improvisation. Most commedia scripts survive only as brief outlines or scenarios that call for the actors to embellish with extensive lazzi (comic routines) that could be inserted in nearly any story. Actors could even introduce these lazzi without giving their cast-mates any warning. As a consequence, there are very scripts extant in written form. The prolific Goldoni largely rejected this arrangement: he insisted on writing full scripts that placed limits on how far a troupe of actors could deviate from the narrative. He appropriated the commedia's cast of characters while preserving the elemental story convention of true lovers having to overcome a particularly convoluted set of obstacles through even more convoluted means. Ironically, though Goldoni rejected the primacy of improvised performances, his texts have guaranteed that students of theatrical history are introduced to commedia through his works.
This inventive adaptation opens with light pouring through a doorway that opens upon a dark stage. Two silhouetted figures enter with flashlights, discover and open two large crates, and then discuss the contents in an Italian grammalot. The pair list off the names of the iconic masks of the commedia dell'arte: Pantalone, Dottore, Brighella, and of course, the eponymous servant, Truffaldino. It as if they are discovering something vital stored away.
Soon after the flashlights become fireflies dancing against a night sky, over a maquette of Venezia. The sun rises over a city square. Under the Paramount's own proscenium stage stands a much smaller proscenium from which the cast emerges. Katherine Akiko Day's stage concept brilliantly references the earliest commedia troupes, while Chaun-Chi Chan's lighting design evokes the blazing sun under which these troupes performed as well as forecasting the arrival of dusk at the story's end.
Goldoni's comic gift comes down to a genius for narrative design: he arranges a convoluted story of mistaken identities, disguises, miscommunications, and matters of honor by which true lovers are kept apart and then, as if by clockwork, are finally brought together. Goldoni lacks the poetic gifts and thematic depth of Shakespeare, but the Bard of Avon never plotted so tightly. Goldoni's plot becomes so complex that he seems compelled to include a recap of the plot for the audience in the final scenes of his comedies.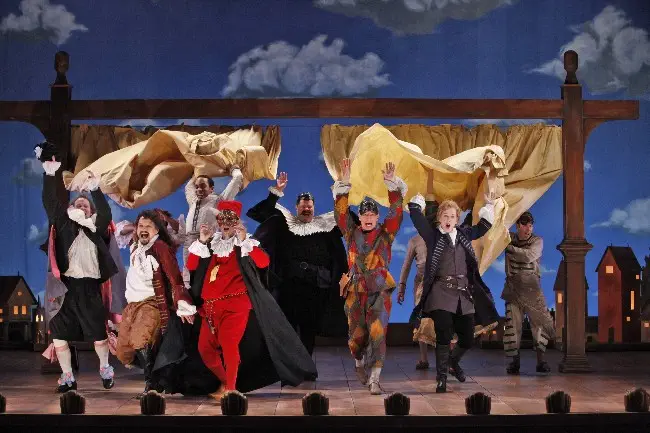 The story opens at the engagement of the innamorati Clarice (Adina Version) and Silvio (Chivas Michael). Their fathers, the merchant Pantalone Dei Bisognosi (Allen Gilmore) and Dottore Lombardi (Don Darryl Rivera), an attorney, are as happy with the new alliance as their children are. However, it is quickly revealed that these glad circumstances only came about through sheer luck: Clarice had been betrothed to Federigo Rasponi, a hot-tempered gentleman of Torino, who had just been reported killed in a duel.
Suddenly, Truffaldino (Steven Epp) appears, announcing that he is the servant of Federigo, who is very much alive. Brighella (Liam Craig), an inn-keeper who originates from Torino, quickly figures out that the resurrected Federigo is his equally spirited sister Beatrice (Sarah Agnew) in disguise. But Brighella is sworn to keep her secret until Beatrice can claim money owed to her brother. Beatrice intends to keep up appearances by insisting on her brother's prior claim to Clarice's hand. Thus the engagement is scuttled, and the two old men are set upon one another in an effort to save the family honor. Their weapons of choice—contracts.
Meanwhile, Truffaldino, worried that his new master has little regard for his need for food, acquires a new master: Florindo Aretusi (Randy Reyes), another temperamental citizen from Torino as well as the true love of Beatrice. Florindo has fled Torino for a simple reason: it was he who killed Federigo. He is unaware that Beatrice is staying at the very same inn. Truffaldino, of course, spends most of the play trying to keep the Torinesi away from one another lest they discover he is collecting wages from both of them. Meanwhile, Truffaldino discovers that he, too, is in love when Clarice's servant, Smeraldina (Liz Wisan), catches his eye, and he catches hers.
A successful production of a Goldoni play depends on its execution. As Truffaldino, Steven Epp appears to be in constant motion even when he isn't. His timing, whether it's pulling off physical gags or patter, is perfect. While it is without question that Epp is the center of the show, when it comes to this particular cast, that becomes a matter of being a first amongst equals. Several of the performers appear to have consulted Jacques Callot's early seventeenth-century illustrations when crafting the their characters' gestures and postures. Gilmore's and Rivera's postures are agile even as they play up the decrepitude of their old men. Agnew and Reyes respectively swagger and explode onto the stage as the swaggering and potentially violent Torinesi lovers. As the younger lovers, Michael and Version bring strong singing voices to their musical numbers while they have the comic chops to suggest just how ridiculous being in love looks to those not in it. Craig, as both Brighella and the unnamed porter, proves to be as able a physical comedian as anyone on stage. As Smeraldina, Liz Wisan has her own farcical moments, but she also has the stage chemistry with Epp to make the romance between the zanni the least ridiculous of the three couplings.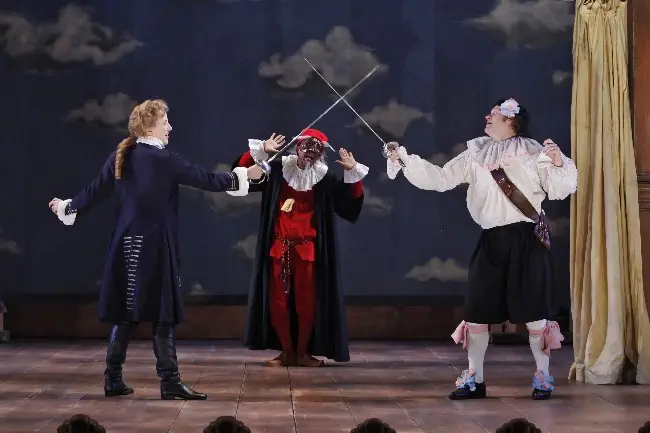 The script, adapted by Constance Congdon, with additions by Epp and director Christopher Bayes, is rapid fire, filled with references to twentieth- and twenty-first-century pop culture, current events, and the history of the commedia. Ad libs that found their way into the ArtsEmerson run include digs at the MBTA, the current, Broadway-bound run of the American Repertory Theater's Pippin, and Sister Act at the Boston Opera House. The cast shows itself very capable of keeping up with the whirlwind of gags: a particularly clever device in this version not only has Truffaldino breaking the fourth wall in his frequent addresses to the audience but finding himself uncertain as to just which side of the wall he calls home.
The lighting and set designs have already been mentioned, but the production team is as sold as the cast: Valérie Thérèse Bart's costumes and masks respect the traditional iconography associated with the characters. Truffaldino wears the patchwork costume of Arlecchino, on whom Goldoni based his protagonist. Christopher Curtis's and Aaron Halva's songs provide strong transitions and intermezzi: they are well executed by Halva and his fellow multi-instrumentalist, Carolyn Boulay. The foley work, created by sound designers Charles Coes and Nathan Roberts, accentuates every physical gag.
In short, leaving aside the doctrinal issue of how much of a commedia dell'arte evening should be improvised and how much should be scripted, this production, in terms of performance and imagery, sets a high standard for ensemble work and design. Indeed, Yale Rep may have sent Boston one of the most solid theatrical ensembles in any genre it has seen in quite some time.
---
Ian Thal is a playwright, performer, and theater educator specializing in mime, commedia dell'arte, and puppetry, and has been known to act on Boston area stages from time to time, sometimes with Teatro delle Maschere. He has performed his one-man show, Arlecchino Am Ravenous, in numerous venues in Massachusetts and Rhode Island. One of his as-of-yet unproduced full-length plays was picketed by a Hamas supporter during a staged reading. He is looking for a home for his latest play, The Conversos of Venice, which is a thematic deconstruction of Shakespeare's The Merchant of Venice. Formerly the community editor at The Jewish Advocate, he blogs irregularly at the unimaginatively entitled The Journals of Ian Thal, and writes the "Nothing But Trouble" column for The Clyde Fitch Report.