The Worcester Chamber Music Society's latest concert was inspired by an ambitious concept; it was played with conviction, but the performance was continuously dogged by problems with acoustics.
By Jonathan Blumhofer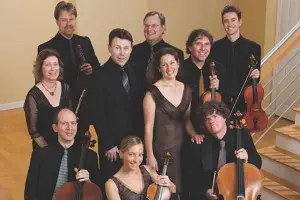 Beginning last September, the Worcester Art Museum has been presenting a photographic exhibition focusing on the United States in the 1960s and '70s. Titled From Kennedy to Kent State: Images of a Generation, the exhibit has not only served as a visual reminder of a pivotal era in recent American history but also provided the impetus for the first two concerts in the museum's chamber music series. In October, American Century Music began the series with a gripping program of avant-garde scores by composers like Roger Sessions and Leon Kirchner. This past Sunday, the Worcester Chamber Music Society (WCMS) continued it from a different angle, focusing on music that was—or could have been—performed in the White House during these years with a program featuring pieces by Pablo Casals, Ben Johnston, Aaron Copland, Beethoven, and Mendelssohn.
It was an ambitious concept that was played with conviction but was continuously dogged by problems with acoustics stemming from the concert's location in the museum's cavernous Renaissance Court. The space is striking, to be sure—what with a massive Roman mosaic from Antioch occupying most of the floor—but with high ceilings, resonant walls, and no significant absorbent material anywhere within sight, it's not particularly conducive to musical performances, especially for pieces that require a piano.
Of the three scores that did call for keyboard on Sunday, Mendelssohn's D minor Piano Trio came off the best. The ensemble of violinist Krista Buckland Reiser, cellist Joshua Gordon, and pianist Lois Shapiro (who gamely and seamlessly substituted for the indisposed Ian Watson on short notice) conveyed much of the music's symphonic character despite the acoustical issues that arose from the overly vibrant space. The slow second movement, in particular, sang with glowing lyricism, while the moody finale built to an ultimately triumphant close.
Mr. Gordon and Ms. Shapiro's account of Beethoven's Cello Sonata no. 3, though, struggled to overcome instrumental imbalances owing to the echoing room. It's a pity, too, since what came across in this reading seemed especially locked in to the dramatic character changes within the music. The slow introduction to the finale—one of a handful of melodies that shows Beethoven could write a tune with the best of them when he chose to—sounded especially heartfelt, as were moments in the outer movements. However, the performance space rendered much of the jerky humor of the Scherzo and many of the contrapuntal sections of the other movements sterile, with the piano often overshadowing the cello in its mid- to upper range and the music's sudden dynamic contrasts blurring into a wash of sound.
The non-keyboard works, though, fared better. Ben Johnston, one of the last living links to the early days of the great American Maverick tradition, was represented with his String Quartet no. 4. Based on the hymn tune Amazing Grace, it's essentially a set of variations but one that utilizes a non-traditional tuning system called just intonation. As such, it's music at once familiar and ingratiatingly odd, characteristics that came across with great clarity in this vigorous performance that featured violinist Rohan Gregory and violist Peter Sulski in addition to Ms. Buckland Reiser and Mr. Gordon.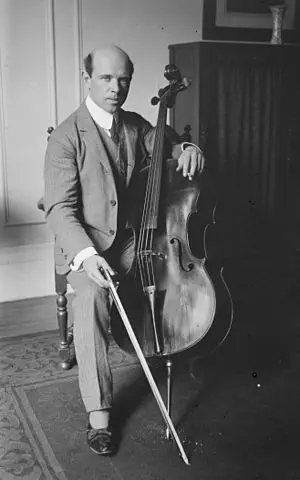 Copland's rarely heard Threnodies for flute and strings followed the Johnston and made a somber close to the concert's first half. Both pieces (officially titled Threnody I and Threnody II, they're typically performed together owing to their brevity) are laments, the first written in memory of Igor Stravinsky and the second in tribute to Copland's friend Beatrice Cunningham. Sunday's performance was poignantly direct, the WCMS strings supporting flutist Tracy Kraus's sensitive account of her part.
Of the composers on this program, the one perhaps most closely associated directly with the White House wasn't the all-American Copland or the American-original Johnston. Rather, it was the Catalan expatriate Pablo Casals, who famously performed there for John F. Kennedy (and invited guests) in November 1961. After fleeing Fascist Spain for soon-to-be-occupied France in 1939, Casals arranged a Catalan Christmas song, Song of the Birds, which he often performed as an encore (as he did at his White House appearance). Mr. Gordon and Ms. Shapiro opened Sunday's performance with a soft, lyrical account of this gentle piece that is as politically and morally charged as anything of Beethoven's.
If you missed Sunday's concert (or if you made it and want to catch it again), the WCMS is repeating most of it in a free concert on February 9th at Razzo Hall at Clark University in Worcester. Alas, we won't get to hear Mr. Gordon's account of the Beethoven Sonata in friendlier acoustics, but Matt Malsky's Archipelago of Regrets will be performed in its stead, and the rest of the program remains unchanged.
Also, if you haven't caught the Worcester Art Museum's From Kennedy to Kent State, it runs through February 3rd and is well worth a visit. It's an exhibit that has inspired two of the most thought-provoking and meaningful musical programs of the season and reminded how closely connected the arts are to everyday life.