Standout exhibitions starting up in January include a show that celebrates Islamic Art at Harvard's Sackler Museum.
By Peter Walsh.
Loïs Mailou Jones. At the Museum of Fine Arts, Boston, MA, January 19 through October 14.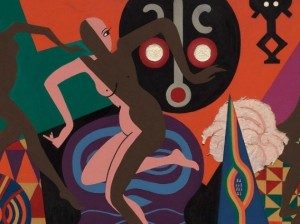 Born in Boston in 1905, Loïs Mailou Jones grew up in the tiny African-American elite of the the early twentieth-century, a confident, educated, hard-working class that firmly rejected any idea of racial inferiority. Her father was one of the first African-American graduates of Suffolk Law School. Her family summered on Martha's Vineyard, where her grandmother once worked as a housekeeper. In high school, Lois studied at the School of the Museum of Fine Arts, where she won scholarships and awards, and later at the state-supported school that is now the Massachusetts College of Art.
By her mid-20s, Jones was at the then all-black Howard University in Washington, where she taught until she retired in 1977. Like so many talented African-Americans, she found liberation and inspiration in Paris, where Jones spent a sabbatical year in 1937, striking up friendships with, among others, legendary singer Josephine Baker and Symbolist painter Emile Bernard. Haiti, birthplace of her graphic artist husband, and Africa, which she finally visited in 1970, also influenced her work.
Though as a young woman she once had to sneak her work into a museum exhibition that excluded people of color, laurels gathered in her later career: honorary degrees from Suffolk and Howard, a visiting professorship at Harvard, a White House award from President Jimmy Carter. She died in 1998.
This MFA show honors one of its own with 30 paintings and drawings from throughout Jones's career, starting with student work and running through the Howard years and the artistic products of her many travels. Light filled and brilliantly colored, Jones's work touches Cubism at times and can also suggest the vividly hued French Nabis in her landscapes and still-lifes. Other work uses African images as models or looks back to Jones's early career as a textile designer. Despite the deep shadows that fell across all African-Americans of her generation, a sturdy, positive feeling, untroubled by obvious signs of struggle or oppression, shines through almost all of it, as if Jones chose to look only with the eyes of an artist.
Festina lente: Conserving Antiquity. At Davis Museum and Cultural Center, Wellesley College, Wellesley, MA, January 30 through July 7.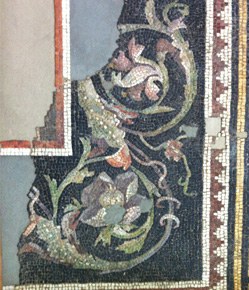 Festina lente, an oxymoronic adage favored by Roman emperors and the Medici of Renaissance Florence, among others, means "make haste slowly" or, as my grandfather would put it, "measure twice, cut once." In this exhibition, organized by Davis Director Lisa Fischman, it is meant to suggest a balance of urgency and diligence, risk and caution, used in the collecting, conservation, and stewardship of Greek and Roman art.
Like many American colleges, Wellesely was born when classical studies were the foundation of a well-rounded education. The school first collected classical art as the visual manifestation of Greek and Roman idealism. Since then, archaeology, scholarship, and scientific research have completely revised the ways in which classical art is evaluated, attributed, restored, collected, and exhibited. This exhibition, focused on works from the Davis classical collections in glass, terracotta, clay, metal, and stone, some hidden in storagefor decades, reveals this revisionist process from the inside out.
In Harmony: The Norma Jean Calderwood Collection of Islamic Art. At the Arthur M. Sackler Museum, Harvard University, Cambridge, MA, January 31 through June 1.
Transplants to Boston, the late Stanford and Norma Jean Calderwood lavished gifts on their adopted city: the Boston Athenaeum, Boston College, the Isabella Stewart Gardner Museum, the Museum of Fine Arts, and the Huntington Theatre are only a few of the institutions that benefited from their generous philanthropy. This exhibition at Harvard's Sackler Museum focuses on a magnificent 2002 gift of a different kind: the Norma Jean Calderwood Collection of Islamic Art. Acquired over 30 years, the collection is still not especially well known and was largely unpublished until catalogued for this exhibition.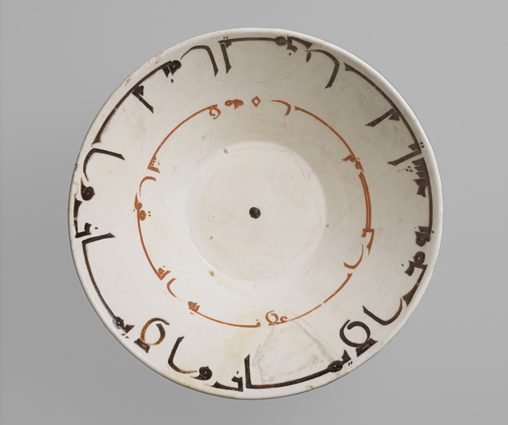 Unusually for a serious collector, Norma Jean Calderwood was formally trained as a graduate student in Islamic art in Harvard's Fine Arts Department, a pioneer in the study of the visual culture of the Islamic world. She specialized in Persian manuscripts but her collecting passion focused first on fine Islamic ceramics. She acquired several dozen important examples before moving on to manuscripts and other works on paper, among them Persian miniatures from some of the most celebrated Iranian workshops, and rounding out the collection with a small group of lacquered objects.
This exhibition and this catalog feature some 150 objects (in April, some of the works on paper will be rotated) from the culture popularly described as "Persian," things produced in what is now Iraq, Iran, and Afghanistan between the ninth century and the early modern era. Besides the rare look at the Calderwood Collection, the show has another thing to recommend it: it will be one of the last exhibitions at the Sackler before all three Harvard Art Museums shut down entirely for several months to complete and reinstall the new galleries at the Fogg and Busch-Reisinger.