By J. R. Carroll
June brings a cupful of world jazz. [Updated: See Mose Allison item below]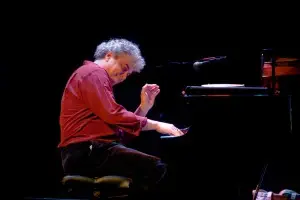 Photo by Daniel Sheehan
While the eyes of the sporting world may be on the stadiums of South Africa, there will be plenty of international flavor here in New England this month.
Brazilian born but now Seattle-based, pianist/composer/arranger Jovino Santos Neto blew the roof off of Ryles on his last visit. Expect the same when the longtime associate of Hermeto Pascoal returns to Ryles on Wednesday, June 2, with the A-list rhythm section of Fernando Huergo and Mark Walker.
Up north, the Discover Jazz Festival kicks off in Burlington, VT with the Arturo Sandoval Sextet on Friday, June 4 at 8 p.m.; the next evening at 8 p.m., New Orleans legend Allen Toussaint reprises one of the most memorable CDs of 2009, his Bright Mississippi, in the company of clarinetist Don Byron. (See our upcoming Summer Festivals 2010 edition of Coming Attractions in Jazz for details on this and the many other festivals taking place in New England over the next several months.)
For over half a century, composer/pianist Mose Allison has been delivering a pointed commentary on the human condition through his blues-rooted songs; still going strong, Allison and his trio will make a stop at Scullers on Saturday, June 5, at 8 and 10 p.m. (Expect some material from The Way of the World, his first new CD in a dozen years.) [Update: Mose Allison will also be performing at 8 p.m. on Friday, June 4, at the Narrows Center for the Arts in Fall River.]
You may have seen him on HBO's Treme; Troy "Trombone Shorty" Andrews blows into town with his rebooted New Orleans funk at 9 p.m. on Tuesday, June 8, at the Paradise.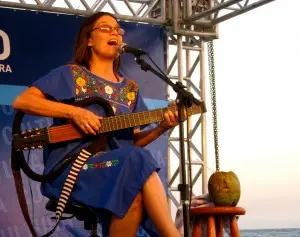 After decades of confusion with the author of Ulysses, Brazilian singer/composer Joyce has opted to use her full name, Joyce Moreno. One of the most distinctive and original songwriters in Brazil for over 40 years, she makes a rare, not-to-be-missed visit to the Regattabar on Friday, June 11, at 7:30 p.m. (She'll also appear at the International Festival of Arts and Ideas in New Haven at 8 p.m. on Wednesday, June 16.)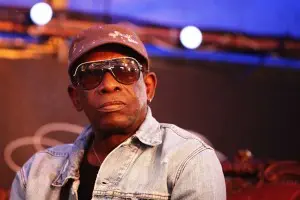 Photo by Rama, available under a Creative Commons Attribution License
Nigerian drummer Tony Allen powered the Afrobeat of Fela Kuti for a decade and a half; World Music brings his Uhuru Afrika to the dance floor downstairs at the Middle East on Tuesday, June 15, at 8:30 p.m.
Individually, and together as Trio da Paz, in New York and on the road, guitarist Romero Lubambo, bassist Nilson Matta, and drummer Duduka da Fonseca are among the most in-demand exponents of Brazilian jazz; as they enter their third decade as a trio, catch them at Scullers on Thursday, June 17, at 8 and 10 p.m.
Cuban pianist and composer Cesar "Pupy" Pedroso, a founding member of the revolutionary songo band Los Van Van since 1969, split to form his own group, Pupy y Los Que Son Son, almost a decade ago; the Jazz at the Wilbur series brings them to Boston at 8 p.m. on Tuesday, June 22.
Last time around, bossa nova pioneer João Gilberto was a day late and anything but a dollar short (and even brought about the serendipitous pairing of guitarist Claudio Ragazzi and pianist Nando Michelin, who—on extremely short notice—delighted the patiently expectant audience for two hours). Fortunately, Gilberto, who is notoriously particular about his venues, loved the sound of the Wang Center and rewarded the enraptured returnees with more than two continuous hours of sublime invention. It's a safe bet that the legendary acoustics of Symphony Hall will provide similar inspiration when the 79-year-old Gilberto returns at 8 p.m. on Friday, June 25.
The same night at the same time, master sonero Manolo Mairena—whose CD release event at Ryles was one of the hottest evenings of this very warm spring—heads west to the Amazing Things Arts Center in Framingham, MA.
And if João Gilberto isn't enough guitar for you, the Natick Center for the Arts welcomes rising guitar star Julian Lage at 8 p.m. on Thursday, June 24; then, at 8 p.m. on Sunday, June 27, Al Di Meola revives his World Sinfonia project.