Intimacy has been the key note of bossa nova performance ever since the initial murmurings of João and Astrud Gilberto, and singer/pianist Eliane Elias can whisper with the best of them.
Eliane Elias/ Marc Johnson. Live at Sculler's, Boston, MA, October 5.
By Michael Ullman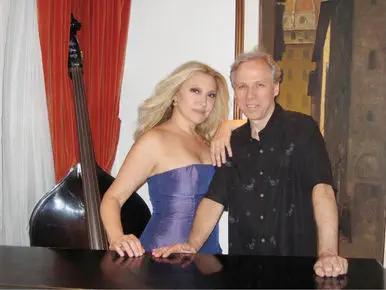 In the midst of a typically scintillating, witty set, the multi-talented, Brazilian singer-pianist-composer Eliane Elias turned to chide a customer who was videotaping her. "This is an intimate space," she said, waving at the stage and in the general direction of bassist Marc Johnson, her partner and accompanist for the past 26 years. (Theirs must be the most celebrated relationship between a singer and bassist since Ella Fitzgerald and Ray Brown.) Intimacy has been the key note of bossa nova performance ever since the initial murmurings of João and Astrud Gilberto, and Elias can whisper with the best of them. She does a lot more. Her voice is poignant, endearing, and sensuous, but she also manages, in songs like João Donato's "A Rã" (The Frog) to convey humor, even irony. Her piano playing can be powerful: not for nothing has she dedicated a piece, "Bowing to Bud," to the rattlingly percussive bebop pianist Bud Powell.
Elias was discovered, she told us, by Antonio Carlos Jobim and his lyricist Vinicius De Moraes, when she was playing piano at a club. She was 17. She must have been a prodigy. The pair took her on tour where, she said, she learned bossa nova from the source, or sources. With pieces by Gilberto Gil, Donato, and, of course, Jobim, her initial Scullers set showed her roots, and also her character. She introduced "Chega de Saudade" without piano: the sound seemed to lack nothing, and yet the beginning of her ensuing piano solo seemed to start the dance all over again and with more intensity. She paces each solo, ending sometime with intense, two-fisted phrases that recall McCoy Tyner more than Bud Powell. She began "Só Danço Samba" with a long, bluesy piano introduction that, she acknowledged, shows the debt Brazilians owed to American jazz.
To further demonstrate that link, she sang a song that suggests the connection: by Gilberto Gil, it translates as something like "Chewing Gum" and "Eating Bananas." In every set I have seen by Elias, she has performed an American classic: here it was "They Can't Take That Away From Me." Somehow she made Gershwin bounce like a bossa nova. She continued by telling the story of "Rosa Morena," a song about a shy girl who gets up to dance and gradually finds (or loses) herself in the dance. Elias danced the song to demonstrate.
She and Johnson, who first became widely known in the Bill Evans Trio that was the pianist's last, are also committed, talented composers. They performed two new numbers, the gentle, folksy "B is for Butterfly" by Elias and the more complex, knotty "Sirens of Titan" by both Elias and Johnson. These are both on the couple's new ECM disc, Swept Away, which has eight more of their compositions and a ringer, the traditional "Shenandoah." The lyricism of both players, their warmth and rapport, make their music glow as well as dance. After the early set at Scullers, the audience rushed to the table outside to grab a copy.