Fans of classical piano should find this collection of performances from something of an institution around Boston a rare delight.
Leonard Shure in Concert at Jordan Hall. Leonard Shure, piano. Bridge Records 9374A/B (two compact discs: 98:11)
CHOPIN: Piano Sonata No 2 in B flat minor ("Funeral March"); Ballade No. in G Minor; Prelude No. 23 in F; Prelude No. 24 in D Minor. BRAHMS: Phantasien, Op. 116. SCHUMANN Fantasy in C.
By Michael Ullman.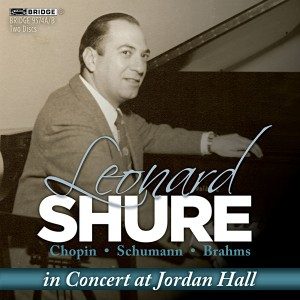 There's an endearing story in the notes to this welcome, live recording by the once celebrated pianist and teacher Leonard Shure, who died on Nantucket in 1995 at the age of 85. Shure was a performer before he was a pianist, we are told: at the age of two and a half, he made his professional debut singing vaudeville songs with his mother as accompanist. Nine years later, he gave his first concerto performance in Chicago. Still in his teens, he went to study for six grueling years with the celebrated Artur Schnabel, whose Beethoven recordings are still unmatched.
In an age of temperamentalists, Schnabel stressed the perhaps doomed attempt of a pianist to express the composer's intentions. Like his teacher, Shure learned to stress structure and clarity of line over local effects and individual mannerisms. Yet how stunning, as well as appropriate, those local effects could be in his hands. He is a sober pianist, one might say, and yet his playing could be revelatory.
He was also something of an institution around Boston, teaching at the New England Conservatory and then at Boston University while concertizing as well, though too intermittently for the peace of mind of his various managers. Nonetheless many Bostonians heard him repeatedly, typically at Jordan Hall, where the music found here was recorded in three concerts between 1977 and 1980. As far as I can tell, these are the only readily available Shure performances. (A series on Audiofon is out of print.)
The Bridge Records release would be valuable even if the market were flooded. I don't know of a more tender version of the first Chopin Ballade, nor few that are, when the time arrives, more successfully magisterial and imposing. What I have called Shure's sobriety, his unwillingness to indulge in excessive rubato, for instance, doesn't mean that his playing is colorless. His dynamics are wide. His often hushed playing is suggestive and leads inevitably if mysteriously into whatever grand excitement that follows. Shure's tempos are slower than most. Rarely is that heard as a problem.
Though Maurizio Pollini's Scherzo to the Chopin Sonata is more electric than Shure's, I have rarely heard as magical a Marche funebre. He plays the theme intently, with the steadiness of tempo of a real march, and with a gradual crescendo that is hair-raising. Somehow Shure can play softly without any diminution of tension: his whispering nuance leaves the listener holding his or her breath. The Schumann Fantasy might not seem to be ideal material for this approach, but Shure makes it his, emphasizing the piece's sometimes not apparent logic while doing justice to Schumann's delightful eccentricity. Fans of classical piano should find this collection a rare delight.