August ushers in some lo-fi indie here in New England. Sebadoh and HR from Bad Brains are the well-knowns, but homegrown musicians Dan Blakeslee and School for Robots show us that minimalist artistic bones are growing healthy below the radar.
By Kathleen Burke.
Sebadoh. At Middle East Downstairs, Cambridge, MA, August 8, $20, 18+.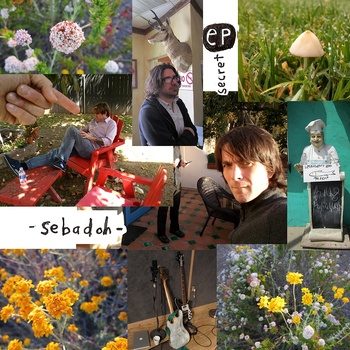 When I was about 14 years old, I walked into a Newbury Comics store on the north shore and told the clerk I was looking for new music, something awesome. He walked me over to one of the aisles and pulled Sebadoh's III album from the bin and put it in my hands. "I guarantee this album won't leave your CD player for months," he told me. He was right, it is an album that came to define my adolescence, and it still holds up. Years later I saw them perform at TT's to a binge drinking, sold-out crowd. The show consisted of Lou Barlow (formerly of Dinosaur Jr.) and Jason Loewenstein playing along to a CD of recorded drum tracks on a tiny boom box placed on a small table in the center of the stage. Sebadoh are in town to support their new record secret EP. In true Lou Barlow fashion, he is opening as a solo act for his own band.
HR From Bad Brains. At Radio, Somerville, MA, August 11, 21+, $10.
HR (Human Rights) the former lead singer of DC-based punk legends Bad Brains, performs solo at Radio this month. Here is another artist I once saw perform with a boom box! What is it with you, August? My first experience in Los Angeles was with a group of then co-workers at the Viper Room. We went as tourists, completely self-aware. HR randomly happened to be playing, and the scene was an odd one, as is often the case in LA. HR's words were indecipherable, but he vocally ebbed and flowed, from chilled-out croons over soft acoustic guitar to pained screams and wild strumming. A recording of percussion loops spewed from a boom box. His solo shows are known to be very—diverse—shall we say? And that is what makes them so interesting. Will the performance be a masterpiece or a train wreck? Either way, it will be an experience worth catching. Check out the movie American Hardcore to see him discuss the fledgling days of punk rock with Ian MacKaye of Minor Threat. HR still periodically tours with Bad Brains.
School for Robots w/ Ellis Ashbrook, The Shills and one more band TBA. Great Scott, Allston, MA, August 11, 21+.
Curtis Killian's quirky, DIY-style approach to School for Robots offers a glimpse of what it must feel like to swim around in his brain for a night. The self written, recorded, manufactured, and assembled album No Prancing Required is equal parts Thurston Moore and Beck, with a splash of Frank Zappa dropped in. Killian's tunes hold together groovy guitar rock, synth ribbons, and diverse vocal arrangements. The band name is taken from a 1960's bizzaro children's song by Canadian artist Bruce Haack.
Band members rotate from time to time, but Killian remains the stable (?) presence, writing and recording songs with "excessive overdubbing and crude sonic experimentation." Tasty!
Dan Blakeslee/ Leavitt Fest. At Leavitt Theater, Ogunquit, ME, August 13, all ages, $10.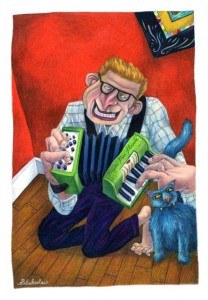 Dan Blakeslee is an artist in every sense of the word. From his vibrant, if slightly deranged graphic art, to his songwriting it's evident that a little piece of Dan's soul goes into every artistic endeavor. Back home and recovered from his recent walking tour, Blakeslee continues his perpetual string of live performances. His music is something you'd like to hear while shuttered away in a snowbound cabin while wearing a coon-skinned hat and sipping a bottle of whiskey. In 2005 he recorded and released Live at Laconia State Prison, but most recently, he is supporting his album Tatnic Tales. Dan is performing at LeavittFest in his home state of Maine, appearing with Lex & Joe, Dirty Rogers, Boss Tweeds, Lit On The Flash, McCrackin', Come On La Monde and Old Soul. Doors open at 5:30.