Wouldn't you know it, just when you thought July would be all Red Sox games, bike rides, hikes, and weekend getaways, there's a whole lot of great films to keep you occupied. This month includes classics, new documentaries, a giant screen, and two festivals—the Maine Film Festival and Boston's venerable French Film Festival.
By Tim Jackson.
Portrait of Wally. At the Museum of Fine Arts, Boston, MA, through July 1.
See the review in The Arts Fuse.
---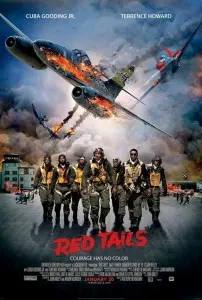 Movie At The Airport: Red Tails. At MASS MoCA in North Adams, MA, July 3, 8:30 p.m.
MASS MoCA has found a unique venue for enjoying an outdoor film—the 90 x 22-foot hanger door at North Adams Harriman-West Airport! This may be the largest screen in the country. Audiences bring chairs and blankets. Hot dogs, hamburgers, and popcorn are available. Planes will be on display at 7 p.m. when the gates open. There is a special per car price. Cartoons begin the show. Appropriately, Red Tails follows a group of African-American Tuskegee airmen in the famous WWII training program. There will be a veteran Tuskegee airman on hand to answer questions. This is a unique adventure for your summer family viewing.
---
Summer DocYard Series. At the Brattle Theater, Cambridge, MA, July 2, 16, and 30.
July 2: This is the New England premiere of The Extraordinary Ordinary Life Of Jose Gonzalez. Over a three-year period on locations including Sweden, Japan, Singapore, United States, South Africa, England, Chile, and Argentina, the filmmakers followed Swedish singer, songwriter, and guitarist José González on tour and in life, catching the artist's "inner monologue and esoteric musings." It is an ambitious combination of video diary, surveillance camera, concert, tour footage, and animations. Following the film is a Skype Q&A with directors Mikel Cee Karlsson and Frederik Egerstrand.
July 16: Tchoupitoulas "follows three young brothers from the West Bank of New Orleans as they cross the river on the ferry and spend one night in the shining, peculiar pleasure island that is the French Quarter. Music propels them down the streets as we witness the bewildering sights through their eyes, spending time with everyone from burlesque dancers to oyster shuckers to street musicians." There is a Q&A with directors Bill and Turner Ross. This is the New England premiere of a film that was partly financed through a successful Kickstarter campaign.
July 30: My Reincarnation was filmed over a 20-year period. The documentary chronicles the lives of the renowned Tibetan Buddhist Master Chögyal Namkhai Norbu and his western-born son, Yeshi. A Q&A with director Jennifer Fox follows the screening.
---
Restoration. At the West Newton Cinema, Newton, MA, July 11, 7 p.m.
Not to be confused with the 1996 Robert Downey, Jr. film, this movie from Israeli director Yossi Madmony is a drama about a family's effort to save their antique restoration business. Of course, it is about much more than piano restoration. Both the film and actor Sasson Gabay as Fidelman have won numerous Israeli film awards. Sundance called this "the kind of small-scale, well-crafted story that used to be a staple of European cinema and is rarely seen nowadays, at least in the U.S."
---
The French Film Festival. At the Museum of Fine Arts, Boston, MA, July 12–29.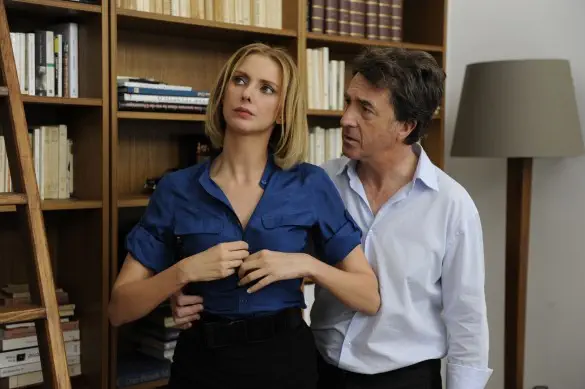 For 17 years, the Boston French Film Festival has consistently brought interesting work to town. There are a large number of films, so do some research or rely on serendipity! Familiar directors include Benoît Jacquot with Farewell, My Queen and Bruno Dumont with Outside Satan (Hors Satan). There's the requisite sex farce in The Art of Love (L'art d'aimer) by Emmanuel Mouret, an adaptation of a Pierre Corneille seventeenth-century tragicomedy The Screen Illusion (L'Illusion comique), some animation in The Painting (Le tableau), and even a political mockumentary, Pater, Alain Cavalier's semi-improvised look at men, power, and politics. A French Fest doesn't exist without Isabelle Huppert. This year she's in My Worst Nightmare (Mon pire cauchemar), a comedy by Anne Fontaine. And how about this: 17 Girls (17 filles) by Delphine and Muriel Coulin is billed as a serious drama based on the pregnancy "pact" scandal in Gloucester, MA in 2008. It's called "a moving portrait of teenage years."
---
Maine International Film Festival. At the Railroad Square Cinema and the Waterville Opera House, Waterville, ME, July 13–22.
This 10-day festival screens nearly 100 American independent and international films. The goal is to spotlight some of Maine and New England's "most exciting and innovative filmmakers." This year Scorsese collaborator and three-time Oscar-winning editor Thelma Schoonmaker receives the fest's Mid-Life Achievement Award, and actress Karen Black is a special guest. It is well worth checking the schedule if you are journeying north.
---
Harvard Film Archive's Summer Picks. Cambridge, MA, throughout July.
Celluloid projected on the the big screen is still the best way to see films, and this month you can catch some indispensable classics. Here are a few picks of films you really need to see in sometime in your life, if you haven't already. And these are worth seeing more than once.
July 6: Greed, a silent classic, will amaze you. Based on the equally great book McTeague by Frank Norris.
July 7: Sunset Boulevard is one of the great American films—sex, death, and delusion seen through the cool film noir lens of director Billy Wilder.
July 23: Marlon Brando directed and starred in One Eyed Jacks, a sexy, gonzo western with a full tilt performance from the actor.
July 28: The Conversation is Francis Ford Coppola's masterpiece on surveillance and alienation, 70's style. It features a great performance by Gene Hackman.