Auld Lang Syne is the kind of poorly made play that withholds important and obvious elements of development in order to score artificial dramatic points late in the action.
Auld Lang Syne by Jack Neary. Staged by the Peterborough Players, Peterborough, New Hampshire, through July 1.
By Jim Kates.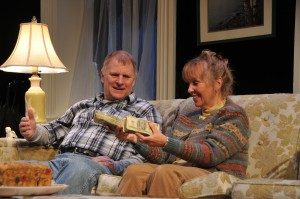 The Peterborough Players launch their 2012 season with the world premier of Jack Neary's Auld Lang Syne. "World premier" has a grand ring to it, leading us to expect, perhaps, something more than simply the first fully staged production of a new play—some kind of theatrical event. Neary doesn't yet rate the status, and Auld Lang Syne hardly lives up to the billing. The Peterborough Players carry it off in a workmanlike production directed in a workmanlike way by their veteran artistic director Gus Kaikkonen and acted through by two solid, workmanlike actors, Gordon Clapp and Kathy Manfre.
Still, we might have expected more of Neary, who has been around the block a few times as an actor, a director, and as a playwright. There is no reason why he can't have written a play less stereotyped and less superficially manipulative.
Auld Lang Syne is the kind of poorly made play that withholds important and obvious elements of development in order to score artificial dramatic points late in the action. Mary Antonelli, played by Manfre, is a 59-year-old woman who wants to die on New Year's Eve so that she can be reunited with her husband, himself dead 17 years before of prostate cancer. You see, she had made him a deathbed vow that they would spend their 30th anniversary together, and January first will be their anniversary. She expatiates on her notion of Heaven and meeting him, but it's only halfway through the second act that we learn that the couple also had lost a four-year-old daughter in a careless accident whom, we might expect, Mary might also be longing to see and might have mentioned before. But that daughter has been saved up for a little coup de théâtre; and, even after she's brought into the mix, it's only just before the end of the play that the grieving widow thinks of her daughter joining her husband and her in Heaven for their family reunion.
Usually I don't like to spoil plots as explicitly as I do here, but there's not much surprise or suspense to fudge here. With the help of Joe La Cedra (Clapp), an elementary-school classmate grown up to be a not-so-wiseguy, Mary is hoping to get to Heaven in a way that won't violate Church canons of suicide. Joe hasn't quite risen to hit-man status in the local organization and certainly doesn't want to get there over her wacky and whacked dead body. Naturally, because he's a high-school graduate from South Boston, he sees his life as a dead end: he is spurned by his ex-wife and children and conflicted in his mob career.
What is it about South Boston these days—the Whitey Bulger allure? On television there's a silly, girl-buddy, police procedural with gauche references to Southie, and Auld Lang Syne plasters the Southie accents thick over the Southie stereotypes of ethnic Catholicism, neighborhood history, petty gangsterism, and lower middle-class stupidity, represented here by a kind of repetitive, stalled dialogue that is funny only because Kaikkonnen and his actors get the timing exactly right.
Auld Lang Syne begins with a joke on "Jesus" as a person and a swear-word. No—that's not quite right. Auld Lang Syne begins before that with a character in a room not immediately responding to another knocking at the door. Long silences. Building expectations, then the explosive "Jesus!" Have we seen this before? In the second act, Joe showers the audience with "fucks." When Mary finally succumbs to "that word," the audience eats it up. Have we seen that before?
Only one of two things can happen in this easy play—either Joe and Mary can discover each other; or, more lamely, each one can help the other discover him or herself. At the end, Joe is tracked to Mary's house by his disappointed and clearly incompetent boss, who fires drive-by shots blindly into a stranger's window.
The comedy ends with one character shot to death through the sofa and the other on the lam with a handbag full of money. Happy New Year.