By Bill Marx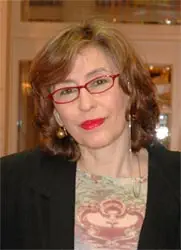 In a recent World Books podcast I talk to Azar Nafisi, the author of the international bestseller Reading Lolita in Tehran.
In her new memoir, "Things I've Been Silent About," Nafisi chronicles the trials and tribulations of about growing up in Iran, focusing on her volatile relationship with her difficult mother and charismatic father, who at one point was the mayor of Tehran. Nafisi also writes about her marriages as well as her shifting personal and political responses to the Islamic Revolution in Iran during the late 1970s. In my conversation with Nafisi she takes the opportunity to answer critics who see her as primarily a political spokesperson rather than a writer.
Azar Nafisi's memoir is entitled Things I've Been Silent About and is published by Random House. To learn more about her and her writing, go here.
======================================================
For those of you who don't know about us, and wish to subscribe to this and other great podcast and blogs, The World is an international news program co-produced by the BBC World Service in London, Public Radio International and WGBH Boston. Subscribe to the World Books podcast here.
And World Books is more than my weekly podcast – the online feature includes reviews, interviews, news, and commentary on international literature, including a look at an apocalyptic thriller from Austria called "Night Work," a novel that attempts to add something new to a genre that includes Cormac McCarthy's "The Road." Those who want to talk about end-of-the-world fiction and other issues touching on international writing and culture should go to the World Books Facebook fan page. Agree or disagree, I want to hear from you.