By Harvey Blume
"The Invention of Air: A Story of Science, Faith, Revolution, and the Birth of America," Riverhead Books. $25.95.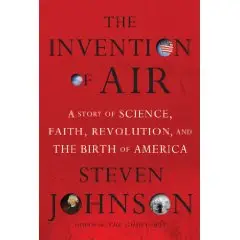 Steven Johnson's new book is as dull and dispiriting as much of his previous work has been eye-opening and exhilarating. In the past, even if Johnson's conclusions were questionable — as with the high praise he doled out to video games and television shows in "Everything Bad Is Good For You: How Today's Popular Culture Is Actually Making Us Smarter" (2005) — there was plenty to savor in the freshness of his argument.

Johnson has the gift of sharing with readers the excitement he feels as he rethinks culture and media. In the new book, though, it feels as if something has curdled or stalled. Instead of the crisp prose and abundance of insights that have marked his work, there is repetition and lecturing. Johnson seems to have slipped into the role of a professor, concerned to drive the lesson home and make sure the students in his packed lecture hall not fail to remember it.
The lesson at hand is connectedness. "The Invention of Air," holds forth, first of all, on, connectedness among men, most notably Benjamin Franklin and Joseph Priestley who, in the 1760s were part of a group of London intellectuals known as the Honest Whigs. Secondly, there is connectedness among disciplines: The Honest Whigs were England's cutting edge with regard not only to scientific thought but also political and theological debate. Finally, Johnson lands heavily and repetitively on geological/ecological/historical connectedness: We are informed often enough that the coal fueling England's industrial revolution in the days of the Honest Whigs derived from the plant life that had countless millennia before endowed earth with its oxygen rich atmosphere.
Oxygen is at the purported center of the book; it is the air alluded to in the book's title, and Joseph Priestley the coffee drinking, free-thinking polymath empiricist who discovered it. But if you don't happen to recall Priestley's role as (actually, a co-) discoverer of oxygen, you wait very long for Johnson to fill you in, wondering what exactly Priestley did that Johnson should think to wrap so many laurels of connectedness around him.

Steven Johnson shows "a disrespect for narrative" in his latest book.
Johnson came of age intellectually with "Interface Culture" (1997), in which, taking off from Marshall McLuhan and Walter Benjamin, he asked probing questions about the fate of storytelling in the age of computer media. He proposed that the computer interface would become as crucial a medium to the twenty-first century as the novel had been to the Victorian age, but without necessarily serving similar narrative purposes. In his new book, Johnson seems to have resolved his quandary about narrative by finding it wanting. His rendition of Priestley's discovery of oxygen deprives it of suspense. Johnson prefers many sidebars on connectedness to eureka moments. The book is full of Eureka interruptus.
There's a circularity to Johnson's approach: In order to fully appreciate any particular element of his tale — oxygen, science, 18th century England, industrialization —you must first assimilate several complete pictures. Since the characters, confined to their own time, with their own science, could not see all that, there's is a lot of foreshadowing, backpedaling and long zooming. Johnson seems not to know that good scientific and historical writing cuts through circularity by respecting the story at its core and introducing as much context as the tale calls for and can sustain. Disrespect for narrative makes "The Invention of Air", well, gassy.
In "Interface Culture", perhaps the best of many reflections on media that were inspired by the Internet explosion, Johnson wrote that, "the sheer velocity with which technology now advances" put us in a privileged position to see how "our habits of thought" were tied to the "progression, the change from one form to another."
The basic problem with "The Invention of Air" may be that this observation is somewhat dated. When rapid change in media is as constant as it is now, it ceases to be quite so revelatory; it is a given. Interpreting the Honest Whigs in terms of the headiest possibilities suggested by new media and the computer revolution has the air of dogma rather than discovery.
==========================================================================================
My review of Johnson's second book, "Emergence: The Connected Lives of Ants, Brains, Cities, and Software", is here.
My blog on chess can be found here.