Supplementing Eugene O'Neill's high drama is a subtle score of music and sound created by Dewey Dellay, an Elliot Norton Award winner for Outstanding Design.
Long Day's Journey into Night by Eugene O'Neill. Directed by Scott Edmiston. Presented by New Repertory Theatre. At the Arsenal Center for the Arts, Watertown, MA, through April 22.
By Tim Jackson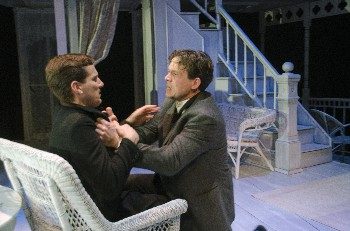 Dramatist Eugene O'Neill never saw his 1957 Pulitzer Prize-winning masterpiece Long Day's Journey Into Night on stage. The author died in 1953, and the play was never performed in his lifetime.
O'Neill wrote about the autobiographical play to his wife Carlotta in 1941:
I mean it as a tribute to your love and tenderness which gave me the faith in love that enabled me to face my dead at last and write this play—write it with deep pity and understanding and forgiveness for all the four haunted Tyrones. These twelve years, Beloved One, have been a Journey into Light—into love.
This is a play that stretches the resources of experienced and skilled actors, and the New Repertory Theatre Company, under the direction of Scott Edmiston, boasts an ensemble that is up for the challenge. Will Lyman's age and experience prepare him for the demanding part of the unsettled, alcoholic, once great actor James Tyrone. His credentials include contributions to theater, television, and film. He is the voice of TV's Frontline and is an Elliot Norton Award recipient. Karen MacDonald takes on the difficult role of the morphine-addicted and delusional Mary Tyrone. The actress has played in over 70 productions at the American Repertory Theater and is both Elliot Norton Prize winner and a recipient of a Robert Brustein Award for Sustained Achievement in the Theatre in 2010.
Lewis Wheeler, in the role of the dissipated son, Jamie Tyrone, is a rising actor in Boston. He is the son of the late David Wheeler, one the city's most important theatrical figures of the last 50 years. Nicholas Dillenburg captures the gentleness and poetry of son Edmond Tyrone—he even looks like a young Eugene O'Neill. The cast is rounded out by Melissa Baroni, an actress on the faculties of Emerson College, The Boston Conservatory, and Shakespeare & Company, as the Irish maid. Edmiston says that "it is a very gifted group. Karen and Will are two great talents in this city. It's thrilling to collaborate with them on such career-defining roles."
Supplementing the high drama is a subtle score of music and sound created by Dewey Dellay, an Elliot Norton Award winner for Outstanding Design (for the SpeakEasy Stage production of The Women) and a longtime Edmiston collaborator. He has also composed for plays at the Lyric Stage, others at the New Rep, and several shows in New York, as well as for TV and film. I talked with him about the difficulties of fusing sound and music on a show as deeply emotional as Long Day's Journey Into Night.
---
Arts Fuse: You are also a composer for movies and television. How is that different from what you are doing in theater?
Dewey Dellay: That's a good question. I try to capitalize on their similarities. Their intentions are often similar, but theater leaves much more up to my imagination. When I read a play I don't have a definite picture to work with, but at the same time I have to interpret the script even before I talk to the director. There's a wonderful openness to that, but at the same time it is problematic. My intentions may be different from the director, so there is a lot of conversation back and forth. The visuals of film and television tend to unify people and things. In the theater, collaboration is much more a part of the experience.
AF: You seem to be talking about finding ways to frame emotional moments.
Dellay: That's my job. Inspiration comes from looking for ways to highlight emotional moments. Sometimes directors will ask me to give them period music, sometimes they are looking for something different. With Long Day's Journey into Night, I did some cues that featured some guitar playing, and I thought we could get away with it. But Scott (Edmiston) said, "No. I don't think so. I think no guitar." It wasn't music from the turn of the century—it sounded too contemporary.
AF: You've worked so often with Edmiston that you must have developed a creative understanding.
Dellay: I have worked with him so often that we actually have a routine that may be different than with other directors and sound designers. I sometimes try to convince other directors to use his method. At very elaborate production meetings Scott gives out notes and comments. He maps a potential soundscape for me, which consists of exact notes for the sounds called for in each act. Sometimes, before I even talk to Scott, I give him two or three ideas detailing how I think the moods of the play should play out. Sometimes music can push the actors in directions that they don't want to go. Sound design isn't exactly chords and notes in harmony or overly regular beats but often just tones, or sound effects—things like that.
AF: Sound effects, design, and music are part of your job?
Dellay: Well, I did one show in New York called The Countess, and they had a sound effects person and I did music for it. But when I came to Boston, they had different budget considerations, so I have done everything. It helped that I had been leaning towards composing along with creating sound effects. So it was comfortable for me to combine the two. Now there is a position called "sound designer/composer." With a computer, you don't have to do Foley effects the way you used to. Everything is done on the machine. You can find these effects online and easily include them in the score. For instance, I just did [the sound for] The Miracle Worker at Wheelock College and I combined the score with digital train sounds for one scene. The computer offers you a pretty rich palette to work with, giving you a way to seamlessly blend music and sound effects.
AF: How important is it that you think audience members notice what you do, or is it better that they don't notice?
Dellay: I think both. When I first started doing this, I was anxious to be noticed. And now I realize I'm at the service of the play and the vision of the director. So it doesn't bother me at all if people don't notice. Sometimes people think the music they hear is just something that was grabbed off the Internet or someplace. I don't think they realize that some productions have carefully composed sound for the show. Some people in the theater don't even realize where the music comes from.
AF: Are there renowned sound design/composers?
Dellay: I like David Ramirez of our local group. But in New York I don't know that there's been anybody that stands out. Many of the people in New York I've only heard of once.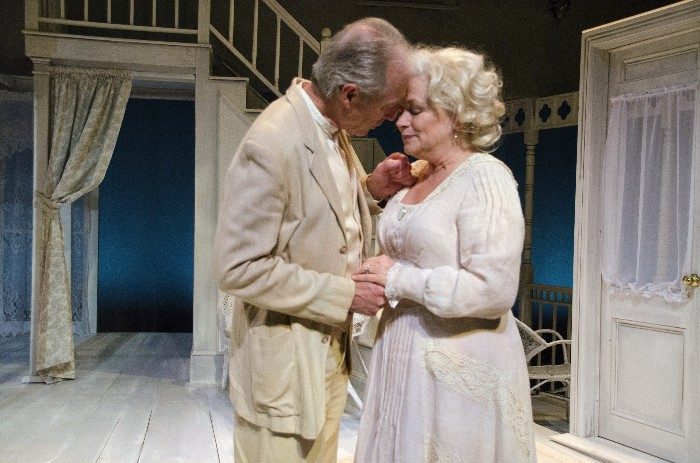 AF: What can people expect to hear when they see Long Day's Journey Into Night?
Dellay: I came in working with a familiar design team and didn't feel the weight of the O'Neill play at first. All of a sudden from our meetings I realized this was a very serious production. There's going to be a lot of weight to what I do and how the audience interprets it. Together with Scott we came to the conclusion that we needed to have it done realistically, and there needs to be drama in it, but it didn't necessarily have to be predictable period music. The soundscape he sent to me started off light and grew dark by the end of the play. It should heighten the unfolding emotions of the family. Early on the audience realizes that this is a hurt family. Scott wanted to help the sense of emotional vulnerability unfold a little more evenly.
We did a game of back and forth. First I wrote some simple piano chords that rang out, clean and pure. And he said maybe there could be more, and I added a bit of an orchestra into it. And then he said he thought it was over the top, that it was too much for the family. At a rehearsal, we started playing cues for the actors, and Scott came back to me and said he thought the majestic opening really was the right thing. We needed to establish this beautiful area in Connecticut, and we have to start off hopeful. And he thought the music did that, so we went with the orchestral version. And then the conflict grows sad, so I started changing notes and the timing of chords. There's a foghorn that is very important, and I started warping the sound. Mary walking upstairs becomes a haunting sound. Things start becoming distorted and growing darker.
AF: So Dewey, since I know that your father was an actor, I must ask if you find it ironic that you are now pursuing part of your music career in the theater?
Dellay: I do, I really do. He was an actor in New York. We grew up in Connecticut by the water. My father would come home from auditions, a majority of which he did not get, so he would be pumped up from them. As a little kid, I would meet him at train, he would start performing his auditions for me. And I was like, "Dad, what are you doing?" He'd be in the train station performing. The last thing I wanted to do was to be exposed to more actors. But as a musician in New York, I got a lot of cabaret gigs and opportunities to accompany rehearsals. That led me into theater and eventually to writing music for the play The Countess, which went on to London and a little bit of a life on the stage. You could say that theater kind of pulled me in. I might still have some ambivalence about my work, but I feel really lucky.
---
Samples of Dewey Dellay's sound design for Long Day's Journey Into Night
A2_S1-S2 (Act 2, Scenes 1 and 2, I presume)
Into_intermission_mix
Overture_into_Act_3
LDJIN_Slower
Warped_foghorn_bells