The recording was made in December 2010 in San Francisco's Davies Symphony Hall and reveals an orchestra fully at home in John Adams' distinctive idiom.
By Jonathan Blumhofer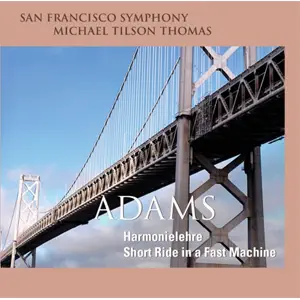 On February 15th, composer John Adams celebrated his 65th birthday. The day before, the San Francisco Symphony Orchestra (SFSO) got a jump on the event by releasing a new, all-Adams album conducted by music director Michael Tilson Thomas. Released on the orchestra's own SFS Media label, the relatively brief (47 minute long) recording features Mr. Adams's expansive Harmonielehre and his brisk fanfare Short Ride in a Fast Machine.
Mr. Adams has had a long relationship with the SFSO, going back over 30 years now; indeed, it was during his tenure there as composer-in-residence (1982–85) that Harmonielehre was written and premiered. Interestingly, the SFSO and former music director Edo de Waart recorded Harmonielehre immediately following those first performances—a pulsing, invigorating documentation of the original version of the score (Mr. Adams has since revised the ending) that, to my ears, has long set the standard by which subsequent recordings ought to be judged (though Simon Rattle's 1994 recording with the City of Birmingham Symphony on EMI is no slouch).
Harmonielehre (1984–85) is the first of what are, to date, three unnumbered (and undesignated-as-such) symphonies that mark some of the high points of Mr. Adams's career as an orchestral composer (Naïve and Sentimental Music and City Noir being the other two). The piece falls into his characteristic three movement, fast-slow-fast form, marked by propulsive energy—the opening of Harmonielehre's first movement was inspired by a dream of an oil tanker rocketing heaven-ward out of San Francisco Bay—and long-breathed melodic lines. At its premiere, Harmonielehre, whose title is taken from Arnold Schoenberg's 1911 treatise on harmony, was also noted for its marriage of minimalist techniques (repetition and diatonic harmony among them) with chromatic expressiveness more familiar to late nineteenth and early twentieth-century Romanticism. Perhaps because Mr. Adams determined that this blend of influences on Harmonielehre made it a unique, "one-time" piece, he's never quite duplicated it, and, as a result, the score, approaching its 27th birthday on March 21st, retains a freshness that is very evident in this performance.
The recording itself was made in December 2010 in San Francisco's Davies Symphony Hall and reveals an orchestra fully at home in Mr. Adams's distinctive idiom. The opening movement gets off to a bracingly energetic start that doesn't really let up until it ends nearly 20 minutes later, even as things calm down a bit for the soaring tune in its middle. The dark sonorities of the mysterious second movement (titled "The Anfortas Wound") glow with uncommon power, and its extended trumpet solo is rendered as sensitively here as you'll ever hear it. Harmonielehre's finale, whimsically titled "Meister Eckhardt and Quackie," is appropriately triumphant; a few woodwind intonation issues notwithstanding, the exuberant brass riffs of its closing pages are sure to rouse even the least sympathetic of listeners.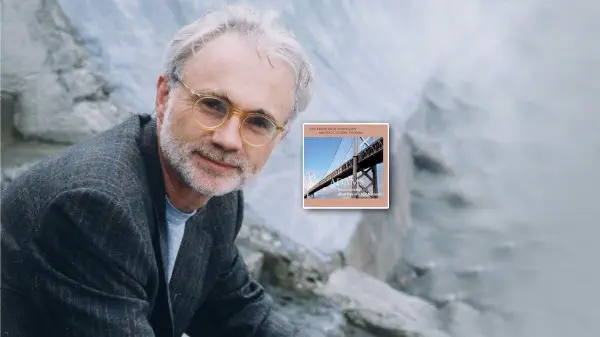 The first two movements feature Mr. Adams at his most Mahlerian, and he has a thoroughly sympathetic interpreter in Mr. Tilson Thomas, who has spent much of the last decade performing and recording the complete Mahler symphony cycle (available on SFS Media). Accordingly, there's a fine sense of Harmonielehre's structure in this recording and a stately pacing to the proceedings. Clear, too, are Mr. Adams' vibrant orchestrations: neither of the score's previous recordings quite capture the full range of instrumental colors as vividly as here, as is most powerfully evident in the finale. All parties are aided by the fine job of SFS Media's recording engineers who give space and depth to the massed orchestral forces.
Unfortunately, the album's filler, Short Ride in a Fast Machine, gets taken for a rather lethargic drive. Mr. Tilson Thomas commissioned this score in 1986 for the Pittsburgh Symphony, so it's somewhat odd that the big problem here is so basic, to wit, his tempo, which starts out moderately and never really shifts into high gear. As a result, the SFSO sounds lackluster, though the pealing trumpets at the end have a majesty that comes close to redeeming the performance. Even so, it's a reading that doesn't trump any of the several that are already available. The recording of Harmonielehre just about equals Mr. de Waart's original, even if it doesn't quite surpass it. While it would have been nice to have another substantive Adams piece on this album (like a fresh take on El Dorado or the rarely heard Common Tones in Simple Time), the playing of the SFSO here reinforces the fact that the West Coast is now at the heart of contemporary American music-making, and we can be grateful for their commitment to this repertoire.
Next month Mr. Tilson Thomas and the SFSO are presenting an American Mavericks festival at Carnegie Hall that features an Adams premiere (Absolute Jest) along with pieces by Cage, Cowell, Feldman, Ives, and others. Catch them if you can.
---
Jonathan Blumhofer is a composer and violist who has been active in the greater Boston area since 2004. His music has received numerous awards and been performed by various ensembles, including the American Composers Orchestra, Kiev Philharmonic, Camerata Chicago, Xanthos Ensemble, and Juventas New Music Group. Since receiving his doctorate from Boston University in 2010, Jon has taught at Clark University, Worcester Polytechnic Institute, and online for the University of Phoenix, in addition to writing music criticism for the Worcester Telegram & Gazette.