Guest conductor Giancarlo Guerrero, music director of the Nashville Symphony Orchestra, is a big man who conducts with big gestures. In the first half of The Rite of Spring, I wasn't quite sure if his podium mannerisms (which culminated in jumping jacks during the concluding "Dance of the Earth") were helpful or distracting.

By Jonathan Blumhofer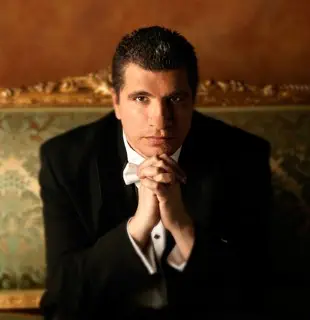 The Boston Symphony Orchestra (BSO) has recently had more experience than most orchestras when it comes to finding substitutes for last minute cancellations. So when news broke in December that Riccardo Chailly was withdrawing from his highly anticipated appearances at Symphony Hall this month for health reasons, one can imagine the efficiency with which the Orchestra's conductor-replacement team went into action. Mr. Chailly's cancellation was, indeed, unfortunate: not only is he an attractive candidate for the Orchestra's vacant directorship, but he was also slated to lead the most interesting program of the season: a pairing of Debussy's seldom-heard Khamma with Stravinsky's The Rite of Spring.
Hats off to the BSO, though, for coming up with a solution that didn't just turn the negative of Mr. Chailly's absence into a positive but into a big positive at that, presenting one of the most creatively satisfying and musically energizing programs it's given in the last eight years. The revised program featured a first half consisting of four pieces that showcased the orchestra's main sections, sans conductor, beginning with Copland's iconic Fanfare for the Common Man and continuing with the "Good Friday Procession" from Henri Tomasi's Fanfares liturgiques for brass and percussion. Richard Strauss's Serenade in E-flat (op. 7) for winds followed, and the first half ended with Tchaikovsky's Serenade for Strings. In the second half, guest conductor Giancarlo Guerrero, music director of the Nashville Symphony Orchestra, stepped in to lead the originally scheduled Stravinsky.
In an effort to personalize the first half proceedings, a member of each section gave a spoken introduction for both the particular ensemble and their selection(s): the speakers on Friday's concert were principal horn James Sommerville, principal flute Elizabeth Rowe, and second violinist Julianne Lee. While I'm not always a fan of musicians speaking from the stage (in my experience, such talks tend to meander and can be less helpful than intended), these chats lent a nice air of informality to what followed. The first half really felt like high-level music making among friends, and that spirit carried over into the performance of The Rite of Spring.
To begin, the BSO brass gave a suitably noble reading of the Copland, which, much to my surprise, has only been played by the orchestra on five other occasions (the first time conducted by Copland himself). The high point of their performance, though, came with the piece that followed: Tomasi's "Good Friday Processional," which is one of four fanfares from his opera Don Juan de Mañara. The first nearly two-thirds of the piece builds from a soft, repeated percussion riff to a dissonant climax before a lyrical section follows that leads to a triumphant conclusion; principal trumpet Thomas Rolfs made much of his bluesy solo in this last section. In both the Copland and the Tomasi, the ensemble brought out the timbral combinations in the music and used these changing colors to convey the music's triumph, transcendence, and spectacle. Aside from being musically excellent, it was also simply quite thrilling to hear these sounds fill the hall.
The winds then presented a thoroughly lovely rendition of Strauss's genteel Serenade in E-flat. While Michael Steinberg's program note went to great lengths to emphasize that this is an early Strauss composition (written in 1882, when he was 18), anyone familiar with Strauss's later scores (particularly the Sinfonia domestica) would recognize the characteristics of his mature style that are present in this piece, including long-breathed, lyrical melodies; unexpected chromatic harmonic turns; and active, contrapuntal textures. If any of the performances in this first half could have used a conductor, this was probably the work that would have benefited the most, if only because the piece's formal structure didn't come across as clearly as one might have hoped it would. Still, the players captured the innate spirit of the music very convincingly: the lilting clarinet melody of its second theme was played with great charm, while Ms. Rowe's concluding solo rounded out the Serenade peacefully.
Tchaikovsky's Serenade for Strings has turned up on BSO programs with the most frequency of any work on this first half, though it hadn't been heard at Symphony Hall since 1995. Led by concertmaster Malcolm Lowe, the BSO strings gave a thoroughly energized reading of this great score, making this about as ideal a performance as one might want to hear. The famous second movement waltz might have benefited from a slightly slower tempo, but that's my only quibble. The slow third movement, Elegia, was one of the highlights of the day, beautifully paced and sensitively drawn out. Unfortunately, a handful of overzealous listeners broke the spell of its closing bars by prematurely breaking into applause.
Including Tchaikovsky's Serenade on the program made for a nice bridge to the Stravinsky. Throughout his life, Stravinsky was steadfast in his admiration for Tchaikovsky's music, and there are a couple of moments in Rite (the falling horn fifths in the "Ritual of Abduction" section, especially) that have always struck me as particularly Tchaikovskyan. In Friday's performance, these sections came across vigorously, as did many of the ballet's big moments. The Rite of Spring is an enduringly vital 98-year-old score that, in Mr. Guerrero's hands, comes across as a big bundle of energy. If there could have been some more overall "earthiness" to the BSO's reading, they certainly did a fine job capturing the score's dance-like qualities.
Mr. Guerrero is a big man who conducts with big gestures, though, and, in Rite's first half, I wasn't quite sure if his podium mannerisms (which culminated in jumping jacks during the concluding "Dance of the Earth") were helpful or distracting. There were several moments where things felt off, particularly in the work's quieter sections that seemed to be placeholders for the big orchestral blasts. However, in the score's second half everything came together, beginning with a wholly atmospheric reading of the "Introduction." The big moments (culminating in the "Sacrificial Dance") were tremendous, while the smaller, chamber-like sections conveyed a sense of intense musical drama. Throughout, Mr. Guerrero's conducting style remained, shall we say, visceral, so perhaps the BSO just needed the first half of the piece to adjust to playing together with a conductor again.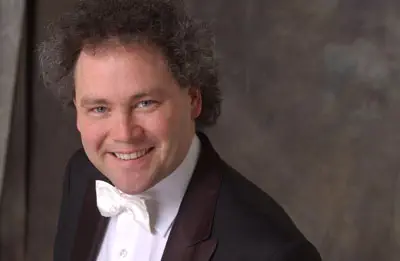 Regardless, the notes—best as I could tell—were there and often thrillingly so. Principal bassoon Richard Svoboda nailed his famous opening solo, his sound developing from complete silence to full-bodied sonority. Bass clarinetist Craig Nordstrom lent the rollicking character of his arpeggiated figures some nice drama. Likewise, principal flute Elizabeth Rowe brought great color to her solos, and principal horn James Sommerville led some tremendous horn playing from his section. The BSO's extended percussion section (including timpanist Timothy Genis and percussionists J. William Hudgins and Daniel Bauch) deserves a whole lot of praise: they brought understated rhythmic energy to this inventive score and the extended timpani solo in the "Sacrificial Dance" came across with uncommon clarity. It would have been nice at the end had Mr. Guerrero acknowledged more individual players for bows (Mr. Svoboda received his, but that was it), though this performance really was a team effort and the orchestra very much deserved the ovation it received.
Speaking of individual bows, I should take a moment to acknowledge the unsung heroes of this program: the BSO stagehands. Changing the stage between the ensembles kept them very busy, but they handled everything with efficiency and energy, and the program proceeded as smoothly as it did in large part because of their professionalism.
Next up is a real rarity: Mendelssohn's Symphony no. 2 ("Lobgesang") with Bramwell Tovey and the Tanglewood Festival Chorus. If the energy from this weekend's concerts carries over until then, we're in for a very special treat, indeed.