The picks in pop music in Boston this month all have something in common: storytelling. How did Deadmau5 get stuck with that 5 at the end of his name? What does a Portuguese acronym have to do with the band CSS? And what does Minus the Bear have against bears?
And then there's The Sounds . . . well, actually that one's pretty straight forward.
By Thomas Samph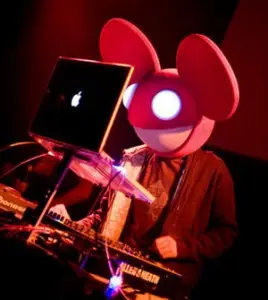 Deadmau5. At House of Blues, October 10–14.

(Pronunciation Note: Dead Maüs, or simply Dead Mouse.) Some artists use lights and lasers (Justice) or ridiculous costumes (Lady Gaga) to spice up an on-stage performance. Then there's the ones who do everything, all while wearing gigantic head pieces modeled like a morbid Mickey Mouse. Actually, that's just Deadmau5: The DJ producer who hates DJs. Back in 2008, Deadmau5, the stage name of Canadian electro/dubstep artist Joel Thomas Zimmerman, who is known for his signature, cartoonish mouse headpiece, made some fiery comments trashing DJs (read here). Though Deadmau5 eventually made peace with DJs, just be careful not to call him one. Why the mouse head, you ask? Apparently Zimmerman found a dead mouse while playing around with his computer one day. Then while thinking of a name for himself in a chat room, picked up the name Deadmau5 because of a character limit for pseudonyms.
---
The indie rock band Minus the Bear formed in Seattle in 2001 and has released seven EPs and four studio albums all without the help of a bear. However, with the release of their latest album, entitled Omni, the bands seems to be in need of some guidance. What started out as a band with a distinct identity—quirky with catchy tunes (see Absinthe Party at the Fly Honey Whore House) and overly dramatic song titles (see Monkey!!! Knife!!! Fight!! and Spritz!!! Spritz!!!)—turned into an unguided mash-up of emotionless sound. Though everything worked out without the bear for 10 years, maybe they need to think about adding him to the roster again. As for the name, the band said Minus the Bear is a reference to a cheesy TV show made in 1979 called B.J. and the Bear about B.J., a truck driver, and his pet monkey, Bear.
---
Dum Dum Girls. At Paradise Rock Club, October 19.
Dee-Dee, Jules, Bambi, and Sandy: Dum Dum Girls doing smart things . . . like touring with indie rock fellows Vampire Weekend (all Columbia grads) in 2010. What's more intelligent than that duo? Together, they sound like an ivy-league, beach party, complete with a plaid shirt contest and a Pabst pow-wow in the sand. With fuzzy, shimmering surf rock as their specialty and their name inspired by an Iggy Pop song, the Dum Dum Girls are a girl-band for all seasons. Plus, their latest album Only in Dreams, came out last month.
---
CSS. At Paradise Rock Club, October 23.
Tired of being sexy? CSS is too. This all-girl band from Brazil, fronted by lead singer, Lovefoxxx, named themselves Cansei de Ser Sexy (CSS), which translates to "Got tired of being sexy" in English. Ever since the release of their first single, Let's Make Love and Listen to Death From Above, was released in 2006, CSS was a hit. Plus, having a song in an iTunes commercial (see Music is My Hot Hot Sex) can only bode well for a career. Their most recent album, Liberación, sticks with their English/Portuguese garage pop style that they're known for.
Mogwai – October 1 – House of Blues

They Might Be Giants – October 1 – Berklee Performance Center

Eddie Money – October 1 – Mohegan Sun

RJD2 – October 10 – Paradise Rock Club

Deadmau5 – October 10-14 – House of Blues

Minus the Bear – October 16 – Royale

Barefoot Truth – October 13 – Brighton Music Hall

Dum Dum Girls – October 19 – Paradise Rock Club

India.Arie – October 19 – Berklee Performance Center

Ra Ra Riot – October 19 – Paradise Rock Club

Smashing Pumpkins – October 21 – Orpheum Theatre

Sting – October 21-22 – Citi Performing Arts Center

Amos Lee – October 22 – House of Blues

Cindy Lauper – October 23 – House of Blues

CSS – October 23 – Paradise Rock Club

Gym Class Heroes – October 24 – House of Blues

Boris – October 25 – Royale

Friendly Fires – October 27 – Paradise Rock Club

Steely Dan – October 28 – Citi Performing Arts Center

G. Love & Special Sauce – October 28 – House of Blues

Blitzen Trapper – October 28 – Royale

We Were Promised Jetpacks – October 28 – Paradise Rock Club

Star Slinger – October 29 – Brighton Music Hall

Chris Brown – October 30 – Mohegan Sun

The Sounds – October 30 – Royale